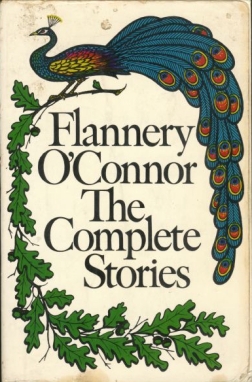 I was first introduced to the work of Flannery O'Connor in a literature class during my freshman year of college. Since that time, I have spent hours reading her stories, as well as a good deal about O'Connor herself--and I have not been shy about voicing my enthusiasm. (My car bears a bright, blue "I'd rather be reading Flannery O'Connor" bumper sticker.) Therefore, I was encouraged this morning to read that I am far from alone in my affinity for her work. O'Connor's collection, "The Complete Stories," came out on top in an online poll that asked voters to choose the best book to win the National Book Award for fiction. According to The New York Times' "Arts Beat" blog: 

The competition was steep: other finalists in the poll were "The Stories of John Cheever,"William Faulkner's "Collected Stories," "The Collected Stories of Eudora Welty," Ralph Ellison's "Invisible Man" and Thomas Pynchon's "Gravity's Rainbow." (Then again, the O'Connor book bested some formidable contenders when it won the fiction prize in 1972, including John Updike's "Rabbit Redux," Walker Percy's "Love in the Ruins" and E. L. Doctorow's "Book of Daniel.")
Advertisement

O'Connor is often identified by a number of adjectives--as a talented Southern writer or talented Catholic writer or talented female writer. These descriptions are true, but I like to think that a poll like this is a reminder that her work transcends these qualifying terms. O'Connor was a talented writer.