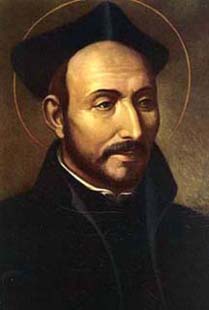 If you're at the Church of St. Ignatius Loyola in New York on Sunday, and able to dodge the marathoners, you'll see something that few people ever see: a Jesuit final vow Mass.
After 21 years as a Jesuit, I've been "invited," as we say in the Society of Jesus, to pronounce final vows.  The "vow formula" goes as follows:
I, [name] make my profession, and I promise to Almighty God, in the presence of the Virgin Mother, the whole heavenly court, and all those here present, and to you, Reverend Father [provincial's name], representing the Superior General of the Society of Jesus and his successors and holding the place of God, perpetual poverty, chastity and obedience; and, in conformity with it, special care for the instruction of children, according to the manner of living contained in the apostolic letters of the Society of Jesus and its Constitutions.  I further promise a special obedience to the Sovereign Pontiff in regard to the missions according to the same apostolic letters and the Constitutions. 
After "solemn" vows, the "fully professed" take five "simple" vows, privately--after Mass, in a side chapel or a sacristy.  These vows show how well St. Ignatius understood human nature.  First, we vow never to change anything in the Jesuit Constitutions about poverty--unless to make it "more strict."  Second, a vow never to "strive or ambition" for any dignity in the church, like becoming a bishop.  Third, never to "strive or ambition" for any high office in the Jesuits.  Fourth, if we find out that someone is striving for these things, we are to "communicate his name" to the Society.  (A friend calls this the vow to rat out someone, but it's another indication of how much Ignatius wanted to eliminate ambition, as far as possible, from the Jesuits.)  Finally, we take a vow that, if we are somehow made bishop, we will still listen to the superior general.
And, by the way, you'll notice that the famous "fourth vow" to the pope is regarding "the missions," reflecting Ignatius's understanding that the pope had a better view of where in the world the Jesuits were needed.  As John W. O'Malley, S.J., has written the fourth vow, often misunderstood in Catholic circles, is about worldwide mobility. 
Even lifelong Catholics have a hard time understanding what all this means.  "Didn't you take vows after two years of novitiate?" "Aren't you ordained already?"  "Don't you live according to poverty, chastity and obedience anyway?"  The answers to those questions are: yes, yes and yes.  So final vows deserve a little explanation.
Essentially, Jesuits take "simple vows" or "first vows" after they have completed their two-year novitiate.  And indeed we vow to be poor, chaste and obedient, in imitation of Christ.  But in those first vows we promise that we "will enter" the Society of Jesus.  In a sense, it's an offering to God, which we hope will be confirmed.  "[A]s you have freely given me the desire to make this offering," we say in first vows, "so may you also give me the abundant grace to fulfill it."
After completing the many years of Jesuit training and, for some, after ordination, a Jesuit is invited into the final stage of his training, called "tertianship," which includes making the full Spiritual Exercises of St. Ignatius Loyola, a.k.a. the Long Retreat.  After this, many Jesuits fill out evaluations of your suitability for final vows (called informatios), answering several broad questions.  ("Does his life as a Jesuit give witness as a man consecrated to God?")  The evaluations are sent to your home province, and from there to Rome, where the superior general of the Society of Jesus approves (you pray) "full incorporation" into the Jesuits. 
Several analogies are helpful, but imperfect.  It's somewhat like making tenure (you're already a professor but now a "full" one).  It's somewhat like making partner (you're already a member of a law firm, but now a "full" one).  Or, more indelicately, it's somewhat like becoming a "made man" in the Mafia (cf: "Goodfellas"). 
A better way to say it is this: the Society of Jesus is accepting that offer you made all those years ago as a novice.  As another Jesuit said, at First Vows, you accept the Society; at Final Vows, the Society accepts you, "for better or worse."
For me, this means that all those years of discerning and thinking and wondering and talking and and writing and struggling and rejoicing about being a Jesuit have been confirmed.  And not just confirmed by my own prayer and experience--but by the Society of Jesus.  
In this world, there are few things that you can be sure of.  But after 21 years as a Jesuit, and confirmation from the Society of Jesus, I'm sure of my vocation.  And as God has given you the grace of your own particular vocation, may God also give you the grace to fulfill it.