The night train glided over the Mississippi River, from Wisconsin into Minnesota, and as usual it was running late. I hoped a cab was waiting for me for the final 40 miles of the journey, but when I had made my reservation the clerk told me the cab would not wait if the train was more than a little bit late. All fears dissolved in the rain when an older version of the Marlboro man greeted me with a smile. "I was afraid you wouldn't be here, this train is so late," I said. "Never would do that," he replied, "glad you made it to Minnesota, you betcha'."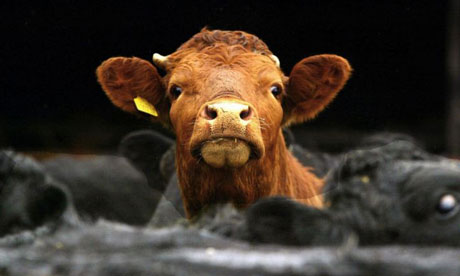 The guy held the wheel on those wet roads as if he were driving a tractor across a field, and went about the same speed, which lowered my heartbeat. No one is a stranger at night in a cab in Minnesota, and I learned that this old farmer had just celebrated 50 years of marriage, owned and worked a 350 acre dairy farm that he was forced to sell to a conglomerate 12 years ago, and still had to drive 90 miles back to his little town in Wisconsin after he dropped me off at my destination. We passed one brightly lit place that, quite frankly, looked like a concentration camp for cows. You could see them in little open cells, many standing up, with lots of tubes and pipes nearby. The tough old fella was near tears as he told me the life of a cow in one of these places was one or two years--they live mostly on concrete and can't move around, so they develop severe arthritis and other infirmities. On a family farm, the working life of a cow spans a few years over a decade. They enjoy pasture, walks in the rain, and live as God meant them to be, in a herd. (I started to google the cow industry to check these facts and learn more. When I learned that many cows have their tails chopped off on large milking conglomerates, for a reason I can't bring mysef to describe, I couldn't keep reading.)
Advertisement
The loss of the family dairy farm in America is a metaphor for the move toward a centralized society, as James C. Bennet writes in the current issue of National Review:
For decades--at a minimum, since the beginning of the Progressive Era, and arguably earlier--America had been on a course toward a more centralized society, one in which individualism as it had been understood since before the Founding--a society built on independent families living on their own property, most of them farms--was being replaced by a different vision. The progressive vision was one of citizens as employees whose existence was mediated by negotiations among large corporations, unions, and government agencies. For such subjects, "rights" were to be a designated set of entitlements granted by these organizations.
In Central Minnesota and Southern Minnesota, the family doctor has gone the way of the family farm, but with a different result. About a century ago, Mayo Brothers founded their clinic in Rochester Minnesota, partnering with the Franciscan Sisters. The doctors developed an intense treatment team concept in medicine, and the good sisters provided a top quality hospital, St. Mary's of Rochester. In the past decade, the world-renowned medical center has developed clinics and satellite programs in communities as far as 100 miles away. They provide top care in an economically sensible way, generating goodwill in the community. The Obama Administration sees the Mayo Model of Healthcare as a paradigm for the rest of the country.
Centralization kills the cows but brings top quality healthcare to Minnesota and Wisconsin, and I believe these two activities underscore in base relief the conflict and dialectic we struggle with on many issues in society and in the church. Which is more effective: local or national governance? William Byron, from a classic article in America reminds of the position of the principle of subsidiarity in Catholic social teaching:
The principle of subsidiarity puts a proper limit on government by insisting that no higher level of organization should perform any function that can be handled efficiently and effectively at a lower level of organization by human persons who, individually or in groups, are closer to the problems and closer to the ground. Oppressive governments are always in violation of the principle of subsidiarity; overactive governments frequently violate this principle.
Cows and healthcare, church and state, small versus large. Please think of those cows in Minnesota and Wisconsin when the animals are blessed this month in churches across the USA. And think and pray for the farmer turned cab driver I mentioned, whose bride of 50 years is recovering after some top-notch medical care in Minnesota.
William Van Ornum