An interesting essay in Slate Magazine discusses a lawsuit that the reclusive J.D. Salinger is bringing against an author attempting to publish what is essentially an unauthorized sequel to Salinger's famous 1951 novel Catcher in the Rye.  Some snippets from the article: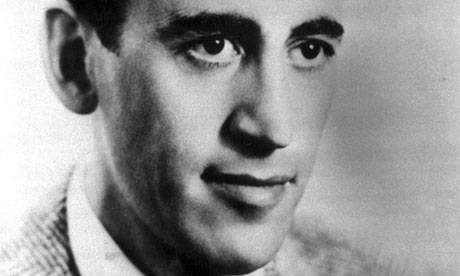 Advertisement
In the suit, the 90-year-old author seeks the "recall and destruction" (subtly oxymoronic?) of a novel that had been set to be published in the United Kingdom this summer and in the U.S. this fall. The book is 60 Years Later: Coming Through the Rye by a pseudonymous writer who calls himself John David California.
In the novel, as was first reported by the U.K. Telegraph and then the New York Post and other U.S. outlets, a 76-year-old man called "Mr. C" (who is said to be a stand-in for Salinger's Holden Caulfield character, the troubled and rebellious teenage protagonist of The Catcher in the Rye), escapes from a nursing home, encountering, as part of his travels, "a Salinger-like figure" as he seeks to retrace Holden's youthful steps.
According to the Post, Salinger—seeing this book as an "unauthorized sequel" to Catcher and a misappropriation of his Holden Caulfield character—not only wants all copies of it "recalled and destroyed"; he also wants cash: "unspecified damages" from the alleged "copy-cat" author, because his copyright "is worth an enormous amount of money."
But why would Salinger, who has spent the last forty-five years hiding out in New Hampshire (he is now 90) suddenly reinsert his name into the public record?  It can't really be for the money (Catcher has sold an astounding 65 million copies since its publication in 1951); equally improbable is that Salinger cares a whit about his reputation, literary or otherwise.  But author Ron Rosenbaum mentions another interesting possibility: that Salinger has written a sequel to Catcher in the Rye himself.
            Rosenbaum's main concern is that Salinger would destroy the manuscript(s) or order that his unpublished work be destroyed upon his death, therefore depriving generations of fans and the American culture at large of a chance to see Holden Caulfield once again drawn by the pen of his creator.
            But what if Salinger did write a sequel, and it's…well, terrible?  There are precedents for such a letdown.  Joseph Heller published his debut novel Catch-22 in 1961 to mixed reviews (the New Yorker sniffed that it "gives the impression of having been shouted onto paper"), but saw it become a national bestseller and an icon of American fiction (it remains my favorite novel, 20 years after I first read it).  When Heller finally published a sequel, Closing Time, in 1994, it was greeted with much fanfare followed by widespread disappointment, both from critics and from diehard Heller fans.  Somewhere in those three decades in between adventures, Yossarian and his friends had lost their mojo.
What if a genuine sequel to Catcher in the Rye brought us a Holden Caulfield with a history rather more conventional than that which Salinger's fans haved dreamed up for him?  What happens after Holden leaves the sanitarium?  Does he end up as a Cheeveresque business executive in New York, drinking gin and tonics from a plastic cup on the Metro-North train back to his family to Connecticut every night?   What if Holden moves to Los Angeles and becomes a screenwriter, like his brother D.B.?  What if ends up as the headmaster at good ol' Pencey Prep? Would Salinger's diehard fans be able to handle the shock?  And what would Holden have to say in response?
Jim Keane, SJ