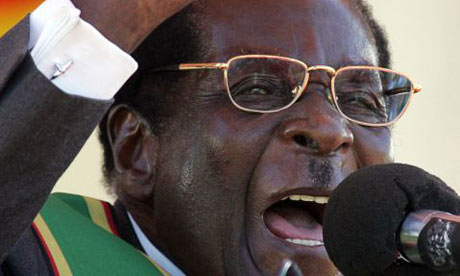 Joining their voices to leaders of other nations, the Southern African Catholic Bishops Conference issued a statement in mid-December saying that "it is now time to isolate Mugabe completely and to remove all forms of moral, material or tacit support for him." Disease is making further inroads. By January, according to WHO, the cholera death toll had risen to 2000, with close to 40,000 infected. The epidemic has been fueled by a collapse of its sewage and water systems. The bishops "insist that no effort be spared in ensuring that a political solution to the current impasse is found." But currently, there are few signs that a solution is near, and in the meantime deaths from disease and hunger continue to rise as the economy continues its freefall. Mr. Mugabe is expected to form a government by late February, but the opposition leader, Morgan Tsvangirai has said that he will refuse to join such a government because of the president's refusal to share the more powerful ministries.

As a bizarre addendum to the deteriorating situation throughout the nation, Zimbabwe's soldiers since last June have been receiving elephant meat as food, because the army contracts to supply beef had been canceled. The army plays a key role in maintaining Mugabe in power, and was involved in the violence surrounding last year's run-off elections. One officer said the elephant meat was a welcome relief for soldiers who had been given only maize-meal porridge. But over two million in both the rural and urban areas of the country face starvation, a threat worsened by drought conditions in Southern Africa. The World Food Program began its emergency feeding operation late last year, with the United States, the UK and the Soviet Union as the largest donors. The operation has been slowed, though, by fuel shortages and the poor road network in some rural areas. Hopefully, the South African bishops' statement can bear fruit with a permanent isolation of Mr. Mugabe.
George Anderson, S.J.
Advertisement