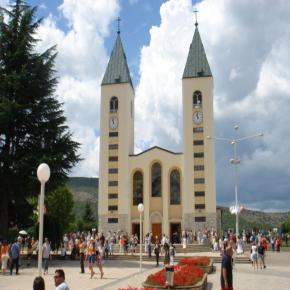 From the Daily Telegraph, news of a bishops' "row" over Medjugorge. 
Cardinal Christoph Schonborn, the Archbishop of Vienna, was subjected to unprecedented public criticism by Bishop Ratko Peric of Mostar for spending Christmas in the town in his Bosnian diocese where the Virgin is said to have appeared more than 40,000 times since 1981.  Bishop Peric is insistent that the claims are false and is furious that the cardinal has appeared to lend credibility to them.  In a three-page statement, the bishop said he regretted the visit of Cardinal Schonborn, the leader of the Catholic Church in Austria, claiming it had "contributed to the suffering of the local church and even added to it." He accused the cardinal of working against "peace and unity" and said that the visit "does not imply any recognition of the 'apparitions'."  Pope Benedict XVI defrocked Father Tomislav Vlasic, the priest said to be the "creator" of Medjugorje, last summer.
Advertisement
I don't know much about the shrine, other than the general outlines of the story of the visionaries, but a good friend was, before his death, very devoted to Our Lady of Medjugorge.  Sadly, this fighting is the opposite of the "mir," or peace that Mary offers.  Read the rest of the Daily Telegraph story here.