The great Protestant theologian Karl Barth is purported to have said, A preacher needs a newspaper in one hand and a Bible inthe other. As someone who dabbles in both news and theology, I take Barth's point to be that for Christians, neither realm should exist without the other; the world should be seen through the lens of faith and faith should always be relevant to lived life. 
Barth's exhortation sprang to mind during Sunday's homily. The presider, a young priest in his early 30s, barely acknowledged that it was Labor Day weekend before moving on to the bulk of his message, which was so bible-centric that one may have been forgiven for thinking he or she was in a Evangelical megachurch rather than a Catholic cathedral. The message touched on Jesus, his disciples, how the Gospel related to the epistle and the Old Testament passage. The priest preached passionately on fostering forgiveness; he clearly had his bible in one hand. A newspaper in the other? Not so much. 
Advertisement
Being Labor Day weekend, I wondered how many people in the pews were unemployed, who rather than celebrating the lastweekend of summer were instead perhaps dejected in that they had no labor from which to rest. A quick glance at the newspapers that week showed that not a single job was created last month, and that the outlook remained bleak for the foreseeable future.  
I glanced at the twenty- and thirty-somethings who constitute a large segment of this particular Mass, and I was curious how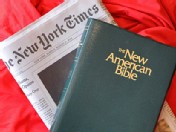 many knew how instrumental Catholic immigrants and certain Catholic figures in this country had been in the quest to advance the labor movement and help build a strong middle-class and a prosperously peaceful nation. There is no shortage of stories reporting on huge corporate profits as middle- and laboring-class wages stagnate. The Sunday before Labor Day seemed like an opportune moment to remind Catholics of God's preference for the marginalized, the weak, and the voiceless, perhaps through an economic gloss given the day.
The younger priests I have heard preach seem to be singularly focused on scripture and the Church, whereas their older peers seem more willing to explore how scripture might be used in interpreting problems of the world, from the mundane problems of lived life to the more existential crises of our particular time. 
Did the readings on Sunday correlate easily to Labor Day? Probably not. But with enough imagination, and a willingness to embrace the world in which Christians live, perhaps there is always a message that applies to a given context? Is the Church retreating, even a bit, from the world? Does this sentiment manifest itself where you attend Mass? Is this a sort of generational phenomenon?