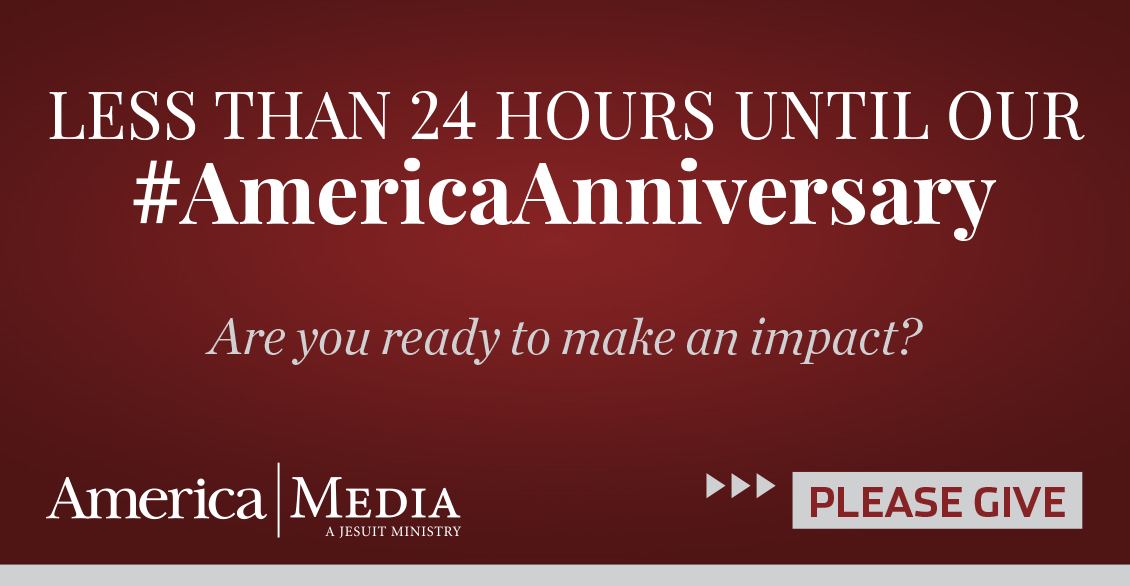 Advertisement
Are you ready to make an impact?
Last year, we were able to raise over $20,000 in just one day, from over 200 supporters in 36 different states. Now that's impact!
Our commitment to telling the stories that matter most, our relentless pursuit of the truth, and the principles of good, bold and honest journalism are at the core of who we are, and who the Society of Jesus has commissioned us to be.
Now more than ever before, we are able to utilize the very best talent and technology to engage our readership in ways that reach our community where they are, through our flagship magazine, through podcasts, through our digital presence, through videos and events and through our pilgrimage and travel programs.
In 2018 alone, your impact and support was felt across all platforms, allowing us to produce groundbreaking content that affirms and challenges. Because of you we reach, 
70,000 bi-weekly print readers
1 million monthly website visitors
94,000 newsletter subscribers
156,200 social media followers, and
39.4 million minutes of our podcasts were heard
6.8 million minutes of our videos were watched.
Why do we do what we do?
Because being fearless is who we are.
Because hope is breaking news.
Because pursuing the truth is our mission.
Because we're called to lead the conversation, even when it's hard.
Because telling the stories that matter most makes all the difference.

For the past 110 years our church needed our team at America Media. And on our #AmericaAnniversary, I need you. 
On April 17 - in less than 24 hours! - please consider making a gift, for the church, for the world, for the greater glory of God.
Sincerely yours in Christ,
Rev. Matthew F. Malone, S.J.
President and Editor in Chief