Review: 'Back to the Future' and 'The Shark is Broken' bring movie brands to Broadway
What do we look for when we go to the theater? Meaty drama to wring tears, provoke deep reflection, linger in our thoughts? An escape from everyday worries into laughter or fantasy (including the unreality of characters who spontaneously sing and dance)? Above all, do we prize startling discovery or comforting familiarity? Revelation or revelry?
Or is what we really want to see staged versions of movies we love? Two new Broadway productions, a musicalization of "Back to the Future"and "The Shark Is Broken," about a tumultuous few days on the shoot of the movie "Jaws," offer case studies in brand extension and fan service. Indeed, both are based on films that represent a pivotal era of mass culture brand creation: 1975's "Jaws," which created the modern movie blockbuster, and 1985's "Back to the Future," which just 10 years later epitomized the ascendance of the full-service crowd pleaser.
Two new Broadway productions offer case studies in brand extension and fan service.
Broadway shows, with their high running costs and similarly high ticket prices, increasingly aim to please a wide demographic, resulting in more shows suitable for all ages, from "The Lion King"to "Harry Potter and the Cursed Child," and fewer aesthetically adventurous gambles like "The Life of Pi" or "A Strange Loop." It's a trend that roughly echoes the way the grown-up cinema of the 1970s was crowded out by the popcorn fare of "Star Wars" and "Raiders of the Lost Ark." Now that we're in an age when popular taste has largely frayed into niches (Barbenheimer notwithstanding), Broadway is, oddly enough, one of the last bastions of what might be thought of as mainstream middlebrow culture—of entertainment fare that anyone can tolerate, if not thrill to.
Is it any wonder, then, that the Great White Way has turned into a bit of a theme park? By those standards, the new "Back to the Future"musical is a qualified success. With a book by one of the original screenwriters, Bob Gale, and a score by the film's composer, Alan Silvestri, the show is faithful to a fault, shamelessly recreating nearly every beat of the movie's tricky time-travel plot, restaging most of its set-piece scenes, and mimicking most of its line readings and performances. Being a musical, of course, the show adds a passel of new songs, most of them restating or emphasizing story points that have already been made, some of them pastiches that evoke the show's two eras (the 1950s and '80s), most of them wholly unmemorable and yet strangely unobtrusive to the forward momentum of the show. Before you can wonder why the characters are singing at all—and you probably will—the show has moved on to the next beat.
Is it any wonder that the Great White Way has turned into a bit of a theme park?
It's all both blandly pleasant and vaguely stirring, like any number of theme park attractions. Roger Bart, who plays the wild-haired inventor Doc Brown, has been given just enough rope by director John Rando to turn this show-stealing part into a mildly meta-theatrical departure from Christopher Lloyd's shambolic mad scientist. And the show's seamless combination of projections and practical effects, dominated by its impressively mobile DeLorean and underscored by Silvestri's cinematic music, proves disarmingly persuasive. The show is a machine, no question, but, as Doc Brown sings proudly of his invention, "It works!"
The modest pleasures of the three-character play "The Shark Is Broken" feel hand-tooled, even artisanal, next to the impersonal mechanism of "Back to the Future." Still, even this show draws most of its power from its cinematic source. On the cramped fishing boat where the second half of "Jaws" was filmed, we're dropped into the midst of the rivalrous camaraderie among three very different actors: Roy Scheider (Colin Donnell), staunch and a bit starchy; Richard Dreyfuss (Alex Brightman), a bundle of need and neuroses; and Robert Shaw (Ian Shaw, the original actor's son), perpetually sozzled and splenetic. These differences of style and temperament were memorably evident in the original film, but the play—co-written by the younger Shaw, with Joseph Nixon—doubles down on them, particularly the tetchy intergenerational sparring between Dreyfuss and Shaw.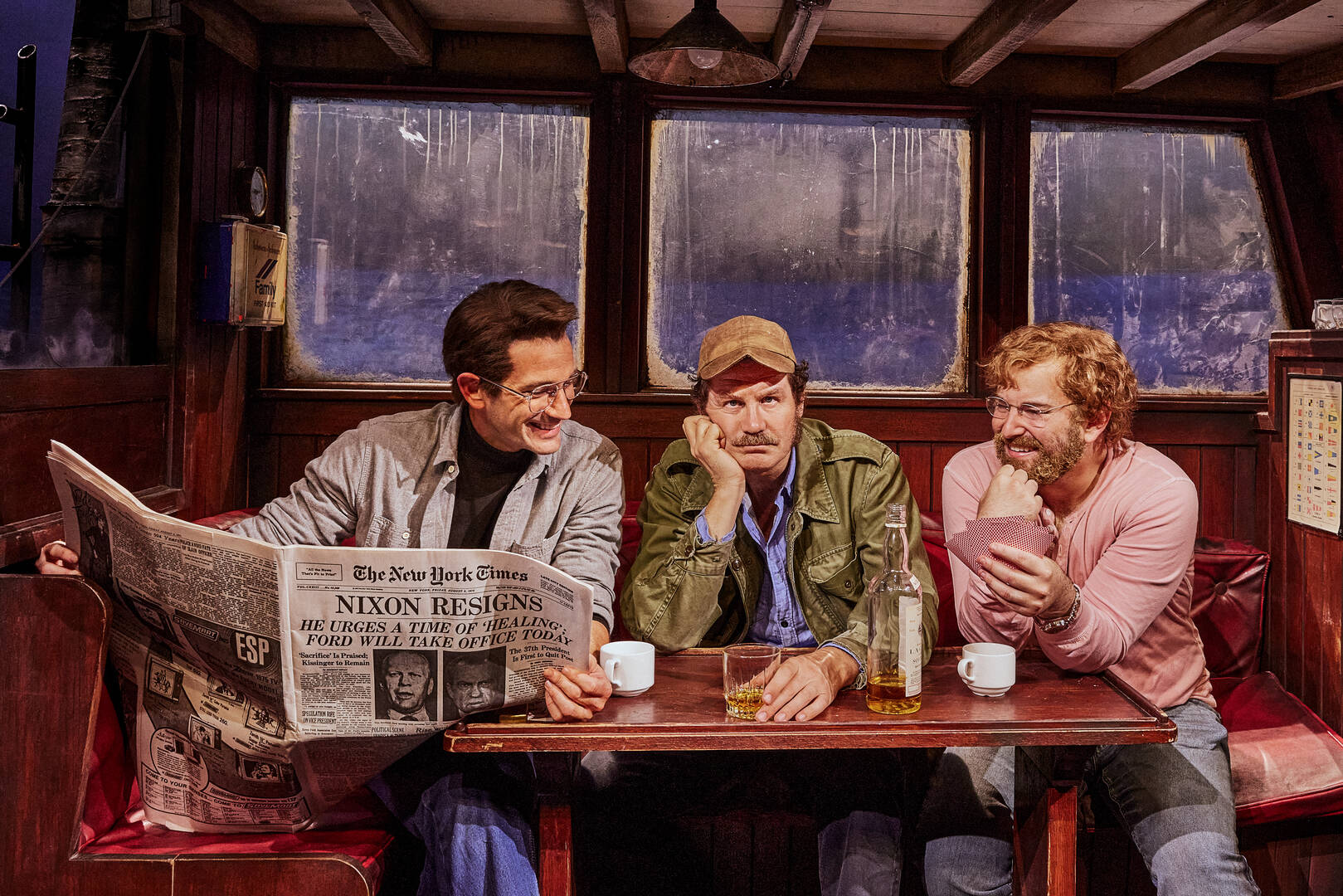 The younger actor abjectly admires the elder because he's worked with Harold Pinter and done Shakespeare. And though Shaw is ostentatiously uninterested in the young man's adulation, the three men eventually open up to each other, in a slightly formulaic but nonetheless satisfying fashion, about their aspirations and fears, both for themselves and for the film they're making. Shaw dismisses it as "bread and circuses," while Scheider wonders, with a bit too much winking hindsight, if perhaps "Jaws" represents "a new kind of movie." Indeed, a fair number of the play's jokes riff on our own knowledge of what will come in the film's wake, from scoffing dismissals of whether there will be a sequel (there were three) to the exchange in which Dreyfuss mentions a movie that director Steven Spielberg has in mind about visitors from outer space (we know he's talking about "Close Encounters of the Third Kind") and Shaw responds, "Aliens? What's next, dinosaurs?"
In addition to these rather cheap references, though, the show has a rather more eerie and profound level of resonance: Shaw, who co-wrote the play with Joseph Nixon, is playing his own father. With his signature sideburns and whisky-soaked burr, the resemblance to the salty sea captain of "Jaws" is uncanny. And while at first Shaw's performance put me in mind of Michael Palin doing a ripe parody of an incomprehensible old sot, the actor's channeling of his father takes on surprising heft as the show goes on. When the character is recounting his own father's emotional distance and compulsive drinking, while he himself is deep in his cups and pushing affection away, the lines between play and subject blur into oblivion, and the reverberation among the generations is both unsettling and transfixing.
Ultimately "The Shark Is Broken" can't resist using the actor's resemblance to stage a literal copy of a scene from "Jaws," though its fidelity to the original has a ritualistic, even purgative quality that a high-tech gadget like "Back to the Future" can't touch. Whether infused with significance or merely out to tickle nostalgia, these shows manifest the world that Shaw's character foresees when he speculates that "one day there will only be sequels—sequels and remakes, and sequels to remakes and remakes of sequels." For better and worse, that's a future we keep going back to.