Black Catholic artist's 'Baltimore Pietà' reimagines Michelangelo's masterpiece through the lens of police brutality
Editor's note: On Jan. 14, Black Catholic artist Wayman Scott unveiled a sculpture nearly three years in the making: the Baltimore Pietà. His sculpture depicts a Black mother holding her dead son, reframing the famous Michelangelo piece through the lens of police brutality. His exhibit at Baltimore Clayworks runs through March 25 and includes sculptures of other famous Black Americans. In a Jan. 18 interview with America, Mr. Scott spoke about his inspiration for the pietà and the motivation for his work as an artist and health care professional. This interview has been edited for length and clarity.
For starters, please tell me about your exhibit. What is it called? What are some of the themes? How long has it taken to pull this all together?
"EARTH and LIFE" is the name of the exhibit, and it's going to be up through March 25. A lot of it is focused on civil rights icons or agents of change. It covers [Baltimore, Md.] Congressman Elijah Cummings, Frederick Douglass—and it covers Bob Marley, who doesn't necessarily have a direct Baltimore connection, but what many people don't know is that he was a peace agent who was recognized with a United Nations peace medal in 1978.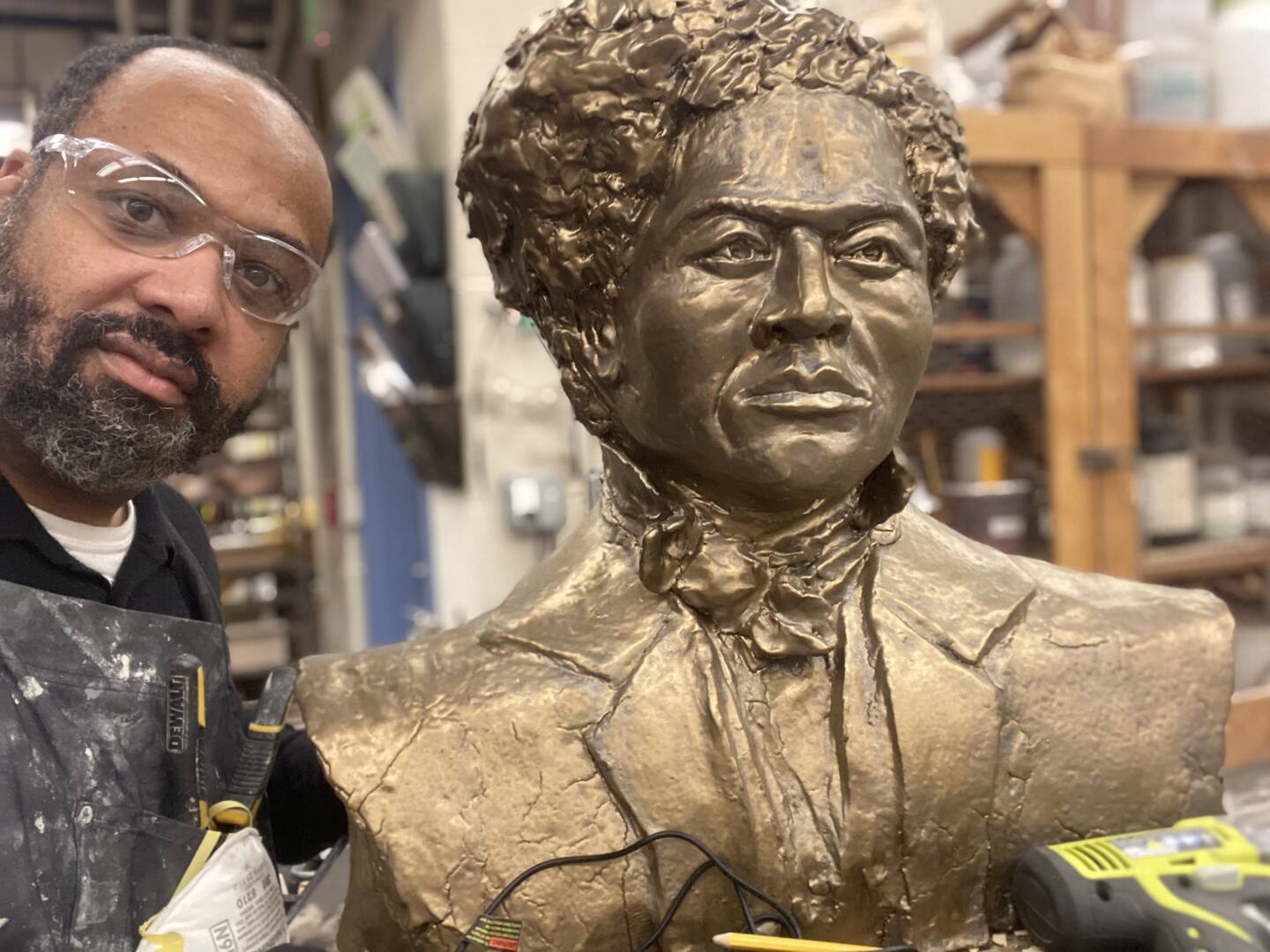 The biggest and most unsung hero in the exhibit is Mother Mary Lange. She was the founder of the Oblates Sisters of Providence, the first successful Black order of nuns. It was founded in the early 1800s in Maryland, which was a slave state, and Mother Mary Lange was an immigrant from Haiti who wanted to ensure that Black children could read so they could read the Bible. There was no emancipation, no legal mechanisms protecting her, and still she opened up a school at a time when Black people were not seen as human in the eyes of the law, not allowed to be free. The Oblates Sisters are still going strong today, with sisters in 25 different countries; all from this small, unassuming Black woman who was a giant and a lioness. It was really important for me to put her in there.
The centerpiece of your exhibit is not a historical figure, but this piece entitled the Baltimore Pietà. Can you tell me more about that?
This pietà represents the killing of unarmed Black people. I started conceptualizing this in 2020, I built the maquette [small model] in 2021, and then I won the Mary Nyberg Award, which is an artist's grant through Baltimore Clayworks that funded me to build the life-size. I did it in the image and likeness of Black people, and I did that to show that divinity lives within us and to show the inherent value of Black lives. If you can kill someone from a community, and the person doesn't even get charged, let alone convicted, then you don't really see the value in that person's life. So I am counteracting that with my voice as an artist. Black people are still getting killed, and while it might not be part of the news cycle or the first story now, it's still a reality to our community.
I did it in the image and likeness of Black people, and I did that to show that divinity lives within us and to show the inherent value of Black lives.
Baltimore was the home of Freddie Gray, who was killed by police in 2015, and there were no convictions in that particular case. That was a few years before you started your pietà, but did that contribute at all to your vision of this piece? And how?
Absolutely. I've spent time on the Baltimore Healing City Summit, and we're trying to bring healing and mental health support to the community. But if there's a broken relationship between law enforcement and the community members, it's going to be hard to move into that space of healing, which is why for this, I used very specific models. I work for Gilchrist, a hospice and elder medical care provider that's part of the Greater Baltimore Medical Center system. The model for Jesus, his name was Johnny, and he is a hospice aid. He shared with me about his experience of police harassment while on the job, when we're driving from place to place working.
And then the woman that played Mary, Sharmean, is an African American woman with two brothers that are police officers, whom she loves and she trusts. So the models have two different perspectives, but they both support the movement for Black lives. The piece isn't meant to disparage or speak out against police in and of itself, but really to highlight real, lived experiences.
An earlier version of the piece, before the life-size, had the mother's mouth open in a scream. The version that you unveiled last weekend looked more akin to Michelangelo's, a more muted, sorrowful picture of the mother. Why did you make that change?
In the piece that I unveiled on Saturday, Mary has a furrowed brow. There's that look of anger. And her hand is clenched in a fist; it's not a gentle hand laying on top of Jesus. And what came to mind was a righteous indignation. I did want to re-examine that first piece because when you look in the media at how Black people are depicted, there are certain stereotypes that go along with us: the idea of someone losing control, of screaming or crying, that gets pushed up front. I wanted to show in this piece a righteous indignation.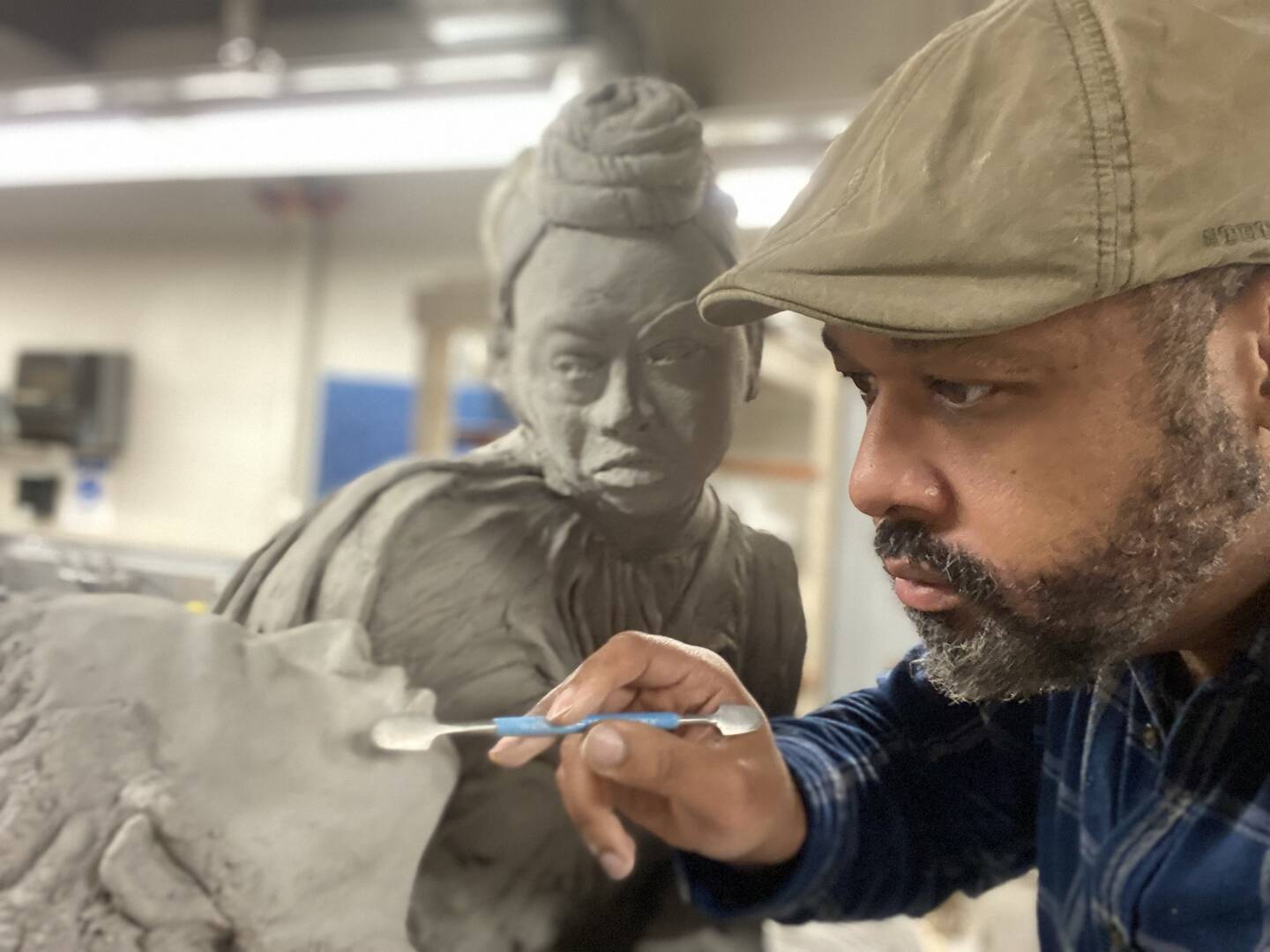 Also in the first piece, I didn't have a model. In the first piece, that expression came out of the pain that I felt when I found out that my coworker's daughter was murdered. And I couldn't even sleep that night. So I went to the studio and I worked, and this expression came out of it. So I put a lot of myself [into it], expressing my own emotion. For the second piece I had a model, so I asked Sharmean, "Can you step into the feeling as if this happened to your son?" In the Baltimore Pietà, Mary is sitting there, holding her son who was killed. And it's not the peaceful Michelangelo version, and it wasn't my version of her screaming in pain, but it was that righteous indignation.
As a Black Catholic, how have you felt about the church's responses to issues like police brutality?
Well, it's mixed, right? It seems like before 2020 I wasn't hearing a lot about it, but after George Floyd was murdered, then I heard some of these voices. But it's not something that I see as a forefront issue. When you think of the hierarchy, that's different than Catholic individuals. The head of the Urban League, Marc Morial, is a Black Catholic, and he advocated for the George Floyd Justice in Policing Act. I believe that the church has a moral and sacred duty to stand up against inequity and injustice.
When it comes to protecting Black lives, the issue is broader than strictly police, because when we talk about life and the sanctity of life, that goes into health and housing. Baltimore is extremely redlined, and it's been historically extremely segregated dating all the way back to Mother Mary Lange's time. There are Catholics and Catholic groups working in those areas; Father Joe Muth, who recently retired, and the Catholic members of the Govans Ecumenical Development Corporation, have done tremendous work.
Are there any artists that particularly inspire you or helped you on your work?
There's an artist, John Nelson, whom I've followed since I was high school age. He works a lot in realism, an absolute master of the human figure. He is an African American man, and when I was young I saw myself in him and I thought, "Well, maybe one day." He was just a huge inspiration for me in terms of human figure.
There's another sculptor, Isolina Minjeong; I didn't think I could do a life-size sculpture until I met this resident artist at Baltimore Clayworks, and I saw a totem that they had built. This thing must have been seven feet tall. And at that moment, I knew that building the life-size pietà was possible. So I had some one-on-one study sessions with Isolina, and they instructed me on the modular method, how with a certain size you can get past that size barrier to build modularly, and they also told me about the right kind of clay that I need to use.
When it comes to protecting Black lives, the issue is broader than strictly police, because when we talk about life and the sanctity of life, that goes into health and housing.
And there is a teacher that I had at Baltimore Clayworks, Emily Lamb, who is a master of human figures ceramics. The reason why that's significant is when you go to any clay or ceramic studios, 90 to 95 percent of the focus is going to be on throwing pottery on the wheel. You're lucky if you can have one class that's focused on hand-building. So the fact that there was a hand-builder, who is also a human figure sculptor, that was amazing.
As well as sculpting, you work in hospice care. Does that have an impact on the way you approach your work?
I try to make my life congruent between my art and my work. So I look at someone like Frederick Douglass, who advocated for freedom, and even after emancipation, he was still advocating for the rights of Black people. And right now, I work in the health equity movement. I'm associate director for diversity, equity and inclusion at Gilchrist and with Greater Baltimore Medical Center. We're trying to bring more access to health care to people in Baltimore City. We are using elder medical care, which provides in-home primary care to seniors with a chronic condition, and the patient-centered medical home model to reduce health care disparities in historically underserved communities in Baltimore.
So I don't see my art in the studio and my work for health equity as two different things. I see them as congruent. They can't be isolated. I don't just work in the studio and go home and let all that stop. It's a lived experience as part of reality.
Why did you choose "EARTH and LIFE" as the title of your exhibit?
Clay is from the earth, and clay is something that is creative. Symbolically, it's life-giving. In Genesis, we were formed out of clay before life was breathed into us. And I highlighted the lives of some of the change agents that affected the world we live in, the lives of people that are icons, not only in Black history, but in American history and world history. It's Earth, and it's life. It's both of those things.
Correction: A previous version of this article included a misspelling of the city of Baltimore.