Anglophones in Cameroon fear an increase in violence as election approaches
Shortly before midnight on Sept. 26, Yahweh Phillip cut down the trunk of a tree, threw it in a gently ebbing river that flows to meet the Cross River and held onto it for life as he sailed down into a rural community on the Nigerian side of the river. He was fleeing the wrath of military men who had invaded Akwen, his village in southern Cameroon. The uniformed men randomly shot at and killed dozens of villagers just that afternoon, he said, arresting the young and old and even entire households.
Mr. Phillip, 23, is one of the thousands of people who have fled English-speaking regions of Cameroon to Nigeria's Cross River State in recent months. In Agbokim, the small farming community where Mr. Phillip arrived, there are over 2,000 refugees. Some have been here for over a year. Many have no means of employment and have to rely on the kindness of locals. In a poor village where resources are already stretched, refugees who manage to find menial farm labor earn a little over $1 a day.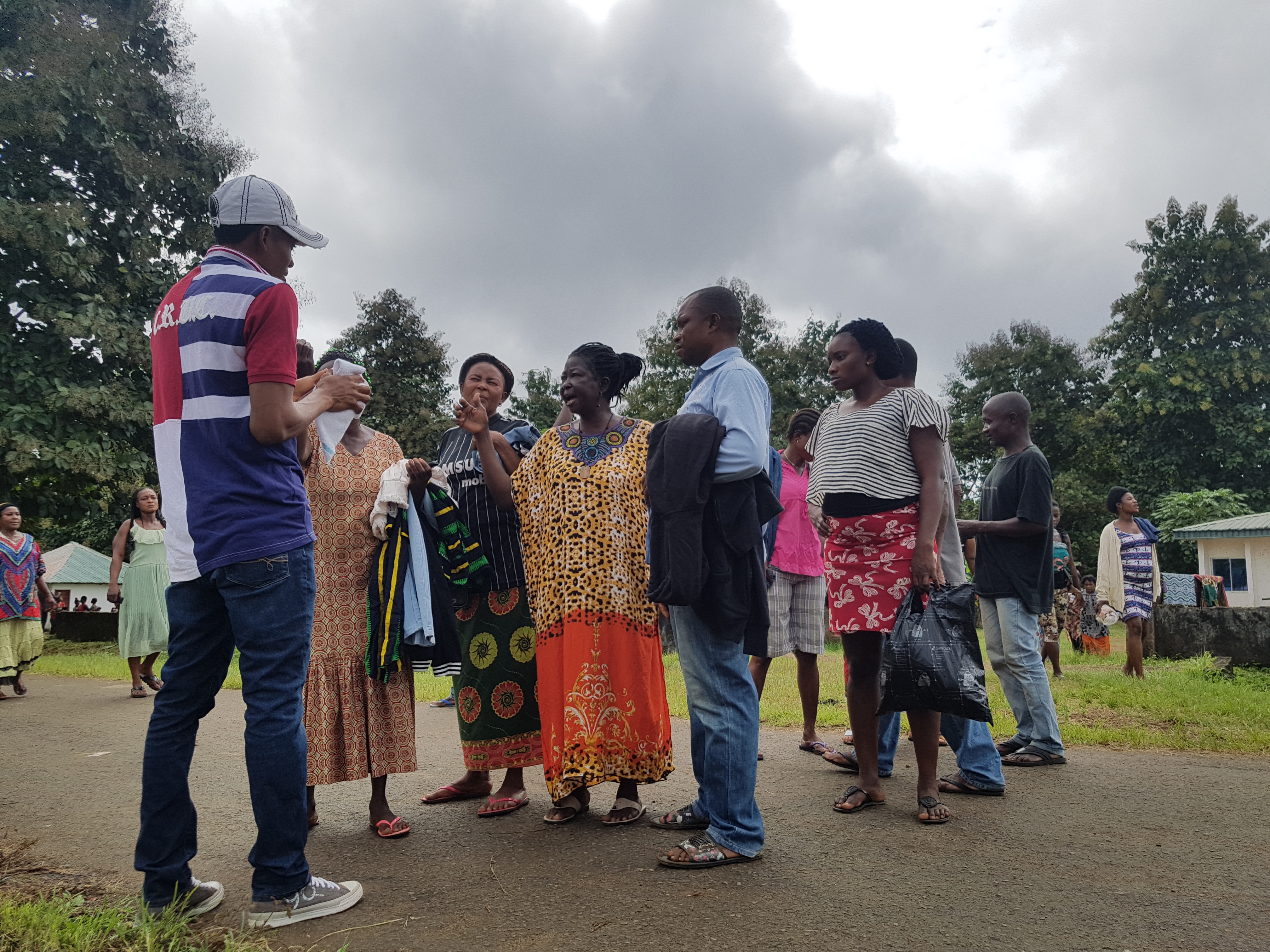 Back in Cameroon, 85-year-old President Paul Biya is running for a seventh consecutive term in a national election scheduled for Oct. 7, after having ruled for 36 years. Fear of post-election violence has led to an influx in the numbers of refugees streaming over the border. In the space of a month, 300 more people have arrived in Agbokim alone, according to Fred Assam, a 25-year-old refugee coordinator in the village and a Caritas Nigeria volunteer.
The violence has been raging since October 2016, after English speakers who occupy the Northwest and Southwest regions marched peacefully to protest cultural and economic marginalization by the Francophone-dominated central government. The English speakers who make up one-fifth of the country's 23 million people (which include an estimated 6.5 million Catholics) say their rights are often trampled. Lawyers, teachers and students marched against the imposition of French language in the region's schools, courtrooms and administrative offices and called for a return to a federal system used before 1972 that allowed regions to preserve their cultural identities, including languages.
The violence has been raging since October 2016, after English speakers marched to protest cultural and economic marginalization by the Francophone central government.
President Biya reacted to the protests by blocking internet access and deploying the army, who shot into crowds of protesters in the cities of Bamenda and Buea, reportedly killing four. By Oct. 1, 2017, when demonstrations began again, armed separatist groups had emerged, calling for an autonomous anglophone region to be called Ambazonia. Another crackdown by the military left more than 20 dead and dozens more wounded, according to Amnesty International.
The protests were also fueled by rising levels of unemployment and mass poverty in the two Anglophone regions. Out of 10 regions, eight are Francophone and more developed. Although English and French are both official languages, students in Anglophone regions must attend classes taught in French, and English-speaking lawyers have to argue before French-speaking judges.
The western and southern parts of Cameroon were French and British colonies until they merged into a single entity in 1961 and gained independence. Southern Cameroon, previously a United Nations trust territory, voted in a referendum to join the French-speaking Federal Republic of Cameroon instead of Nigeria.
Catholic priests seeking to broker peace between the warring factions have been caught in the middle, sometimes fatally.
But English speakers have agitated for autonomy since the '80s, after another referendum changed the form of the country into a unitary state, leaving Anglophones feeling that they are underrepresented politically.
Since the recent fighting began, armed secessionist factions, labeled terrorists by officials in the capital in Yaounde, have boycotted schools and ensured general strikes, or "ghost towns." Attacks have been launched on the Cameroonian army, leaving at least 44 dead, according to Amnesty International. Catholic priests seeking to broker peace between the warring factions have been caught in the middle, sometimes fatally. Two priests have died and a third was shot at earlier this year.
At least 400 overall have died in the fighting, 160,000 have been displaced in Cameroon and 21,000 registered refugees have fled to Nigeria, although the real count may be much higher. (One refugee coordinator estimates that about 51,000 more are currently seeking refuge in Nigeria.) Others are caught in the forests dividing the two West African countries and cannot access aid.
Refugees in Nigeria focus on survival
On a recent Thursday afternoon, Imelda Akom stood in line to receive her share of rice and soap freshly delivered to the settlement in Agbokim. Some bags of rice were delivered by three Reverend Sisters from the Catholic Archdiocese of Bamenda, capital of the Northwest region. Before the sharing, Ms. Akom bowed her head in prayer with hundreds of refugees, all thanking God for sparing their lives.
With four kids in tow, the 48-year-old had been lucky to escape a massacre by government forces in Baje, her village, last year. She arrived at the camp in Agbokim late December, just after Christmas. 'They drove us out and we had to run," she recalls. "The way we got here, we are not even sure." In the dead of the night, she and her kids climbed onto logs that were being floated down the river. Government security forces accused the villagers of hiding rebel fighters. But while most of them sympathize with the secessionists, they claim not to know the fighters personally.
In the dead of the night, a mother and her four kids escaped by climbing onto logs that were being floated down the river.
Now Ms. Akom is focusing on survival. She cuts and cleans teeth-cleaning twigs for sale. The $1.38 profit she makes daily goes into feeding and paying other bills. When aid workers bring food, she rallies her kids to carry the supplies and store them in the rented one-room they all share. It is barely enough, she admits, but she is grateful to have something to eat.
Caritas Nigeria, the development arm of the Catholic Church here, has been a main source of aid for the refugees in Agbokim. Kayim Bojor, an enumerator with the organization, says he and his colleagues are needed here because the settlement is not officially recognized by the United Nations High Commissioner for Refugees and thus does not get aid from the U.N. agency. Many refugees have refused to move to a U.N.H.C.R.-funded settlement in Ogoja, a bigger Nigerian town about two hours away from Agbokim and farther from home.
According to Mr. Assam, the refugee coordinator, the acceptance from the host community in Agbokim and the provision of shelter and jobs by the locals has made leaving the village hard for most. Also, Agbokim is one of the Nigerian villages that speak the same Etung dialect as in the Cameroon villages across the river. (In addition to the official languages, there are over 600 indigenous languages spoken in Cameroon.) Communities in the border villages have intermarried for years.
"We are brothers," said Chief Emmanuel Ekuri, the village head in Agbokim. When the refugees arrived via river and forest, he opened a government facility to house them. Other refugees stayed in his own house or with local families.
Back home in southern Cameroon, the atmosphere has become even tenser. An Oct. 1 independence declaration by the rebel fighters came only a few days before the presidential election. That date marks the independence of what had been called Southern Cameroons from Britain in 1961, before that territory merged with the Republic of Cameroon.
"Army men were terrorizing everywhere, searching houses, looking for young people," Mr. Phillip said upon his arrival in Agbokim. "Old and young were running helter-skelter." Mr. Phillip's father, the chief of Akwen, had to flee to Mamfe in the Southwest region some days before Mr. Phillip escaped. Mr. Phillip's uncle is currently in detention.
The situation remains uncertain, but the refugees here are hopeful. There are talks of a church-brokered peace conference in November so refugees and separatists can return home.
"I am here to pray for my nation," Mr. Phillip says. "And I surely believe there will be peace."