Activists resist Trump plan to restart Keystone XL and Dakota pipelines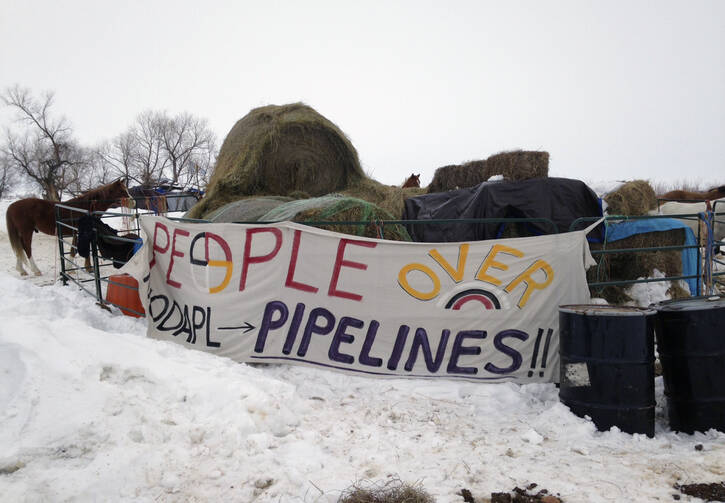 Hay is stacked up to feed horses at a protest encampment along the route of the Dakota Access oil pipeline near Cannon Ball in southern North Dakota on Tuesday, Jan. 24, 2017. President Donald Trump on Tuesday issued an executive action to advance construction of the pipeline, which opponents believe threatens drinking water and cultural sites. The pipeline developer disputes that. (AP Photo/James MacPherson)
President Donald J. Trump's decision to revive two controversial pipeline projects has provoked a strong pushback from Native American activists and environmentalists alike. The president signed executive orders on Jan. 24 that offer an opening to the construction of the transcontinental Keystone XL and the completion of the Dakota Access pipelines.
TransCanada, the company behind the Keystone XL pipeline, wasted little time in responding to the president's invitation, submitting a new presidential permit application to the U.S. Department of State on Jan. 26.
The president's executive order did not exactly shock Dan Misleh, the executive director of Catholic Climate Covenant. "During his campaign and during the transition period, President Trump made clear that he intended to revive and expand fossil fuel industry so these moves do not come as a big surprise," Mr. Misleh said, responding by email. His group "will continue to make the case, as Pope Francis has done in 'Laudato Si',' that we need to progressively move away from fossil fuels for the good of humankind and for the good of God's creation," he added.
"Through our educational, advocacy and facilities work, we will focus on promoting energy conservation and renewable energy—not only because these activities are vital responses to a threatened planet, but also because they are economically smart things to do."
In a statement released on Jan. 25, the Franciscan Action Network condemned the pipeline reversals:
Allowing the plunder and destruction of God's wondrous creation to support the greed of a few is morally, spiritually and ethically wrong and goes against the teachings of every major religious group. As Pope Francis said in October 2014, 'An economic system centered on the god of money needs to plunder nature to sustain the frenetic rhythm of consumption that is inherent to it.'
The network urged Mr. Trump "to join the spiritual and moral crusade of St. Francis of Assisi to protect and not destroy all of God's creation…. We ask him to reinstitute the ban and reverse his executive orders allowing the Keystone XL and Dakota Access Pipelines to move forward."
President Obama halted the proposed Keystone XL pipeline in late 2015, arguing that it would undercut U.S. efforts to clinch a global climate change deal that was a centerpiece of his environmental agenda. The project would move 800,000 barrels of oil a day from Alberta to refineries along the U.S. Gulf Coast. A presidential permit is needed because the pipeline would cross the northern U.S border.
Mr. Trump's memo on the Dakota Access pipeline orders the U.S. Army Corps of Engineers to review and approve construction and easement requests in an expedited manner for a project that has led to major protests by Native American groups and supporters and more than 600 arrests.
In a statement issued on Jan. 26, Dave Archambault II, chairman of the Standing Rock Sioux Tribe, urged the president to allow the completion of a full Environmental Impact Statement, a course of action endorsed by the U.S. Army Corps of Engineers during the Obama administration. That E.I.S. process is already underway and the public comment period is open until Feb. 20.
Mr. Archambault called the decision to shift direction on DAPL "arbitrary and without justification; the law requires that changes in agency positions be backed by new circumstances or new evidence, not simply by the president's whim."
Builders of the Dakota pipeline says the project is almost complete except for the section that would pass under the Missouri River near a camp in North Dakota where pipeline opponents are demonstrating. The Dakota pipeline will carry North Dakota oil through South Dakota and Iowa to a shipping point in Illinois. The A.C.E. decided last year to explore alternate routes for the Dakota pipeline after the Standing Rock Sioux tribe and its supporters said it threatened drinking water and Native American cultural sites.
Mr. Archambault wrote that he found the change in policy difficult to accept "when one considers the close personal ties [the president and his] associates have had with Energy Transfer Partners and Sunoco."
The Sioux leader urged the president to meet with him directly, "leader to leader," to discuss the conflict, pointing out that the tribe was not opposed to "energy independence, national security, job creation, or economic development."
"The problem with the Dakota Access pipeline," he wrote, "is not that it involves development, but rather that it was deliberately and precariously placed without proper consultation with tribal governments. This memo takes further action to disregard tribal interests, and the impacts of yesterday's memorandums are not limited to the Standing Rock Sioux Tribe." He noted, "This is not only a Native American movement, it is a movement of the working class and rural whose voices are often quieted at the expense of more powerful neighbors.
"Millions stand by us, and will continue to do so as we receive executive indication that infrastructure projects will be driven by corporate desire rather than American values."
Environmental groups blasted the reversals as sops by Mr. Trump to the oil industry. Trump's nominee for secretary of state, Rex Tillerson, is a former Exxon Mobil CEO, and his pick for energy secretary, former Texas Gov. Rick Perry, owns stock in Energy Transfers.
"Donald Trump has been in office for four days and he's already proving to be the dangerous threat to our climate we feared he would be," said Michael Brune, executive director of the Sierra Club on Jan. 26. He and other activists said the fight against the projects was not over.
In addition to its concern with the impact of the fossil-fuel infrastructure projects on efforts to reduce global warming, the Franciscan Action Network also noted the problematic intersection with Native American rights and spirituality represented by the DAPL. The pipeline meanders close to land considered sacred by the Sioux and is intended to be routed under the Missouri River, meaning a pipeline rupture poses a potential threat to water resources the tribe and millions of others rely on.
"As people of faith charged with the pope's call in 'Laudato Si' to protect the Earth and its people, we stand in solidarity with our indigenous brothers and sisters in proclaiming that 'Water is Life' and in firm opposition to the Keystone XL Pipeline and the Dakota Access Pipeline," said Patrick Carolan, executive director of the Franciscan Action Network.
Mr. Carolan described resistance to DAPL as a moral call but also an issue of religious freedom. He explained, "Building a pipeline through indigenous people's sacred land is a violation of their religious freedom just the same as if President Trump gave permission to tear down St. Patrick's Cathedral in New York to build an oil refinery on the site."
Kevin Clarke with reporting from the Associated Press