Podcast: What we know about the abuse allegations against prominent Jesuit artist Marko Rupnik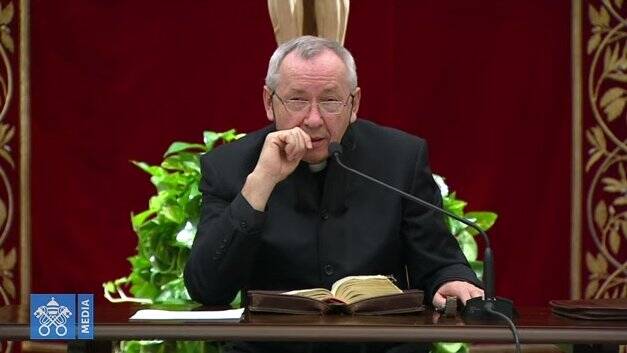 A screen grab shows Jesuit Father Marko Rupnik, an artist and theologian, giving a Lenten meditation from the Clementine Hall at the Vatican in this March 6, 2020, file photo. Father Rupnik, whose mosaics decorate chapels in the Vatican, all over Europe, in the United States and Australia, is under restricted ministry after being accused of abusing adult nuns in Slovenia. (CNS photo)
The Slovenian Jesuit artist Marko Rupnik has been barred from hearing confessions or offering spiritual direction after allegations that he spiritually and sexually abused adult members of a religious order of women in Slovenia. On this episode of "Inside the Vatican," host Colleen Dulle and veteran Vatican reporter Gerard O'Connell explain what is known about the case.
Up next, the Vatican's website showed a 404 error message (page not available) on and off for a few days last week, following the publication of America's interview with Pope Francis in which the pope heavily criticized Russia, naming Putin several times, calling Russia the aggressor in the war against Ukraine, and naming two Russian minority groups – the largely Buddhist Buryati and the largely Muslim Chechens – as being particularly cruel in the war in Ukraine.
[Listen and subscribe to Inside the Vatican on Apple Podcasts and Spotify .]
The Vatican Press Office issued a statement last week attributing the crash to "anomalous" attempts to access the site that it said did not all come from one country. On the podcast, Gerry explains what more he has learned about the hack. "What I do know from informed sources is that this was a highly sophisticated operation, not the effort of amateurs," Gerry says.
Colleen and Gerry also give an update on papal almoner Cardinal Konrad Krajewski's new campaign to bring donated thermal shirts to Ukraine. Donations can be sent to: Elemosineria Apostolica, Cortile Sant'Egidio, 00120 Città del Vaticano.
Finally, Pope Francis' visit to the Democratic Republic of Congo and South Sudan is back on. The pope will visit the two countries in late January and early February. For more background on peacemaking efforts in South Sudan, listen to "Inside the Vatican"'s interview with Elizabeth Boyle of Sant'Egidio here.
Links from the show:
Prominent Jesuit artist restricted from ministry after allegations of sexually abusing women religious
After postponing, Pope Francis has rescheduled his trip to Congo and ecumenical visit to South Sudan
Pope Francis postponed his trip to South Sudan. What does this mean for people living there?