Making time for prayer on your pre-Christmas to-do list
A Reflection for Wednesday of the Second Week of Advent
You can find today's readings here.
Lift up your eyes on high
and see who has created these things:
He leads out their army and numbers them,
calling them all by name. (Is 40:26)
As a working mother with two elementary-school-aged boys, this time of year is so busy between decorating, shopping, attending holiday school concerts and more (on top of the usual daily demands) that I neglect to consider the many graces I have in my life. Isaiah's line to "lift up your eyes on high and see who has created these things" really struck me to slow down and see the beauty in each day with my eyes and my heart as well as my to-do list. It is easy to gloss over how blessed I am to have a roof over my head during cold winter nights, witness the wonder of anticipation in my children's eyes, and be surrounded by love from friends, family members and colleagues when the demands of the season become overwhelming.
As I read on, I was stopped in my fast-paced tracks by this verse: "He leads out their army and numbers them, calling them all by name." It reminded me that God knows and calls us each by name, showing us his abundant love. He created each and everyone one of us—billions of people and counting—but His love, care and attention is so palpable. It is like each one of us is the only one he made. He is never too busy to show us his love. When we open our hearts, minds and eyes to him, our relationship can be so intimate, and the challenges of the day become more manageable.
I am comforted by the fact that "He does not faint nor grow weary," even though I'm certain my time for prayer life does during this time of year. I know in my heart that all the tasks will be done, the gifts will be wrapped and the stockings will be hung with care, so I should make a much greater effort to prioritize my prayer life. After all, it's what truly sustains me and helps complete the tasks of this time of year.
When I thread the passages together, I am inspired to challenge myself to take the Ignatian approach of finding the extraordinary in humble everyday things to become closer to God. Simple acts this time of year—not being frustrated with a slow-paced clerk at the grocery store, calling a friend I have spoken with in a long time, praying for someone by name or taking a walk (without my phone!) in the middle of the day to see and hear the beauty around me—will help me find hope, faith, love and light in all things, and strengthen my prayer life along the way. I invite you to do the same. My guess is that it will make your Advent even more meaningful.
Get to know Heather Trotta, V.P. of Advancement
Favorite Advent or Christmas themed art?
Does the annual Nativity play performed by children ages 3-10 in our parish count as art? If so, it is my absolute favorite, especially when all the little voices sing "Hark! The Herald Angels Sing" and there is always one little sheep who makes faces or waves to the congregation.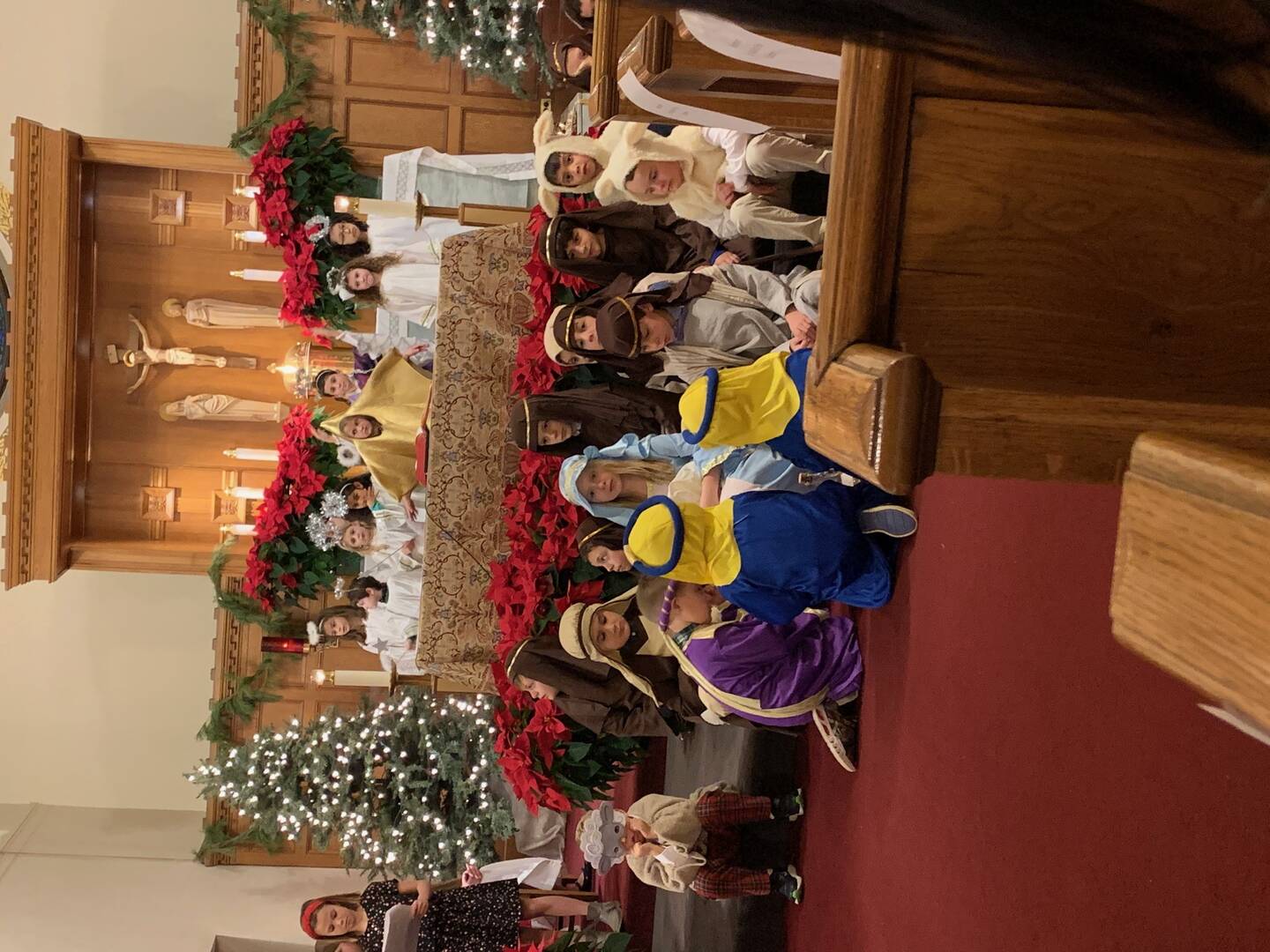 Favorite Christmas tradition?
My favorite tradition is reading "'Twas the Night Before Christmas" as a family before going to bed on Christmas Eve. I remember doing that as a little girl and now I do it with my two children.
Which project are you most proud to have worked on this year at America?
I'm most proud of working with the Board of Directors to establish the Jesuit Legacy Fund as a way to support the operational expenses of the Jesuits assigned to America Media. A continued Jesuit presence is critical to the long-term vitality of America, for in addition to the leadership, news and analysis they offer, they also serve as guides, teachers and chaplains to the staff, the Board of Directors and America's audience. We are so lucky to work with Jesuits each and every day, and I hope that never changes.
Favorite Christmas recipe?
It wouldn't be Christmas morning without homemade blueberry coffee cake.
Favorite Christmas photo?
I love this photo from 2014 because my younger son is showing his older brother who is boss!