Pope Francis apologizes for canceling trips to Congo and South Sudan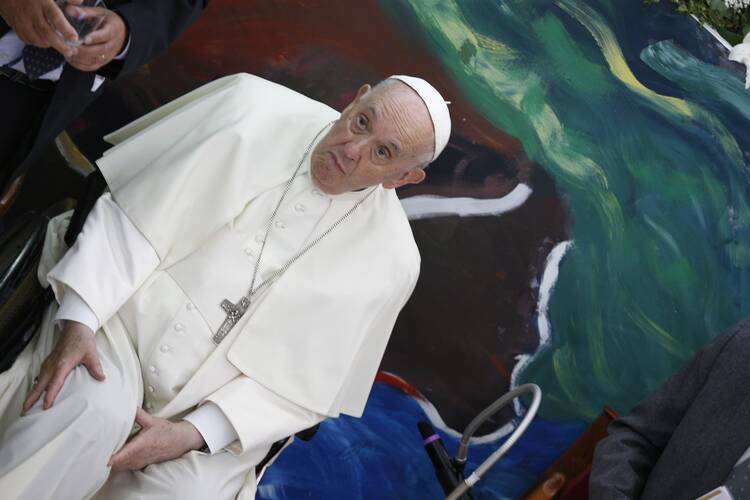 Pope Francis is pictured with his hands near his right knee during a meeting of Scholas Occurentes in Rome in this May 19, 2022, file photo. On his doctors' advice because of ongoing problems with his knee, the pope will not travel to Congo and South Sudan in early July, the Vatican announced June 10. (CNS photo/Paul Haring)
Pope Francis publicly apologized today to the peoples and the civil authorities of the Democratic Republic of the Congo and South Sudan for postponing his visit to their countries just three weeks before he was due to travel because of what he called "problems" with his leg. He said he very much wanted to visit them and was "hopeful" that with "the help of God and medical cures" he would be able to do so soon.
He made his apology when he addressed the 20,000 pilgrims gathered in St. Peter's Square on Sunday, June 12. Speaking from the window of the papal study on the third floor of the Vatican's Apostolic Palace, Francis appeared in good spirits when, speaking with a strong voice, he referred to the suspension of the visit.
Addressing directly "the peoples and the authorities" of the Democratic Republic of the Congo and South Sudan, the pope said: "Dearest friends, with great sorrow, I had to postpone my visit to your countries, programmed for the first days of July, because of the problems with the leg."
Pope Francis' leg, especially his right knee, has been afflicted since the last days of December 2021. It has been a source of great pain as one could see from the grimaces on his face during public events. He can get in and out of the car only with enormous difficulty and can stand up only for short periods. Furthermore, it pains Pope Francis to get up from the chair when he is seated, sources who have visited him at his Santa Marta residence in the Vatican told America. Since May 5, he has moved around on a wheelchair.
"I truly feel great sorrow at having to postpone this visit, which means so much to me. I apologize for this," Pope Francis stated. He had long wanted to visit and comfort the people of the Democratic Republic of Congo—the country with the largest Catholic population in Africa (almost half of its 94 million people are Catholic), which has suffered, and is still suffering from armed conflict in the eastern part of the country for many years, and church leaders there had hoped he would give an important push for peace in this conflict-torn, mineral rich land, where many live in poverty.
Likewise, Francis had wanted to give full ecumenical support, together with the Archbishop of Canterbury and the Moderator of the Church of Scotland, who were to travel with him, to the struggling peace process in South Sudan, the newest state in the world, where 60 percent of its just over 11 million people are Christian. He was forced to postpone previous visits to this country because of the Covid-19 pandemic.
Francis concluded his message on a note of hope to the peoples of these two African states, which had made great preparations for his visit and had expected millions of people (Christians and non-Christians alike) to turn out to greet him. Over one million people were expected to attend an open-air Mass in Kinshasa, and perhaps as many at the other two open-air Masses that he was due to preside at.
He sought to keep hope of the visit alive, saying, "Let us pray together that, with the help of God and medical treatment, I will be able to come among you as soon as possible." He added, "We are confident (of this)."
"Let us pray together that, with the help of God and medical treatment, I will be able to come among you as soon as possible."
Although the Vatican has never spoken about the medical therapy that Francis is receiving, the pope himself has revealed—partially in public, and more explicitly to persons who visited him in recent times and who have shared the information with America—that he is receiving two injections a week and undergoing almost daily physiotherapy for one and a half to two hours. He is optimistic that he may be able to walk again in some weeks, but not in time for the journey to Africa.
When the Vatican announced the postponement of his visit to Africa on June 10 "at the request of his doctors, and in order not to jeopardize the results of the therapy that he is undergoing for his knee," it made no mention of his visit to Canada, which is still scheduled for July 24-30. But Vatican sources have told America that they believe that unless there is a significant improvement in his mobility condition in the coming two to three weeks this visit too could be postponed to a later date
A Call to Remember Ukraine
After speaking about the visit to Africa, Pope Francis again today drew the world's attention to the ongoing war in Ukraine, where Russian forces continue to bomb and destroy towns and cities in the southern part of the country in attempt to gain full control of that industrial region known as the Donbass on the orders of President Vladimir Putin.
Referring to the war, now in its 109th day, which has forced a quarter of the country's 44 million inhabitants to abandon their homes and seek safety internally or in other countries, Francis said, "The thought of the people of Ukraine, afflicted by war, remains vivid in my heart." He called on his global audience "not to let the passage of time temper our grief and concern for that suffering population." He pleaded with them, "please, let us not grow accustomed to this tragic situation! Let us always keep it in our hearts. Let us pray and strive for peace.
Speaking Out Against Child Labor
He concluded by also appealing for an end to the exploitation of children worldwide, a frequent theme of his pontificate. He said, "Today is the World Day against Child Labor. Let us all work to eliminate this scourge, so that no child is deprived of his or her fundamental rights and forced or coerced to work. The exploitation of children for work is a terrible situation that affects us all!"