The two political parties go down different paths this Saturday. The Democrats are holding caucuses in Nevada, where Bernie Sanders is hoping for his first win in an urban, racially diverse state and Hillary Clinton is trying build some momentum before the Feb. 27 South Carolina primary, where she is heavily favored. The Republicans are reversing the order, with their South Carolina primary this Saturday and Nevada caucuses next Tuesday. Polls suggest that Marco Rubio is again in the lead among "establishment" candidates, despite his flame-out in New Hampshire (or maybe because those squishy Republicans in New Hampshire didn't like him), and a late endorsement by Gov. Nikki Haley may help him to break away from Jeb Bush and John Kasich.
A bit of history: In each of the past six presidential elections without a Republican incumbent, the Iowa caucuses and New Hampshire primary have produced different winners. Five times, South Carolina has broken the tie and picked the candidate who eventually captured the nomination—going with Iowa twice (Bob Dole over Pat Buchanan in 1996 and George W. Bush over John McCain in 2000) and New Hampshire three times (Ronald Reagan over George H.W. Bush in 1980, George H.W. Bush over Mr. Dole in 1988 and Mr. McCain over Mike Huckabee in 2004).
Advertisement
Only in 2012 did the Palmetto State rebel at the two choices it was given, giving a victory to next-door neighbor Newt Gingrich instead of Iowa winner Rick Santorum or New Hampshire winner Mitt Romney. This sudden flash of independence may be related to the record number of voters in that year's primary: 603,770, up from 446,627 in 2008 and more than twice the size of the electorate that calmed party leaders down by picking ultimate insider Dole over loose cannon Buchanan in 1996. The state's Republican chairman predicts a new record turnout of at least 650,000 this year, based in part on the number of absentee ballots that have already been turned in. But even if the state goes for Iowa winner Ted Cruz or New Hampshire winner Donald Trump, no one expects South Carolina to put a period on the nomination race this time.
A big turnout would seem to benefit Mr. Trump, who is especially popular among first-time voters, but more traditional Republicans still hope that Mr. Trump will suffer for his performance at last weekend's debate ("whiney, uncivil and so very un-presidential," writes RedState's Dan Spencer), where he went after President George W. Bush, calling the war in Iraq "a big fat mistake." Mr. Trump has also been blunt in his criticism of Pope Francis, calling him "a very political person" for visiting Mexico and praying with migrants at the U.S.-Mexican border. Pope Francis responded to a question about Mr. Trump by saying, "A person who thinks only about building walls, wherever they may be, and not building bridges, is not Christian." Mr. Trump responded to that by saying that if ISIS ever attacks the Vatican, "the pope would have only wished and prayed that Donald Trump would have been president because this would not have happened."
Has Mr. Trump finally gone too far, or he is just "signaling" toughness to supporters who just want to see some wrestling-league trash talk, no matter what the content? Getting into a spat with the pope may not provoke a big backlash in South Carolina; the state is only about 6 percent Catholic, according to the Public Religion Research Institute. Mr. Trump's incivility could also hurt him with evangelical Protestants (who preferred Mr. Cruz in Iowa), but as the National Catholic Reporter notes, that group is on the decline in a state where about 20 percent of residents weren't born in the South. Still, exit polls from 2012 indicated that 65 percent of the state's GOP electorate identify as evangelical Christians, compared with only 25 percent in New Hampshire.
Another unknown factor in Saturday's GOP vote is the endorsement of Mr. Rubio by Gov. Haley. As The New York Times described it, "Together, the two 44-year-olds—Mr. Rubio, the son of Cuban immigrants; Ms. Haley, the daughter of Sikh immigrants from India hope to form a powerful contrast to an older generation of Republicans who have long controlled the party and are loath to relinquish power."
THE SOUTH CAROLINA POLITICAL LANDSCAPE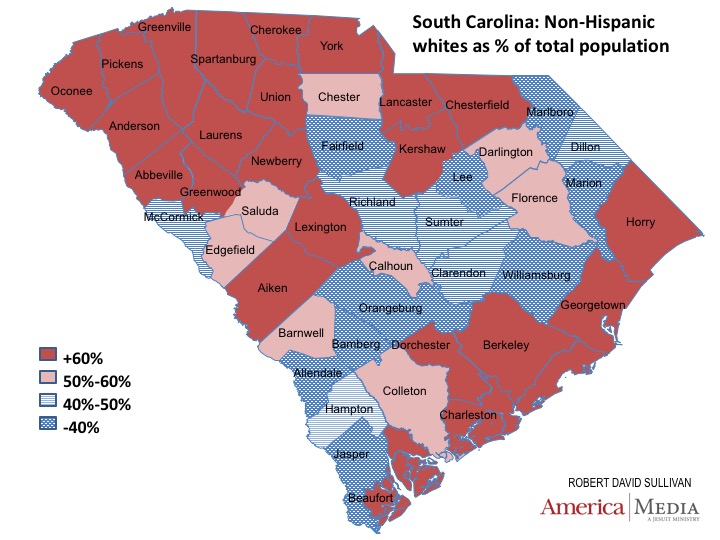 South Carolina is the first primary or caucus state with a significant African-American population (though few are likely to vote in the Republican contest): 28 percent of the state's total population, with 5 percent for Hispanics and 68 percent for non-Hispanic whites. As the map above shows, the belt of counties with large non-white populations essentially divide the state into three regions. There are the fast-growing coastal counties with plenty of ex-Northerners, including Charleston and Beaufort (Hilton Head). At the other end of the state, on the edge of the Appalachian mountain range, are the mostly white, slower-growing counties, like Greenville and Spartanburg, where the South Carolina's large automobile industry took root. These are the two most Republican parts of the state; Charleston and Greenville Counties were the two biggest sources of votes in the 2012 GOP primary.
In the diagonal middle are the counties with large numbers of non-white residents; most have flat or declining populations and have lagged behind the rest of the state economically. This is the Democratic backbone of the state; Richand County, which includes the state capital of Columbia, was the biggest source of votes in the 2008 Democratic primary.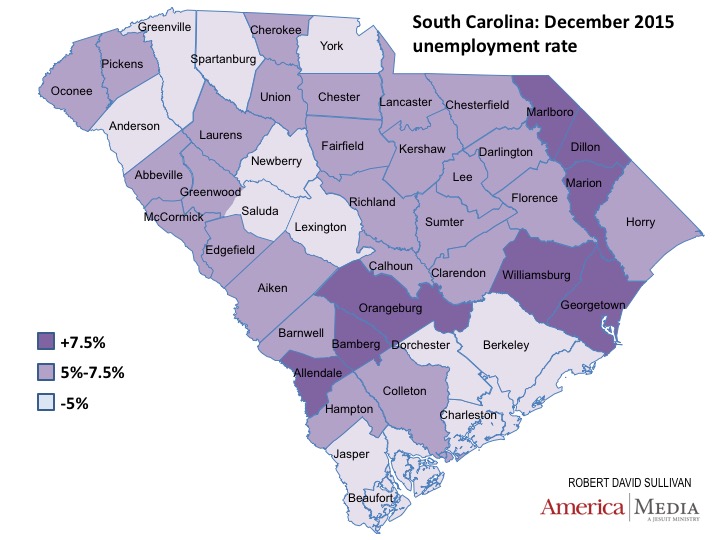 As the FiveThirtyEight.com headline put it, "The Presidential Race Is Finally Moving to States with Economic Problems." Nevada and South Carolina were both hit hard by the 2008 recession and have not recovered as quickly as Iowa or New Hampshire. The December unemployment rate was 3.4 percent in Iowa and 3.1 percent in New Hampshire, compared with 6.4 percent in Nevada and 5.5 percent in South Carolina. Eight counties in South Carolina still have unemployment rates above 7.5 percent, and almost all are majority-black.
FiveThirtyEight's Ben Casselman explains the regional differences:
The Charleston area, which boasts a large professional sector, an important port and a healthy tourism industry, has experienced some of the country's fastest job and income growth over the past five years…. On the other end of the state, the Greenville area saw rapid growth early in the recovery due to a revived auto manufacturing sector…. But Columbia, the state capital and home to the state university's flagship campus, is struggling because of deep budget cuts. The Columbia area has seen anemic job growth over the past five years, and average wages have fallen. Even worse off are rural counties such as Allendale, Marion and Marlboro, which are dealing with shrinking populations and unemployment rates in the double digits.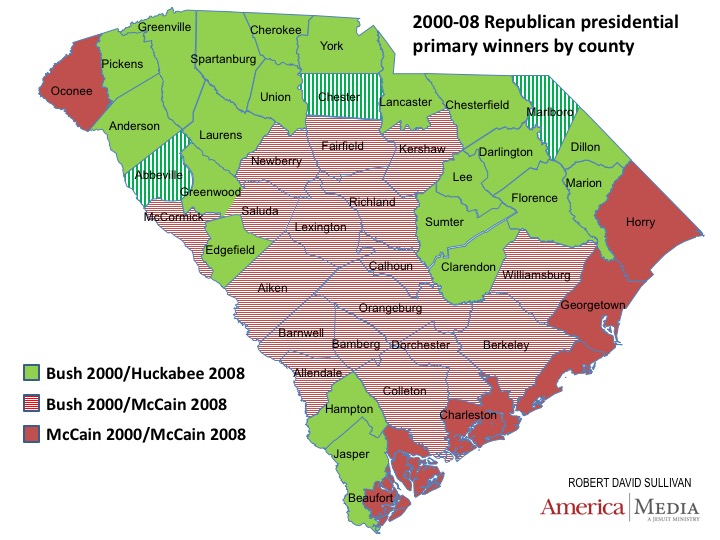 The three regions of South Carolina also show up in the results of recent GOP primaries. The coastal counties went for Mr. McCain, a less orthodox conservative and someone with few ties to evangelical leaders, in both 2000 and 2008. (In 2012, Mr. Gingrich won all but the coastal counties of Beaufort and Charleston, along with Columbia's Richland Countiy, which went for Mr. Romney.) If Jeb Bush and Mr. Kasich cannot do well in the Charleston area, there won't be many other opportunities for them in other Southern states. The Upstate counties are friendlier toward social conservatives, with populous Greenville and Spartanburg among those favoring George W. Bush in 2000, Mr. Huckabee in 2004 and Mr. Gingrich in 2012 (but also favoring Mr. Dole over Mr. Buchanan in 1996). If Mr. Cruz can't win at least some of these counties, it's hard to see how he'll catch up to Mr. Trump elsewhere in the South.
The middle of the state, including the Columbia area and the counties near Augusta, Ga., has been the swing area in recent GOP primaries going from George W. Bush in 2000 to Mr. McCain in 2008. On Saturday watch McCormick, Edgefield, Aiken and Barnwell counties, all along the Georgia border in the central west. These are the counties where Nikki Haley made the biggest gains as the GOP nominee in the 2010 gubernatorial race. If Mr. Rubio does particularly well here, Ms. Haley may start to look pretty good as a running mate.