Pope Francis has totally condemned the attack on a church near the city of Rouen in Normandy, France, by two men who killed a priest and took four people hostage—two nuns and two lay faithful, before the police intervened and shot them dead.
"It's another terrible news that sadly adds to a new series of violent acts which in these days have already shocked us, creating immense sorrow and concern," the Vatican spokesman, Federico Lombardi, S.J., said in a statement issued two hours later.
Advertisement
Pope Francis "has been informed" of the deadly attack, he said, "and participates in the sorrow and horror at this absurd violence with a radical condemnation of every form of hatred, and with prayers for the persons who have been hit."
The attack took place on the church of Saint-Étienne –du-Rouvray, near the city of Rouen, on Tuesday morning, July 26, when two men armed with knives entered between 9 and 9:30 a.m. as the priest was celebrating Mass.
After blocking the door, they took five hostages, including the priest. They cut the throat of the 86-year-old parish priest, Father Jacques Hamel, and also hit at or cut the throat of another hostage who is in critical condition at the hospital.
Lombardi said, "We are particularly struck because this horrible violence took place in a church—a sacred place in which the love of God is proclaimed, with the barbaric killing of a priest and involving the faithful, too."
"We are close to the church in France, to the Archdiocese of Rouen, to the community that has been hit, and to the French people," Lombardi stated.
The Vatican is "following the situation and await further information to understand better what has happened," he added.
The alarm was raised by a third nun who was in the church at the time of the attack, but managed to escape and alert the police.
The French police and army quickly cordoned off the area and shot the two killers.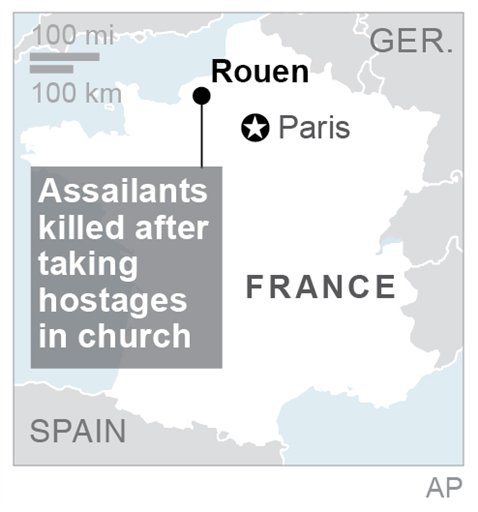 The identity of the two attackers is not yet known. Some media reports allege that they may have been mentally unstable. The French daily 'Le Figaro', quoted police sources as saying that one of the attackers, a bearded man, was wearing the characteristic woolen head cap worn by Muslims in Tunisia. Another French paper, Le Point, alleged that at the moment the two attackers entered the church they shouted "Daesh"—the name for the Islamic State or ISIS.
Some time ago the name of the church was found on a list of targets of an Algerian student who was, according to French media, an Islamic fundamentalist. He was later arrested after killing a gymnastics teacher.