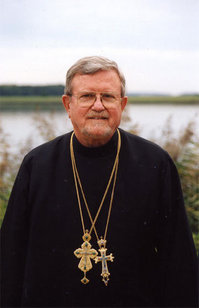 Robert Taft, S.J., the great liturgical scholar, has forgotten more about the liturgy than most of us will ever know.  Fr. (and Archimandrite) Taft, one of the world's leading experts on Byzantine liturgy, and former vice-rector of the Pontifical Oriental Institute Rome, was also professor of Oriental liturgy at the "Orientalum" in Rome from 1970 to 2000.  Here he is in a terrifically unbuttoned interview in U.S. Catholic.
Let me put my cards right on the table: I'm a Vatican II loyalist without apologies to anyone. The Second Vatican Council was a general council of the Catholic Church, and the popes since the council have made it clear that there's no going back. The mandate for liturgical reform was passed by the council with an overwhelming majority, so it is the tradition of the Catholic Church, like it or lump it.
Advertisement
Unfortunately, partly as a result of the schism of the late Archbishop Marcel Lefebvre and his followers, there has been an attempt on the part of a group of what I call "neo-cons" to portray the reforms of Vatican II as something that was foisted upon the church by a small minority of professionals contrary to the will of many people in the church. This is what we know in the vernacular as slander.
The reforms of the council were carried out under Pope Paul VI in a spirit of complete collegiality. Every suggested adaptation, change, or modification was sent out to every Catholic bishop in the world, and the responses that came in were treated with the utmost respect. When changes were severely questioned or opposed by a large number of bishops, they were revised according to the will of the bishops and then sent back again.
So the notion that the liturgical reform was somehow forced on an unknowing church by some group of "liturgists," as if that were a dirty word, is a lie, and that needs to be said.