Should Priests Always Wear Clerics?
Cambridge, MA. Blogging is fine, but face-to-face classroom conversation is better – for many reasons, but including the ability to point our attention back to the issue at hand at any given point. So it was the occasion for a great sigh – Sigh — that my last post, on my interreligious day at Harvard, accompanied (as a bonus for those who read to the end) by a link to my October 20 address as new Director of Harvard's Center for the Study of World Religions, drew no direct comments. Rather, what intrigued or puzzled or annoyed a number of readers was that in the video, I was not wearing a Roman collar. One reader was kind enough to point out a long and thoughtful article on the topic, "Why a priest should wear his Roman collar," by Msgr. Charles M. Mangan & Father Gerald E. Murray, Homiletic & Pastoral Review (June, 1995). This present blog — another 45-minute Saturday night special — is not the space for a full treatment of the topic, but just a few reflections that may be helpful.
First, I did actually discuss with my colleagues how to dress for the event of my lecture; I considered clerics, but settled on that conservative gray suit. My hope was/is that I would be rather open and direct about my values and intentions, and my faith and view of the world would be evident in my words and communication with those listening. Just about everyone in the room would already know that I am a Catholic priest and Jesuit, say Mass regularly in a parish on the weekend, etc.
Second, I suppose all Jesuits know from early on that stories of the great Jesuit missionaries in Asia, who learned to fit perfectly into the local cultures, as it were incarnating in every possible and appropriate way. St Francis Xavier famously threw off his shabby cassock and dressed in yellow silk, to reach the Japanese nobles; Matteo Ricci dressed perfectly for the imperial court; Robert de Nobili adopted the saffron robe of an Indian ascetic, knowing that the black cassock would puzzle and repel. Or just re-read I Corinthians 9:22. And so too today: when on campus, dress for the occasion, fit in, that words and deeds be clearer, less encumbered, freer, direct and undistracted.
Third, I think how we dress is instrumental to our purpose, and should be assessed in terms of its usefulness and appropriateness to the occasion, the mission. I am quite happy to wear the Roman collar every Sunday to the parish. (True fact: When teaching in Nepal as a very young Jesuit, I wore a white cassock for two years in the classroom.) One kind reader pointed out that I did wear clerics when I welcomed the Hindu guru, Amrtanandamayi Amma, this past July; in that manifestly and symbolically religious setting, I knew that being visually "the priest" was a good point to be made. (I am greeting another Hindu visitor to Harvard this coming week, and will put my black suit on again.)
Fourth, I do appreciate the points made by Msgr Mangan and Fr Murray about the symbolic value of clerical garb, its clarity, and its sign value about availability to those in need. My generation in seminary — think back 30+ years — was taught that while we are priests 24/7, as they suggest, it is ok to be off-duty or, more to the point, to be inconspicuously present, available when contacts and conversations take place, but not necessarily announcing the fact of being a priest to one and all, all the time. (True confession: I am usually very busy when I travel, with lots to read and write, and would be unhappy to get drawn into conversations by people waiting for planes, etc. Such is life, when 24/7 is not long enough. Also: I am also a child of the 60s in that other sense: being informal is the way to be: shorts and a t-shirt are the ideal garb for almost all purposes when the weather allows. Uniforms of any sort are a problem. Etc. I am sure that some readers, younger included, are much more formal and observant of appearances. Such are the varying instincts we variously bring to our work and lives.)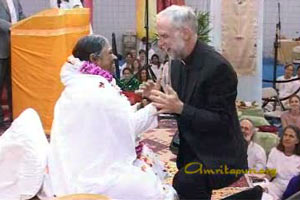 Such are indications of how one real priest really thinks in 2010. I fear that nothing I've just written will satisfy those who simply think that priests should be in clerical garb all the time. But at least, I hope to have indicated that we do think about these things; one of the small mysteries of the priesthood, after all, is how best to be, be seen, act as a priest — and here too, we hope for the grace to make the right decisions even when others might act differently in their own circumstances. But thanks to all who commented on this important point (and special thanks to those who listened to what I said in the lecture…)