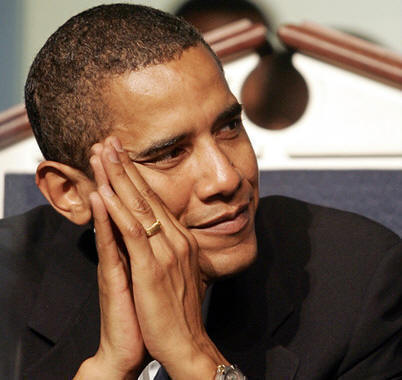 Three years ago I stood about two feet away from Senator Barack Obama as he worked his way through the crowd he had just addressed in the gym at St. Peter's College at the height of the New Jersey primary. The rally had started at least an hour late because when the candidate arrived he discovered a long line of many hundreds of would-be supporters winding down the street and around the corner; they would never get into the hall, so he took a long time to work the crowd so they didn't have to go home disappointed.
I don't remember what he said, but he left me with the feeling that this was the man we had been looking for to restore justice and decency in a nation running off-track. I later heard that the president of the College had received a visitor from the archdiocese expressing official disapproval of Obama's presence on a Catholic campus, but I was proud that the president had welcomed the man who, I hoped, would be president of the United States.
Advertisement
Later, a month before the election, when I expressed my support for Obama in my blog for the Newark Star Ledger, I got about a hundred emails nearly all reeking of anger and hate and blaming me for the deaths of millions of fetuses.
In recent months however, though I do not regret supporting him, some of the glow has dissipated, and, like many other liberals—I am a political liberal and an educational conservative—I find myself asking, Who is this man?
The Constitutional Law professor who promised to close Guantanamo decides to keep dozens of prisoners indefinitely without trial. The opponent to the Iraq War escalated the War in Afghanistan and timidly times our withdrawal. The opponent to gay marriage on religious grounds finds his position "evolving" as he solicits funds in the gay community. He'll pay a million dollars a year to keep one solder in Afghanistan, but cannot come up with a public works program to employ the 9 percent of the work force out of work. Worst of all, he declined to order that the Naval Seals should make every effort to arrest bin Laden and bring him to justice and went on the bask in the brief boost that the killing gave his popularity rating.
Maureen Dowd has been consistently brutal in her writing about Obama, but I suspect it is because she had high hopes and he let her down. In her latest column, "bi" doesn't mean bisexual or bipartisan, but binary, wanting to be on both sides at once. In Afghanistan he wants to go and he wants to stay, to please military hawks and the electorate fed up with the war. On health care he wants everyone covered but won't press for a universal system. He was elected on the platform of bold change, but now he plays it safe. He is misusing the gifts he had as a community organizer. It's not enough to listen to everyone, someone has to lead.
E.J. Dionne sees that Obama's prudence puts him at odds with everyone. Dionne sympathizes with those who want to leave Afghanistan quickly, but he also understands how prudence would make Obama move carefully, lest quick departure undo alliances, weaken progress we have already made.
David Bromwich is more devastating. Case by case he compares Obama's lofty rhetoric with his failure to follow up with practical policies. He seems to see himself as a national host or "moderator" of the concerns of Americans. He makes eloquent speeches, runs town hall meetings, goes on talk shows. As a result his appearances seem less a display of strength than an indulgence. He rises above the hard work of fighting for social legislation to play the role of Mr. America addressing the world, as if it was his classroom. He has allowed himself to become the moderate who wants to change the world, but not to say anything startling or do anything very fast.
The question remains. Is there a real Obama buried under this super-caution waiting to burst forth, or is what we see now all there is?
Raymond A. Schroth