Cambridge, MA. Taking a deep breath at semester's end — a semester that has in some ways seemed an eternity — I had the opportunity to look into Pope Benedict's Light of the World, a series of conversations with journalist Peter Seewald that for various reasons has attracted a good bit of attention. Naturally, as I do with almost any book I read (excepting novels), I looked around in the book for things that were more likely to be of interest to me: so what does the Pope now think about Hinduism and Buddhism? are there warnings against meditation, yoga and zen? teachings on religious diversity? But unless I've missed them, such things are not in the book, which is rather populated with more in-Church issues, ranging from sex abuse by clergy to rules about condoms to reflections on Catholic-Orthodox relations and more intimate thoughts about becoming Pope. All of this is fine, of course, and the book will sell quite well. (I had to try several bookstores before finding it, and amazon.com seems to be bereft of copies at the moment.) That the great religions of the East or issues of dialogue are not present needn't be an issue. We need not look to the Pope to speak about everything that is of importance to Catholics today.
But in any case, one section did jump out at me, and for now (I may return to the book later, after Christmas) I will simply highlight a few pages. In the chapter entitled "Ecumenism and the Dialogue with Islam" (many chapters seem to have double topics, as if pasted together), the Pope is asked to reflect on the unfortunate circumstances surrounding his 2006 Regensburg address, in which he quotes the Byzantine emperor Manuel II Paleologus rather calmly and even neutrally, and thus seemed to have no problem with the emperor's reducing Islam to violence: "Show me just what Mohammed brought that was new, and there you will find things only evil and inhuman, such as his command to spread by the sword the faith he preached." The Pope admits that he was not prepared for the negative reactions that occurred everywhere, as people found the words inflammatory. He had thought of the address as a "strictly academic address" but found it was not to be received as such. (I sympathize with him on this; even in this blog, I have often enough tried to make a rather specific and narrowly defined point, only to find my gentle readers raising the largest possible issues for debate.) Of course, even academics are better off when we find ourselves among colleagues who, as our intellectual peers, give us a hard time. I suppose that at Regensburg German good manners let the Pope just say what he wanted to say, without serious debate - even if he would have been better off if some other German professor had then and there questioned him on the motive for that particular quotation.
Advertisement
But more interestingly, in his interview with Mr. Seewald the Pope goes on to talk about the good things that came out of that unfortunate, even awful Regensburg moment. He saw himself as sticking to his position, challenging Muslims to talk more about their attitudes toward violence, and their view of how reason functions with respect to their faith. He makes a link to the well-received Common Wordstatement signed by 138 Muslim scholars (that ultimately drew the Vatican into dialogue), and a series of other conversations he had — and had to have — to make peace after Regensburg.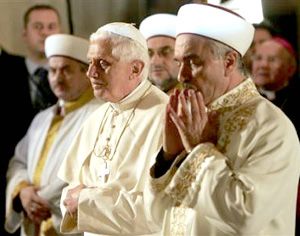 But what is most interesting to me is that he then adds, regarding himself and Muslims, "today we are on the same side of a common battle. There are two things we have in common: we both defend major religious values — faith in God and obedience to God — and we both need to situate ourselves correctly in modernity." He willingly admits that both Catholics and Muslims face the same challenges and have much in common. It is a collegial model that he thus puts forth: we — Catholics, Muslims — have the most important things in common as we battle secularism, mindless violence, and widespread stupidity on matters religious.
In response to yet another question, he insists that old stereotypes of Christianity vs. Islam are simply outmoded, since today we live "in a completely different world" than that of the Middle Ages and early modernity. No more crusades or jihads. Secularism, not another faith tradition, is today's problem: "In this world, radical secularism stands on one side, and the question of God, in its various forms, stands on the other." Accordingly, people of various religions — and here it makes no sense, in my view, to exclude Hindus or Buddhists or people of smaller faith traditions, as if the reality of faith and experience of God is just a Jewish-Christian-Muslim property — must respect the distinctive differences among religions. Even while not confusing one religion with another, we must "try to understand one another… We must try to live the grandeur of our faith and to embody it in a vital way, while, on the other hand, trying to understand the heritage of others." Studying other religions is something we must do! And all this is practical: "The important thing is to discover what we have in common and, wherever possible, to perform a common service in this world."
As I have said a number of times in this blog, it is absolutely clear by now that Joseph Ratzinger, as Pope, is committed to dialogue and cooperation. There is no comfort in this papacy for the closed-minded, at least on these issues. No matter how spirited his articulation of Christian truth may be, he does not want our apprehension of truth to be distorted into a platform from which to look down on people of other faiths; he does not want us to pat ourselves on the back and congratulate ourselves about how much better our religion is than other religions; and he does want to us to work together with people of other faith traditions on issues that concern all of us. And for that, I add, we must learn about those other traditions and from their believing members.
I stress this single passage – pages 97-100 in the book – because while there is hardly anything about dialogue or meditation or the many world religions in the book, beneath the surface there is a wider sense of our duties to the whole. If we take these pages — right in the middle of the book — seriously, they become the vantage point from which to re-view the inside-the-Church and inside-the-West issues that make up the bulk of the rest of the book and capture the news headlines.
Open our mind, think, study, learn across religious boundaries: what better thought for Christmas, as we read a book by a Pope, entitled Light of the World?