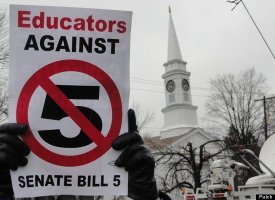 Advertisement
In one of the more striking election results Tuesday, Ohioans voted by a surprising 61-39 majority to reject SB5, legislation that would have virtually eliminated public employee union representation in their state.
It may be recalled that back in the spring – alongside Governor Scott Walker's legislative push to strip Wisconsin public workers of most collective bargaining rights – Ohio Governor John Kasich made a parallel effort in Ohio. When 'Senate Bill 5' was under consideration, Ohio's Catholic Bishops urged "changes that promote the common good without eliminating collective bargaining," but Kasich and a majority of the legislature plowed ahead.
Walker has adopted a defiant tone in response to repeated signs of public dissatisfaction with his confrontational approach toward public workers. Kasich, however, struck a more graceful note. "I've heard their voices, I understand their decision and, frankly, I respect what people have to say in an effort like this," he said. "And as a result of that, it requires me to take a deep breath, you know, and to spend some time reflecting on what happened here."
Public finances are still in dire condition due to the economic crisis, and given the magnitude of the shortfalls everyone from the top 1% to the public worker will rightly be called upon to make sacrifices. But as the Wisconsinbishopsobserved during their state's dispute, "hard times do not nullify the moral obligation each of us has to respect the legitimate rights of workers." Here's hoping that with the Ohio vote and Governor Kasich's response, we have seen an end to the current round of attacks on the right to organize and a fresh start for the search for negotiated solutions to our current challenges.