Cambridge, MA. As you know, President Obama gave his Nobel Prize speech the other day in Oslo. It is a fine and thoughtful speech, well worth our meditation, so be sure to read it. It should make us proud that we have this very intelligent and insightful man as our president.
I worry, though, that his intelligent words, quite appropriate for a man who strove very hard to become president of the United States, might seem to count as universal common sense of the sort that sidelines radical non-violence. Yes, he returns several times over to the heritage of Mahatma Gandhi (who was never awarded the prize) and the Reverend Martin Luther King (who did receive it), with great respect. But in the heart of his speech, he also looks beyond their wisdom, as if he is the greater realist:
Advertisement
The President said: "We must begin by acknowledging the hard truth that we will not eradicate violent conflict in our lifetimes. There will be times when nations — acting individually or in concert — will find the use of force not only necessary but morally justified. I make this statement mindful of what Martin Luther King said in this same ceremony years ago: 'Violence never brings permanent peace. It solves no social problem: It merely creates new and more complicated ones.' As someone who stands here as a direct consequence of Dr. King's life's work, I am living testimony to the moral force of non-violence. I know there is nothing weak, nothing passive, nothing naive in the creed and lives of Gandhi and King. But as a head of state sworn to protect and defend my nation, I cannot be guided by their examples alone. I face the world as it is, and cannot stand idle in the face of threats to the American people. For make no mistake: Evil does exist in the world. A nonviolent movement could not have halted Hitler's armies. Negotiations cannot convince al-Qaidas leaders to lay down their arms. To say that force is sometimes necessary is not a call to cynicism — it is a recognition of history, the imperfections of man and the limits of reason."
To a large extent, Gandhi would have agreed with this sentiment, and the President is quite honest about his respect for proponents of nonviolence. Gandhi knew about realism; he had, after all, helped the British (albeit in nonviolent ways) in World War I, and favored the Allies in World War II. Yet he was also clearly skeptical about well-intentioned realists who do use violence, even reluctantly, to fight evil. Sensitized to the Indian doctrine of karma, perhaps, he knew that violence leads to more violence, in the long run.
My guess – since I am not a Gandhi expert either – is that he would admire President Obama's thoughtful position, but also argue that those of us who have not chosen to be politicians and political leaders can do better: We are the ones who can and will not stand idle in the face of evil, letting others fight in our place. We, who are not politicians, can dare to be more radically non-violent, drawing on a greater realism and deeper Truth (in satya-agraha), to face down the lies, cowardice, concealed systemic oppressions that are the perfect breeding ground for the overt violence that gains headlines only once in a while.
The inconvenience with Gandhi's position, of course, is that it is not radical merely at the moment when violence erupts, but long before that. If we wish to be nonviolent, we need to find ways to live radically truthfully, without security, rejecting the comfortable ways in which societies such as ours hide injustice and oppression. We have to be bolder in refusing to live in peace — while others fight wars on our behalf. As if to say: if you can do only so much, then be a political leader; if you are capable of more, leave aside political and military power and practice non-violence as a way of life.
I think Gandhi, whose views I have merely sketched vaguely here (and I welcome comments from expert readers), is more right than President Obama. Yet I close with two other comments. First, my own position is contradictory, since I do not practice what I preach (or blog). I live in a very nice section of Cambridge, MA, and I would be shocked if someone broke into my Jesuit house or my office and started taking things or threatening me — and it would be a great shock too if the police did not come, guns in hand, to protect me and save my body and my books. It is easy to imagine being personally nonviolent when others carry the guns. So the harder issue is, if I agree with Gandhi (or the Reverend King, or Dorothy Day) more than the President, what are the implications for the life of the Jesuit scholar? How does a Jesuit and Harvard professor live out radical nonviolence, while still a professor? How do you, my reader, live out radical nonviolence at work, at home?
Second, it is interesting to note that the President, while mentioning Rev King, Gandhi and others, never refers to Jesus. This is understandable, I suppose, given the audiences that Presidents have to address; the President is not, thankfully, chief preacher of the United States. But we here at the America blogsite cannot get off the hook so easily. I think I am right in saying the following: Jesus, the ultimate realist, would not drop bombs on Al Qaeda hideouts; would not have gone to war against Hitler; would not shoot someone breaking into his house; would not, did not, fight even to save his own life. He would, however, keep confronting violence close-up, letting the truth be known and secret systems of wickedness be uncovered; he would keep turning the other cheek, and when necessary die again, in vulnerable love, in the face of violence. Such is Life: imitatio Christi.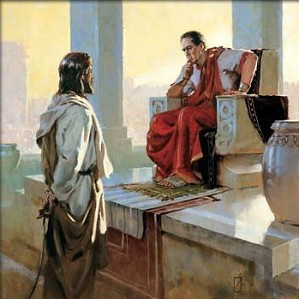 While we may be secretly glad that Jesus is not President or in charge of security in the towns where we live, and while we may honestly thank God for our very good young president, if we are serious about our Faith, we know deep down that it is not one government or another, whatever its philosophy, that will save the world, but rather this Jesus who refused to take up arms, who died at the hands of his oppressors.
Isn't this the Truth that sets us free? Let me/us know what you think.
PS: Thanks to everyone who commented on my previous entry, on the Mass after Vatican II. I did not agree with every comment, but appreciate them all very much: they constitute a course in themselves!