The Mountains Melt Like Wax
I spent much of this past summer in and around Denver, Colorado, first for a five-week directed study on the thought of theologian William Lynch, S.J. for my licentiate degree (for some of theologian John Kane's reflections on Lynch, click here) , and secondly as part of the three-week "Arrupe Experience," a series of seminars and workshops on the priesthood followed by an eight-day retreat in Sedalia, for Jesuit scholastics preparing for ordination.  Both endeavors required a fair amount of time spent indoors, but whenever I could I tried to escape from civilization for a little while, mostly by exploring and hiking in the nearby parks and mountains.  Colorado is conducive to that, since even metropolitan areas like Denver are fairly close to natural landscapes that can shock a bicoastal fellow such as myself with their size, majesty, and relatively unspoiled stretches of natural beauty (and occasional danger, or at least the illusion of same). I also found my experiences away from the desk or the retreat house to be invaluable complements in terms of my theological appreciation of the issues I was pondering.
An experience I had time and again while clambering around areas like The Flatirons or The Garden of The Gods or Red Rocks (or while reading up on these and similar natural rock formations) was of the immense age of these rock strata, many of which began forming as long as 300 million years ago.  Between 80 and 40 million years ago, the rock strata of which these formations are a part were lifted and tilted during a period of mountain formation, with the result that they are often rather dramatically shifted from their original horizontal axis, as seen at right.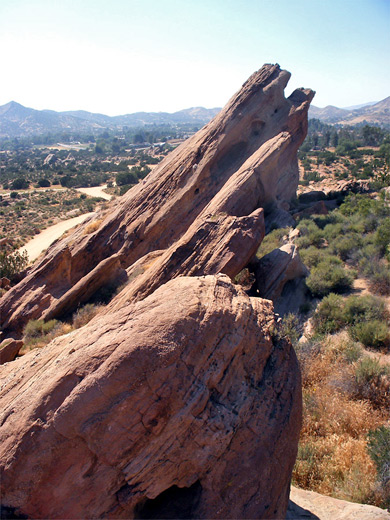 If these mute stones could speak, they might point out that nothing formed over the course of 300 million years could possibly take seriously the existence or the history of the human race; we are but the blink of an eye in the timelines used to measure the formation and change of these rocks.  It points to one of the central ironies of the Judeo-Christian tradition, and one to which Scripture regularly returns—you, human, who are an insignificant speck in cosmic history, are nonetheless made in the image of God.  But this reality also asks of the Christian how he or she is to make sense of the Incarnation. 
The human mind can just about grasp what it would mean for the world to be 6,000 years old—but can we get our heads around a universe literally millions and millions of times older than that? If so, at one point does the low and humble birth of Christ become asymptotically low and humble?  If our notion of time keeps expanding, and our notion of space does the same, that particular moment of the Incarnation can seem more and more vanishingly discrete.  William Lynch writes about this conundrum concerning the Incarnation using the language of irony, in Images of Faith.  What could be more ironic, Lynch asks, than the reality of God-made-flesh 2,000 years ago in a storyline we might now believe to encompass 14 billion of those years?   Here is Lynch:
"Against the background of enormous space time, at a completely specific and free moment in the millions of light years, within a body that occupies a few feet of the space of all our universes, [Christ] seizes upon and declares importance and seriousness, his own.  This is ironic, that this should happen at an infinitely small point in infinitely large space time.  It is, in a completely literal way, the basic image of faith."
Christ's importance is not diminished by the realities of infinitely large space or time, Lynch argues; the Incarnation is and was what it is and was because it occurred "on the small line," in the appearance of the infinite within the most finite of circumstances.  In that sense, every increase in our sense of the age or size of the universe makes the Incarnation all the more precious and important a moment; because every time, at each new discovery of our relative insignificance, God says "nevertheless."
At the same time, there is no doubt that many of our new scientific understandings require or inspire parallel new understandings of their implications for theology and how we imagine humanity's place in the cosmos.  Teilhard de Chardin might be the name most cited as the popularizer of the theological turn to the cosmological, but I would guess that more recently, David Toolan's book At Home in The Cosmos has been the most useful resource for non-specialists seeking a better sense of how the scientific discoveries of the past century interact with our understandings of everything from Christology to ecology to salvation history and more.
In recent years, two prominent American Catholic theologians have written in these pages on issues that touch upon this same question.  In March of 2008, Roger Haight, S.J. wrote an essay for America on Catholic theology since Vatican II entitled "Lessons from An Extraordinary Era," in which he noted that a "new cosmic expansion of consciousness" could produce a turn back toward the theocentrism that was a commonplace of scholastic theology, away from the anthropocentrism which today rules philosophy and theology alike. Here is Haight:
"The size and complexity of the universe suggest something so massive, both on a macro level of astronomy and a micro level of subatomic reality, that the imagination seems spontaneously drawn into ideas of infinite creative intelligence and power. Where are we as a human race in all of this? Anthropocentrism seems so inherent in human thinking that it cannot be escaped. The anthropic principle notwithstanding, the space-time coordinates of human thinking have been so expanded that it almost seems intrinsically wrong to see ourselves as at the center. Gradually this new framework is moving toward a new theocentrism for Christians. This is one of the new, growing frontiers in Christian theology."
In other words, recognizing the immensity of space and the eternity of time might prove a valuable wakeup call for all of us:  it's not just about you, pal. 
In April of 2009, Elizabeth A. Johnson, C.S.J., contributed an essay to America's Centennial Issue entitled "An Earthy Christology," in which she pointed out that our expanding knowledge of the planet and of the cosmos not only required humanity to stop seeing itself as the center of the universe, but also to stop imagining that we are somehow separate from the rest of created reality, rather than one part of an interconnected whole reaching through time and space. Here is Johnson:
"Knowledge of the world in our day is repositioning the human race itself as an intrinsic part of the evolutionary network of life on our planet, which in turn is a part of the solar system, which came into being as a later chapter of cosmic history. Out of the Big Bang came the galaxies of stars; out of the exploding material of aging stars came our sun and its planets; out of the molecules of Earth came living creatures; out of those single-celled ancestors evolved all plants and animals, including human beings, we primates whose brains are so richly textured that we experience self-reflective consciousness and freedom, or in classical terms, mind and will.
Repositioning the human phenomenon with regard to its historical, ongoing relationship to planetary and cosmic matter has far-reaching implications. It rearranges the landscape of our imagination to know that human connection to nature is so deep that we cannot properly define our identity without including the great sweep of cosmic and biological evolution. We evolved relationally; we exist symbiotically; our existence depends on interaction with the rest of the natural world.
From this perspective, the flesh that the Word became is part of the vast body of the cosmos. The phrase "deep incarnation," coined by Niels Gregersen, is coming into use in theology to signify this radical, divine reach into the very tissue of biological existence and the wider system of nature. Jesus of Nazareth was an earthling, a complex unit of minerals and fluids, an item in the carbon, oxygen and nitrogen cycles, a moment in the biological evolution of this planet. The atoms comprising his body once belonged to other creatures. The genetic structure of his cells made him part of the whole community of life that descended from common ancestors in the ancient seas. The sarx of Jn 1:14 thus reaches beyond Jesus, and beyond all other human beings, to encompass the whole biological world of living creatures and the cosmic dust of which they are composed."
In one form or another, many of these observations have their analogue or their kernel in the poetry of Scripture itself.  In Psalm 95, we hear the lyric of one who has clearly seen the evidence of massive tectonic shifts in the geography of the Holy Land, and who sees the hand of God in all of nature's wonders:  "The mountains melt like wax before the LORD, before the Lord of all the earth." What is a million years, a mountain range thrust forth from the earth, a new continent, a planet, a galaxy, in the mind of God? At the same time, we sense the opposite in our theological explorations, that every speck of dust from the mountain that melts like wax is part of a larger story; one begun perhaps too long ago to know, but given its major premise 2,000 years ago, and one that includes, in ways grand and humble, our stories within it.