A God Real Enough to Be Absent: II
Cambridge, MA. Several weeks back I wrote about medieval Cistercian monk John of Ford's reading of the last verse of the Song of Songs, "Flee, my beloved, and become like a gazelle or a young stag upon the mountains of spices!" My point — and I am not sure I convinced any of you — was that we miss an opportunity in discussing the presence/absence, existence/non-existence of God if we reduce the matter to arguments about whether God exists or not, or if we think we do our faith a favor by insisting with certainty that God is everywhere, faithful to those who seek God, etc. I summarized John's view, that the divine lover was in fact once again — as in preceding sections of the Song — leaving his beloved. But the underlying point that fascinated me was that this God was/is indeed one who can be absent as well as present, somewhere else as well as here. Much of the life of faith is, for many of us, about God's being not here in any way that can be felt, noticed, enjoyed. So there is much to be learned by reading the Song and John of Ford's comment on its last chapters, much that could help us sort out the life of faith even today.
But as you know, I am also a comparativist, who has studied certain strands of Hinduism for decades. On this topic, like almost any other, I also believe that we can learn about God's arrival and departure, coming and not-coming, from Hindu texts. To show this here, I return once again to a text I've discussed many times in this space, the Tiruvaymoli of Shatakopan, the ninth century Hindu saint. Since I chose the last verse of the Song, I will likewise introduce to you the last of the young woman's songs in Tiruvaymoli: "Krishna, you have no compassion, you have no compassion / when you touch my full breasts,  / when by that touch there swells a flood of joy beyond even the skies, that never crests,  / encompassing and drowning my mind, but then ending like a dream; / deep deep desire enters inside me but, alas, this is nothing a soul can bear; / separating from you now still worse; your going to herd the cows is murder." (X.3.2)
The scene is a poignant one, the commentators explain. By the secular/religious conventions of this poetry, the man and woman, unmarried but in love, have spent the night together, and now he is leaving. He is a cowherd, off to the fields where, unfortunately, there are not only cows, but natural and demonic dangers and, she fears, other women he might dally with. What is true in the natural scenario of the cowherd village, is here found to be true of the divine Krishna and the human who loves him — he has been intensely present, in a long night of a most intimate union, but she now sees that such moments guarantee nothing: the God who comes by surprise is also the God who can leave just as suddenly.
Unlike the woman in the Song, though, this woman does not urge him on his way; she begs him not to go, not to be so cruel: "Your going to herd the cows is murder, with hot sighs my soul burns,  / there is no one to help me, / I still exist but do not see your ink-dark body in its dance,  / when you go, it is not just a day that passes, my eyes (slender like small fish) never stop filling with tears: / born cowherd girls in the cowherd clan, we are lowly, our loneliness is death." (X.3.3) Her agony, the commentators say, is all the harder because he has already been present: those who whom God has never meant anything cannot understand how the absence of God is a torment. All night, she has learned him in many ways and in vivid detail: each part of that, once joy, is now a source of pain, as he leaves her.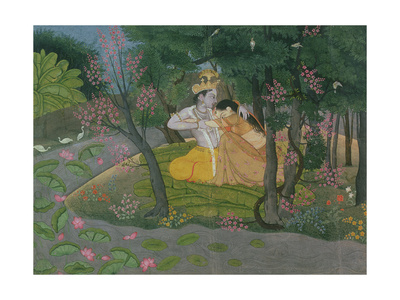 The clearest parallels to this situation are perhaps the most famous instances — e.g., Mother Teresa's many decades of a dark faith, working without any immediate sense of God's presence. Yet we do not need famous examples. I suspect that some of my readers — or people you know — have had this same experience: God, once so much a part of my life, has now gone away, and all I am left with is memories. Better not to have loved in the first place, if now that Beloved is leaving me.
The woman in the song does not let up her lament. Verse 9, just before the end, conjures up the possibility of supernatural dangers out amidst the cows (as if cow-herding were a dangerous job), but also offers, it seems, a supreme offering: stay here, even with other women — I give you up, renounce what I as a woman want most, your being with me in particular — just to keep you near by, even if with others and not me: "If you stay here with these good women who please you / and banish entirely our mental anguish, our joy will be wonderful, / now we cannot tolerate our womanhood, my lord, don't go to herd the cows — / many demons are coming, by whatever forms they choose, by Kamsa's order —  / if you fall among them there will be calamities with them and you— heed my word — oh!"
The great 20th century Srivaisnava commentator PB Annangarachariar indicates that by tradition this song is one of those in Tiruvaymoli most indicative of the nature of true love for God; in it, this verse is perhaps its most pure, vivid: to keep God nearby, you give up God; what you had of God you leave to others, that God may not leave entirely.
The old commentators — Nanjiyar, Nampillai and others — make much of the fact that this song ends inconclusively. Just as the Song ends with the woman telling her beloved to flee, while we hear no more and do not know whether he does go, so too here. In her passionate, heightened state, the woman is sure that the intense pleasure of the night is about to give way to absence; yet we hear nothing from him — Krishna — and do not actually know that he is going away, or even intending to leave. But perhaps this too is part of the psychology of the absence of God: it may be all in one's head, but faith is in the head of that particular person who cares most intensely for God, and knows what it means for the beloved to be here, or not.
Thus this second installment, my second effort to convince you that imaging a God real enough to be here or absent, arrived or failing to show up, is in a certain way an advance over the more comfortable views, theistic or atheistic, that God either is or isn't. I also think that doing what we've just done — reading in the Biblical and Hindu traditions — makes things worse and better at the same time. But more on that in Part III, which I promise will come shortly, and be short as well.