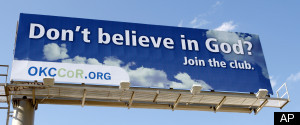 There are as many paths to God as there are individuals. This series on Huffington Post looks at six of the most well-traveled paths for contemporary believers. The first two parts considered 'The Path of Belief' and 'The Path of Independence'.
You might be surprised to hear of agnosticism or atheism as a path to God. But, in my experience, believers have often found themselves on this path. This is not to say that atheism or agnosticism ineluctably leads to God. Obviously it does not. But for some the path ultimately leads to a desire to understand the transcendent.
Advertisement
Those traveling along the path of disbelief not only find that organized religion holds no appeal (even if they sometimes find its services and rituals comforting), but have also arrived at an intellectual conclusion that God may not, does not or cannot exist. Often they seek proof for God's existence and finding none, or encountering intense suffering, reject the theistic worldview completely.
The cardinal benefit of this group is that they take none of the bland reassurances of religion for granted. Sometimes they have thought more deeply about God and religion than some believers have. Likewise, sometimes the most selfless people in our world are atheists or agnostics. Some of the hardest working aid workers I met in my time working with refugees in East Africa during my Jesuit training were nonbelievers. The "secular saint" is real. 

They also have a knack for detecting hypocrisy, cant or lazy answers: a religious baloney detector. Tell a person in this group that suffering is part of God's mysterious plan and needs to be accepted unquestioningly and they will rightly challenge you to explain yourself. One of my college friends practices his atheism religiously; his questions have kept me on my toes for the last 25 years. Try telling him about "God's will" and you will find yourself on the receiving end of a pointed lecture on personal responsibility.
The main danger for those in this group is that they sometimes expect God's presence to be proven solely in an intellectual way. When something profound happens in their emotional lives, something that touches them deeply, they may reject the possibility that it could be a sign of God's activity. Their intellect can sometimes become a wall that closes off their hearts to experiences of God's presence. They can also be unwilling to attribute to God anything that the believer might see as an obvious example of God's presence.
It's like the parable of the man caught in a flood. The fellow figures that the flood threatening his house is the chance to prove conclusively whether God exists...

Read the rest here.