Cambridge, MA. Readers who have been patient enough to follow this blog series from the start (one, two, three, four, five) will not be surprised to learn that for Swami Prabhavananda, in The Sermon on the Mount according to Vedanta, has a straightforward reading of the first part of the Gospel for Sunday, February 27: "No one can serve two masters; for a slave will either hate the one and love the other, or be devoted to the one and despise the other. You cannot serve God and wealth." (Matthew 6.27) For the Swami, it is obvious that a choice has to be made, since "we cannot become absorbed in God as long as we are slaves to cravings such as lust and greed… If you really want God, you must give up mammon [wealth]." The real renunciation is interior, since the things we possess are less of a problem than the instinct to possess and accumulate; in traditional Hindu ascetical terms, you must let go of "I" and "mine."
Consequently, given this starting point and the Swami's sense of a small audience that is ready for this teaching, the major part of this Gospel passage follows smoothly: "Therefore I tell you, do not be anxious about your life, what you will eat or what you will drink, or about your body, what you will wear… If God so clothes the grass of the field, which is alive today and tomorrow is thrown into the oven, will he not much more clothe you—you of little faith?" (6.25-30) These words are practical — for the few. He even suggests that it is the wandering renunciants of Hindu tradition, having no possessions at all, who "prove that Christ's teaching of perfect renunciation can be followed without any compromise." Pravbhavananda admits, however, that even his Master, Ramakrishna, was scolded for encouraging the young to embrace this renunciant life — instead of doing something useful. But Ramakrishna held in his message the same balance Jesus maintained: "He knew that all people cannot live the ideal of total renunciation, and he asked perfect self-denial only from his future message-bearers [apostles]. But his householder-disciples also were expected to practise renunciation and self-surrender."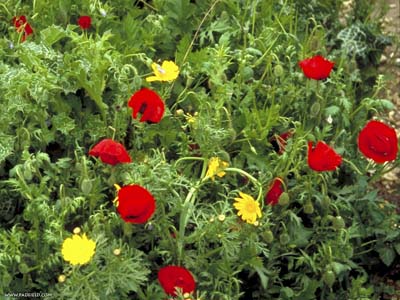 Advertisement
At this point, a person is at peace in the hands of God, unable to be hurt even by injuries others inflict. Prabhavananda parallels the ends of Jesus' teaching — "But strive first for the kingdom of God and his righteousness, and all these things will be given to you as well" (6.33) with words from the Bhagavad Gita: "If a man worship me, and meditate upon me with an undistracted mind, devoting every moment to me, I shall supply all his needs, and protect his possessions from loss." In the end — shifting to a vocabulary most Christians probably who not accept — he adss that once a person "has become spiritually illumined, he recognizes that body and mind are separate from the Atman [Self]; and his purified heart experiences the infinite happiness which exists beyond the grasp of the senses."
Thus Swami's teaching on this Sunday's Gospel, in very short form. Since there will be just one more installment in this series, before Lent begins, it is not too early to reflect on the whole of his interpretation. Prabhavananda's reading may be Hindu, but it is not shockingly other or strange. As your comments have shown, and other In All Things blogs indicated too, not every Christian would read the Sermon as does the Swami: his focus may be too ascetic, even monastic, too much for the few who have advanced far along the path, too much a combination of a very high ideal, though with plenty of room for the rest of us to do the best we can, even when it is less than Jesus' ideal. His commentary is full of references to the Buddha, to Rama and Krishna, and to his own tradition's Master, Ramakrishna. While he does believe that all the great teachers have to have basically the same message, he is not writing to establish a pluralist theology. He knows many religions, and knows that his readers know them too; he wants to draw on that diversity not to relativize Jesus, but to help his readers to focus on the message of Jesus, taking it seriously as likely to transform our lives.
So while you probably won't have been hearing Prabhavananda's version of the Sermon on Sundays, listening to him seems to be a wise — and Christian — thing to do.
One final installment, next week!