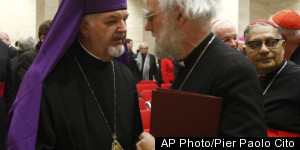 An elderly Jesuit, long experienced in interfaith dialogue, once told me ruefully, "These days it's easier to talk with people of other faiths than it is to talk with other Christians."  Strangely, some interpret the call to charity and civility in the Christian (and Catholic) world as a way of papering over differences.  It is not: it is the only way we can talk about our differences.  Here's Paul Raushenbush, a Baptist pastor and Associate Dean of Religious Life and the Chapel at Princeton University (and Religion editor at Huffpo), on "intrafaith dialogue" and the need for Christian civility. 
Inter-faith dialogue is hard, but intra-faith can be harder. Every Christian claims Jesus, so essential questions of how we understand Jesus, his earthly ministry, the meaning of the crucifixion, the nature of his call upon our lives (questions to which a non-Christian is largely indifferent) become the grounds of our essential debate and, literally, a matter of life and death. When we encounter a Christian who thinks and believes differently, we experience that difference as an attack on the principles upon which we have built our lives and as a betrayal to the faith. This feeling only increases when you add in politics. In recent elections, both sides of the political aisle found inspiration and legitimization from Christian constituencies. Political debates often adopted theological rhetoric, and religious leaders adopted political strategies. The result has been a "winner take all" attitude with Christian groups being particularly brutal toward one another.
Advertisement
These battles are not new. I remember being disheartened in seminary by the contentious nature of our debates over Christian traditions and their social implications. A fellow student reminded me that, as evidenced in Paul's letters, Christians have been disagreeing since the early church. The comment was meant to be comforting, and it is good to consider that our internal conflicts are not the result of any unique sinfulness of our time. But if we look at the history of our faith, we cannot gloss over the horrible violence committed by Christians, not only against people of other religions, but between ourselves. Thousands, maybe millions of people have died as the result of theological, social or ecclesial differences. Thank God we do not appear to be anywhere near that point today, but our history looms as a warning. Civility, and more specifically Christian Civility, serves as a safeguard against any threat of further violence or brutality. But more than utilitarian, Christian Civility should be adopted by every follower of Jesus as an important part of the spiritual discipline of our faith: not merely as one tool in our spiritual toolbox but as an integral part of what it means to be a Christian.
The word civility shares the same root as citizen. Citizens of a common nation survive because they enter into the basic contract that they need one another, and that all individual citizens have a role to play so that they might be collectively enriched. Laws are created that grant citizens individual rights balanced by mutual responsibilities to one another. The locus of civility within the Christian life is the kingdom of God to which we are all granted citizenship through our faith. In God's kingdom, we are bound by the covenant of the two great commandments: that we love God and love our neighbor -- even those whom we imagine to be our enemies -- as ourselves. Civility in the kingdom of God demands a commitment to reconciliation that goes to the heart of the Gospel.
The importance of reconciliation is stressed by Jesus in Matthew 5:23-24, when he instructs his followers not to come to the altar if we are in a dispute with one of our sisters or brothers. In this age of the Internet, in which anonymous vitriol and cruelty is as easy as a click of the keyboard, Jesus' specific demand that we approach the one with whom we have a disagreement face-to-face offers a profound correction. Just like the interfaith engagement of my students at Princeton, personal interaction forces us to recognize the humanity in the person whom otherwise we might easily demonize or dismiss. The more we know about a person, the more we appreciate their vulnerabilities, their aspirations and the reasons for their convictions. Hopefully we might ultimately acknowledge that God is working in her or his life as well as in our own.