In Case You Missed It: Pope Benedict's Most Generous Interreligious Vision
Cambridge, MA. Years ago, when I was a young professor, I was asked by a journal editor if I wished to review a certain scholarly book in my field. It was the 1980s, and email was not yet common, so I duly checked off "yes" on the postcard the editor had sent me, and mailed it back to him. The book did not come, and I assumed he had found another reviewer. It was only two years later that I received yet another note from the same editor, calmly asking, "Did you decide yet if you want to review that book?" Apparently the postcard had gone astray. So I did the review, and within two more years, it was in print. No rush, at least in certain halls of academe. I recall this story in self-defense because it is only now, with the semester done (and Harvard's graduation finally upon us) that I am getting around to writing a few comments on one of the addresses Pope Benedict gave during his tour of the Middle East a month ago. You will find no breaking news in blogs I write, to be sure, but I do have a good memory for things to go back to for a second reading.
     You can find all or most of the speeches from his trip at the Vatican website, and I recommend you go back and read them. But the one that caught my eye is the May 11th "Meeting with Organizations for Interreligious Dialogue," held at the Notre Dame Center in Jerusalem. Addressed to a group of leaders of different religious organizations dedicated to dialogue — all men, it seems — the speech is irenic and welcoming, entirely ecumenical. It is in essence an appeal to religious people of all religions to remain confident in the positive power of religion, the value that religions and faith bring to society, and the need for people of faith, committed to the truth revealed in their traditions, to speak confidently in the public realm.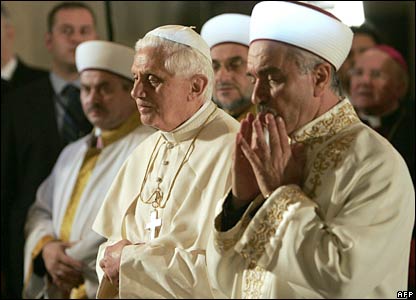 It is remarkable how inclusive the address is. God, who spoke to Abraham, is ever involved in the world. His word irrupts in our world, and he calls us all on a journey of faith, whether we belong to "the synagogue, church, mosque or temple." We, all of us, are invited into "a culture not defined by boundaries of time or place but fundamentally shaped by the principles and actions that stem from belief." We need to focus on the truth, and not be blind to the many ways in which it appears: "Although the medium by which we understand the discovery and communication of truth differs in part from religion to religion, we should not be deterred in our efforts to bear witness to truth's power." Obedience to the truth and serious reflection on it open us up rather than narrowing our horizons:  this obedience "in fact broadens our concept of reason and its scope of application, and makes possible the genuine dialogue of cultures and religions so urgently needed today."
     Even when differences among religions are evident, "they need not overshadow the common sense of awe and respect for the universal, for the absolute and for truth, which impel religious peoples to converse with one another in the first place." While God gives us the truth, we do not necessarily receive it all, all at once: "Although the medium by which we understand the discovery and communication of truth differs in part from religion to religion, we should not be deterred in our efforts to bear witness to truth's power." Differences are an opportunity: "they provide a wonderful opportunity for people of different religions to live together in profound respect, esteem and appreciation, encouraging one another in the ways of God."
     Throughout, the Pope is intent upon speaking in the most inclusive terms. Indeed, it is amazing that while "God" is referred to 13 times, the words "Jesus" and "Christ" do not appear at all in the address. Surely the Pope is no relativist, but here he is quite comfortably speaking of God and truth without mention of Jesus Christ.
     What can we draw from all this? While we ought not to exaggerate its importance — it is just a speech, not an official teaching — neither can we imagine that the Pope was merely catering to his audience and saying merely politic words. These practical, heartfelt words, spoken to a diverse religious group, must be taken as characterizing how Benedict thinks we ought to speak in a pluralistic setting: there is truth, there is God, there is a power in our many forms of faith, that we must welcome and share. What divides us is less important than what brings us together.
     The skeptical reader might say that the Pope is speaking to a limited audience, of Jews, Muslims, and Christians — and that he does not mean to suggest that we share faith and the experience of God with Hindus, for instance. What he really means, it might be said, is that "God" is "our Jewish, Muslim, Christian God," not "their God."  But so narrow an interpretation is wishful thinking, since we cannot take the words with which he concludes as excluding believers in still other religions: "Prompted by the Almighty and enlightened by his truth, may you continue to step forward with courage, respecting all that differentiates us and promoting all that unites us as creatures blessed with the desire to bring hope to our communities and world. May God guide us along this path!" As some of the comments on my previous entry on Swami Radhanath indicate, there are Hindus who strongly believe themselves to be monotheists, and a straightforward reading of Benedict's words indicate that he agrees: our God "irrupts" into our world over and again, and what a lost and weary world needs most is more and not less faith. We — who believe in God, in "the synagogue, church, mosque or temple" — must speak the truth God gives us. No believer in God is excluded from this "we." Or, even more simply, perhaps no one at all can be excluded.
     That is to say: it is now perfectly clear that the post-Vatican II openness to religions is real, true, and irreversible. While we will continue to quarrel about the details, and necessarily keep probing deeper into the mystery of Christian witness in a world of many religions, there is no turning back. The basic question may come in several forms, but a very good formulation of it is the one the Pope asked in Jerusalem: "Can we then make spaces – oases of peace and profound reflection – where God's voice can be heard anew, where his truth can be discovered within the universality of reason, where every individual, regardless of dwelling, or ethnic group, or political hue, or religious belief, can be respected as a person, as a fellow human being?"