"Collectors do want tried-and-tested artists." This remark, quoted in a recent review of the Swiss art festival Art Basel, struck me. It was uttered in part to explain the absence of emerging talents on view this year. As this gallery spokesman said, in effect, the reason there so few new artists is that collectors are risk averse. They don't want to take chances when investing in art. Art is, after all, big business.
 The underlying assumption, of course, is that art collecting is primarily a financial investment; it's the "art as commodity" school of thought. (What gambler wants to back the wrong horse, after all?) These collectors are looking for well-known artists whose work is expected to increase in value. Collectors might also like the art they buy, of course. But that may also be beside the point.
Advertisement
 Money-making has no doubt been the primary motivation behind art collecting, and the rising price of art works, at least since the rise of the Dutch merchant class made it possible for business people, not just royals, cardinals and bishops, to buy art and display it in their homes and shops. Today, lots of art is owned by corporations and limited partnerships, not individuals. Much of this artwork is displayed in corporate headquarters, which serve as something of an exhibition space for workers to enjoy.
 But I write here to praise two particular collectors who did something different—Claribel and Etta Cone (pictured above: Claribel on the right; Etta on the far left; Gertrude Stein in the center). These two unmarried sisters from Baltimore, amassed 3,000 art works from 1905 to 1949, when Etta died and bequeathed them to the Baltimore Museum of Art.
As collectors, the Cone sisters took risks—small and large--on emerging talent like the $1 and $2 drawings they initially bought by an unknown young artist named Pablo Picasso and others by the leader of the Fauve avant garde movement, Henri Matisse.
 After their first foray into the art world, which was personally guided by Leo Stein, brother of Gertrude, who were friends of the Cones in Baltimore and later in Paris), the sisters bought art they loved. Their purchases were less about safe returns on investment than about living for decades with art they enjoyed. They also bought works by artists they knew, appreciated and wanted to support. Etta Cone, who was about the same age as Matisse, had a 40-year friendship with the artist.
 That explains why the Cone collection contains 500 works by Matisse, which makes it the world's best and largest individual collection of his work—drawings, paintings, prints and sculpture. Matisse called the sisters "my Baltimore ladies," and drew portraits of both. They knew his wife and children and watched him weather decades of bad reviews and come out on top.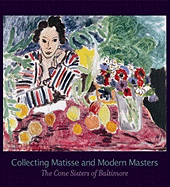 A rich sampling of their collection is now on view at the Jewish Museum in Manhattan. The museum Web site offers a lot of free information, including photos, audio, a timeline and a short list of books. I just read The Art of Acquiring by Mary Gabriel (2002), which tells the story of the Cone sisters as collectors.
Claribel was a trained physician, a woman pioneer in medicine, who worked as a pathologist in Germany, where she met less discrimination than she found in the United States as a woman in science. She loved the culture of Europe, of which a thriving art scene was a major part. Etta Cone was the less likely collector, as a helpful homebody at first, until she got caught up in the Paris art scene. She lived two decades longer than Claribel and so made decisions about which pieces to purchase long after the emerging artists she and her sister once supported were charging much larger sums. She not only stuck with Matisse, but added other artists' work to round out the final collection.
Like many individual collectors, the Cone sisters had a personal fortune to spend, inherited from their father's grocery business at first, and amplified by their brothers' import/export business. Among other items, the brothers sold the denim used in levis. To put their purchases in perspective, the Cone sisters spent $6,700 on art one summer (1923, I think it was), at a time when the average American worker earned about $760 in a year.
Yet had the sisters wanted to invest their inheritance solely for gain, which never seemed to occur to either of them, they may not have been able to do better than they did by following their own taste and pleasure. According to Mary Gabriel, their collection was valued at $3 million in 1949 when it was first given to the Baltimore Museum. In 2002 it was valued at nearly $1 billion. They never made a dime from their collecting, but the public has made out well from their avid risk taking and interest in art.
Listen to Karen Smith talk about the Cone sisters on this week's editors' roundtable podcast.