Republicans have a constitutional duty to condemn Trump's racist attacks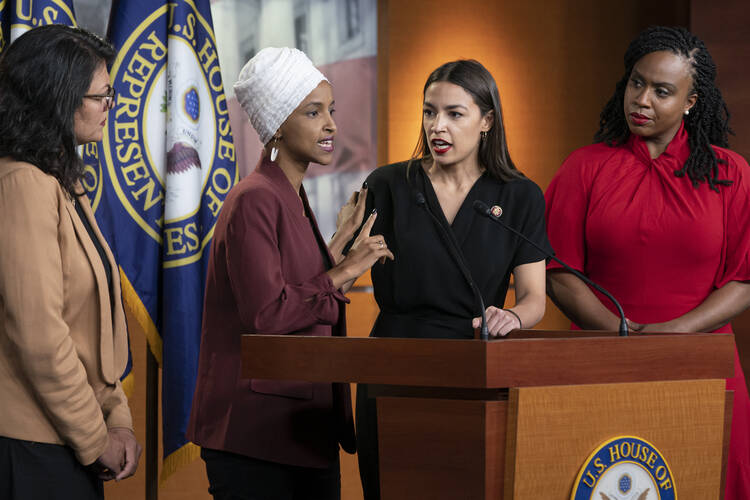 From left, Rep. Rashida Tlaib, D-Mich., Rep. Ilhan Omar, D-Minn., Rep. Alexandria Ocasio-Cortez, D-N.Y., and Rep. Ayanna Pressley, D-Mass., respond to remarks by President Donald Trump after his call for the four Democratic congresswomen to go back to their "broken" countries, during a news conference at the Capitol in Washington, Monday, July 15, 2019. All are American citizens and three of the four were born in the U.S. (AP Photo/J. Scott Applewhite)
The president of the United States issued a series of racist tweets this week telling some members of Congress to "go back and help fix the totally broken and crime infested places from which they came." Though he did not name them at first, his tweets appear to have been directed at four Democratic members of the U.S. House of Representatives, Alexandria Ocasio-Cortez of New York, Rashida Tlaib of Michigan, Ilhan Omar of Minnesota and Ayanna Pressley of Massachusetts.
No one seems to be surprised by yet another diatribe from Mr. Trump. The nation has, tragically, grown accustomed to such language from its commander in chief, from claiming he could shoot someone in Times Square and not lose political support to calling Kim Jong-un "Little Rocket Man" and deploring refugees from "shithole countries."
Mr. Trump's tweets have been, unquestionably, a distraction from the critical business of the country: Congress must soon raise the debt ceiling again to prevent the government from running out of cash; the Trump administration has once again taken steps to make it more difficult for asylum seekers to find safety in the United States; there are children still being detained at the border after being separated from their parents.
Behind Mr. Trump's tweets is an attempt not only to delegitimize his political opponents but to appeal to nativist tendencies, suggesting that citizens born in other countries or born to immigrant parents are somehow less American than others. That is antithetical to the values of this country, for which generations of immigrant Americans have sacrificed to the point of shedding their blood on foreign shores.
Some have pointed out that, true to form, Mr. Trump has his facts wrong. Three of the four congresswomen were born in the United States. But Mr. Trump's remarks would have been reprehensible even if they all had been born in Canada or Haiti, Somalia or China. To echo what Ms. Ocasio-Cortez said at a press conference addressing the president's remarks on Monday: "No matter what the president says, this country belongs to you, and it belongs to everyone."
These comments need to be called out as racist, xenophobic and sexist. They are wrong, full stop. The president's lack of restraint has perhaps briefly unified Democrats in outrage, but they seem to have had little impact on Republicans. Only a small number of G.O.P. members of Congress have criticized the president's tweets or even indicated that they are disturbed by them.
While we may have come to expect this sort of behavior from the president, it should not be treated as normal. Especially if they ally themselves with Mr. Trump's public policy goals, members of Congress have a moral obligation and constitutional duty to denounce such remarks and to defend their colleagues against such attacks. Public debate and public decency require minimum standards. The United States Constitution and its separation of powers presumes those standards. Our national leaders should not stand by in silence while the voices of the elected representatives of the people are delegimitized by the head of the executive branch. What is left of the parameters of civil discourse in the United States must be defended.