Pope Benedict XVI's secretary, advocate and confidant: What you need to know about Georg Gänswein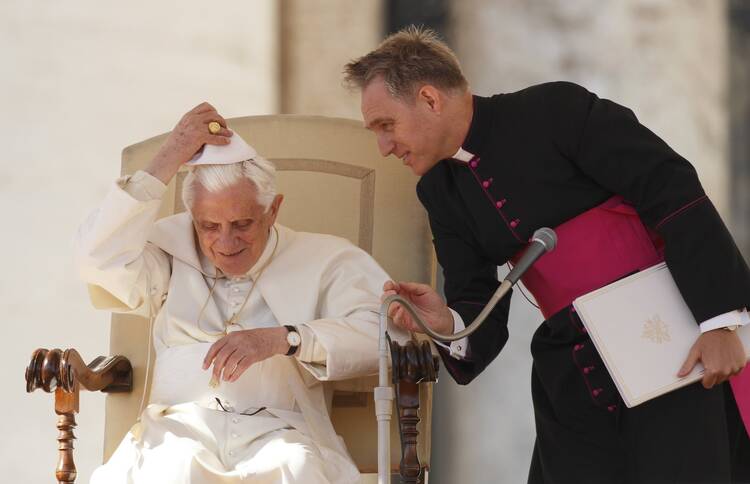 Pope Benedict XVI replaces his zucchetto after a wind gust as his personal secretary, Msgr. Georg Ganswein, assists during the pontiff's general audience in St. Peter's Square at the Vatican in this Oct. 27, 2010 file photo. Archbishop Gänswein has written a book about his life with the late pope and his own difficult relationship with Pope Francis. (CNS photo/Paul Haring)
One of the central figures in the days surrounding Pope Benedict's wake and funeral has been Archbishop Georg Gänswein, the pope's longtime private secretary. It was Archbishop Gänswein who was at Benedict's bedside when he died and reported that a nurse had heard Benedict say, "Jesus, I love you," a few hours earlier; he also greeted mourners who came to visit Benedict's body when it lay in state at St. Peter's Basilica.
Later this week, he will be publishing a memoir of his years with Pope Benedict, Nothing But the Truth: My Life Beside Pope Benedict XVI. And while the book promises to tell the story of Benedict's papacy from behind the scenes, Archbishop Gänswein is a compelling figure in and of himself. He has an amateur pilot's license, loves the outdoors and plays tennis. As a young man he had long hair and listened to Cat Stevens and Pink Floyd. Working for Benedict, he aspired to be a "pane of glass," allowing the "sunlight" of Benedict in without becoming visible himself. Yet his own good looks inspired fashion shows, magazine covers and stories around the world. After Benedict's resignation, he worked simultaneously for both Benedict and Pope Francis in key positions, leading La Stampa to suggest he was "almost a 'third pope.'" But in 2020, he was relieved of most of his Vatican duties after seeming to use Benedict to publicly undermine Francis.
Archbishop Georg Gänswein is publishing a memoir of his years with Pope Benedict. But the archbishop is a compelling figure in and of himself. 
Who is this paradoxical, controversial figure?
A childhood spent mining for meaning
Georg Gänswein was born in 1956 in a village in southwestern Germany. The oldest son of a blacksmith active in local politics, Gänswein saved for college by working as a mailman and dreamt of being a stockbroker. "My idea was that there was a lot of money being made and that you had to be bright and fast," he told Süddeutsche Zeitung in 2007. But the more he considered that career, the more he wondered about what kind of meaning it would offer him. "I thought, O.K., if I can do all that and have money, what happens then?"
"Suddenly, existential questions took center stage," he told the German magazine, leading him to the study of philosophy and theology. And the more he dug in, the more he came to believe that only as a priest could he fully enter into the deeper investigations of theology. "At some point I felt that I couldn't drive at half speed, either I'd do it completely or I'd quit," he said. "A little theology, that's not possible. So, step by step, I approached the priesthood." In 1976, he entered the seminary for the Archdiocese of Freiburg.
Gänswein: 'The study of canon law felt to me as dry as working in a dusty quarry where there is no beer.'
After being ordained in 1984, Father Gänswein worked for a time as an associate pastor in his diocese before being assigned to get a doctorate in canon law at Ludwig Maximilian University of Munich. He initially hated it. "I had always studied gladly and easily," he told Süddeutsche, "but the study of canon law felt to me as dry as working in a dusty quarry where there is no beer. You die of thirst." With the help of a good director, he produced a dissertation in 1993 on the ecclesiology of the Second Vatican Council.
Soon after he was sent to Rome, for what he believed would be a short stint in the Roman Curia as an official in the Congregation for Divine Worship, according to a 2014 interview he did with the Spanish magazine Palabra. But while there, he met then-Cardinal Joseph Ratzinger at the weekly Masses of the German College. And in 1996, when a German member of the Curia left the Congregation for the Doctrine of the Faith, Cardinal Ratzinger asked him to stay at the Vatican.
Pope Benedict: of providence and paparazzi
In 2003, Cardinal Ratzinger's personal secretary Josef Clemens was shifted to a new role, and Father Gänswein was appointed as his replacement. Once again, he believed it to be a "provisional arrangement,"he confided to Germany's Catholic News Agency KNA in 2021, as Cardinal Ratzinger was nearing retirement age and had repeatedly asked Pope John Paul II to allow him to step down from his role as prefect of the C.D.F. "But as is well known," Archbishop Gänswein said, "provisional arrangements last the longest." In 2005, Cardinal Ratzinger was elected Pope Benedict XVI. "His face was almost as white as his soutane," Gänswein told Süddeutsche Zeitung. The days that followed, he remembered, were "like a hurricane."
As the pope's principal private secretary, then-Father Gänswein was Pope Benedict's constant companion and closest advisor, not just professionally but literally: Father Gänswein moved into the Apostolic Palace with the pope and lived there during his papacy, along with one other papal secretary and four consecrated lay women of the Communion and Liberation movement. As Father Gänswein describedin a 2006 interview with Vatican Radio, Benedict's daily routine involved the two of them not only working together but sharing breakfast and lunch every day, a midday walk and sometimes television at night. (Asked in 2007 what Pope Benedict wears around the house, Father Gänswein confirmed even when just watching television, "The pope wears white. Always.")
Father Gänswein's predecessor, then-Archbishop Stanislaus Dziwisz, had warned him that his most important job was as the pope's gatekeeper, and in the early going, Father Gänswein admitted that navigating "the countless requests for private audiences and other encounters" was difficult. But a more unexpected and complex challenge for Father Gänswein was the massive media attention that he found himself receiving.
Almost from the start of Benedict's papacy, commentators made a point of remarking on Father Gänswein's good looks.
Almost from the start of Benedict's papacy, commentators and others made a point of remarking on Father Gänswein's good looks. The Italian press dubbed him "Gorgeous Georg"; in 2007, fashion icon Donatella Versace used him as an inspiration for her 2007 Clergyman Collection. And his handsome features frequently became a focus of stories during papal visits.
In describing a papal visit to the United Kingdom, John Hooper at The Guardian describes Father Gänswein as "A tall, athletically built man wearing a broad pink sash over his priestly black garb…the pope's good-looking private secretary, who will no doubt become one of the stars of the four-day visit." That same year, the Irish author Colm Tóibín called Father Gänswein "remarkably handsome, a cross between George Clooney and Hugh Grant, but, in a way, more beautiful than either." When consecrated bishop early in 2013, the Italian edition of Vanity Fair put him on the cover of their January 2013 issue, with the headline "Father Georg—it's not a sin to be beautiful."
Benedict's papacy suffered through a number of significant controversies—his citation in a speech at Regensberg of a 14th-century emperor who argued that the only thing that the prophet Muhammad "brought that was new…[were] things evil and inhuman"; clergy sexual abuse scandals; and the Vatileaks scandal, which would reveal that the pope's own butler had for years been stealing correspondence between Benedict and Father Gänswein and then sold some of it to the press, out of a concern that Benedict himself was being kept in the dark about "evil and corruption" in the church. And Father Gänswein was always at his side.In 2007, he called the Regensberg speech "prophetic" and the protests that ensued around the world "crude reactions." In recent days, he has said that Benedict was the "father of transparency" and "the decisive figure" in matters of sexual abuse.
And in his new book he describes Benedict's papacy as frequently attacked by the devil. In an excerpt from La Reppublica about the Vatileaks scandal, he writes, "It's obvious, as Pope Francis would say, that the bad guy, the evil one, the devil doesn't sleep."
Pope Francis: divided and dividing loyalties
In December 2012, Father Gänswein was appointed the head of the papal household and appointed to the rank of archbishop. This brought with it an even larger role in the Vatican—responsibility for every public papal audience in Rome, papal visits with heads of state and bishops, any papal travel within Italy and care for many of the Vatican's buildings. It seemed to signal an ever deeper trust on the part of Benedict.
But behind the scenes Father Gänswein had been privy to a secret that no one else yet knew: Benedict was planning to resign. Over the last week, Archbishop Gänswein has begun to reveal details of Benedict's last few months and how he pleaded with Benedict not to resign. "Holy Father, it's impossible," he recalls telling the pope. But Benedict would not be swayed. "This is a decision I've made…it's not a thesis to be discussed," the late pope said.
For some, that cast Archbishop Gänswein's promotion into a different light. John Cornwell wrote in Vanity Fair that the appointment was a way for Benedict to be able to remain informed on what was going on in the Vatican. "Since this was one of Benedict's last big appointments before his resignation," Mr. Cornwell notes, "it would be difficult for the new Pope to countermand it without seeming disrespectful."
In his early years working with Francis, his opinion of him seemed generally positive.
As it turns out, upon his election Pope Francis decided not to live in the papal apartments or to hold his normal meetings there, but instead took a room at the Casa Santa Maria guest house. And while Archbishop Gänswein remained the head of the papal household after Benedict's resignation, he moved with the pope to the converted monastery in the Vatican Gardens that served as Benedict's retirement home.
In his early years working with Francis, his opinion of him seemed generally positive. In 2015, while noting "a degree of unpredictability in [Francis'] action…the surprises at the last moment that are never lacking," Archbishop Gänswein praised Francis' work ethic, saying: "He is an extraordinary phenomenon. He works for two, and is 78 years old." He also praised his spiritual life; "the coherence between his very active life and the time he dedicates to prayer is impressive; it is a contemplative life."
A year later, Gänswein gave a talk at the Pontifical Gregorian University in which he argued that Francis and Benedict represented a new vision of the papal office, "a de facto extended Petrine ministry—with an active member and a contemplative member." When questioned about this, Francis corrected the idea, telling reporters, "There is only one pope."
That moment captured well the apparent conflict within Father Gänswein in his new position. As Pope Benedict's private secretary, Father Gänswein made it his mission to "be transparent as glass so as not to conceal Benedict XVI in any way." He came to identify with Benedict so intimately that when meeting a writer critical of Pope Benedict, he said, "Oh, you don't like us." Now he was being asked to serve a new pope with his own vision while also being the main caretaker of the well-being and legacy of his predecessor.
Archbishop Gänswein has spoken critically of the pope's Synod on Synodality, saying he believes the texts generated "will not be fruitful."
In 2017, he read a letter from Benedict at the funeral of Cardinal Joachim Meisner, who had criticized Francis' apostolic exhortation "Amoris Laetitia," praising Cardinal Meisner's faith "even if the boat [of Peter] has taken on so much water as to be on the verge of capsizing." It was widely interpreted as an attack on Francis. Some wondered whether it and other moves like it truly came from Benedict at all. Just a year earlier, Benedict had reaffirmed "my obedience to my successor" and said he felt "a sense of deep communion and friendship" with Francis.
Speaking to the puzzling contradiction of this, David Gibson recently noted in Slate that Benedict "continued to write, to send letters. But how much of that was Gänswein? Especially in the last couple years, it's hard to tell how much of that was Gänswein pulling the strings."
In 2020, Cardinal Robert Sarah and Pope Benedict together put out a book pushing for clerical celibacy at exactly the time Francis was publicly considering the possibility of married clergy in discussions at the Amazon synod. When the publication of this book made waves, Archbishop Gänswein insisted Benedict was not a co-author; he had simply contributed a chapter to the book. But in fact, other than a preface and conclusion, the book had only two chapters, the first of which was by Benedict.
Almost immediately, Archbishop Gänswein vanished from public functions of the papal household. This was explained at the time as "due to an ordinary redistribution of the various commitments and duties of the prefect of the Papal Household." Later Archbishop Gänswein revealed that Francis had effectively removed him from the job, asking him to devote all his energy to caring for Benedict, which Archbishop Gänswein said "pained" him and felt like a "punishment."
In February 2022, Archbishop Gänswein spoke critically of the pope's Synod on Synodality, saying he believes the texts generated "will not be fruitful," and implied that the concept behind the synod was not Catholic. "If I want a different Church that is no longer based on revelation, so to speak, if I want a different structure of the Church that is no longer sacramental but pseudo-democratic, then I must also see that this has nothing to do with Catholic understanding, with Catholic ecclesiology, with the Catholic understanding of the Church."
In his new book—advance copies of which began to be sent out just hours after Benedict's funeral—Archbishop Gänswein seems ready to issue more criticism of Francis alongside defending Benedict's legacy. He told the German paper Die Tagepost that Francis' restrictions on the Latin Mass hit Pope Benedict "very hard": "I think it broke Pope Benedict's heart to read that motu proprio." He also writes that Benedict did not agree with the way that Francis answered questions on abortion and homosexuality in his 2013 interview with La Civiltà Cattolica editor in chief Antonio Spadaro, S.J., and said that he himself was never able to achieve "a climate of trust" with Francis.
The theologian Massimo Faggioli said of Archbishop Gänswein's decision to do a tell-all book and publish it within days of Benedict's death "[at] the very minimum, it's very bad taste." Mr. Gibson, who has written a book about Pope Benedict, agrees: "He's being incredibly divisive. But Benedict took a lot of flak, and he's going to defend his man."