Roundtable: Should Catholics be part of Elon Musk's Twitter?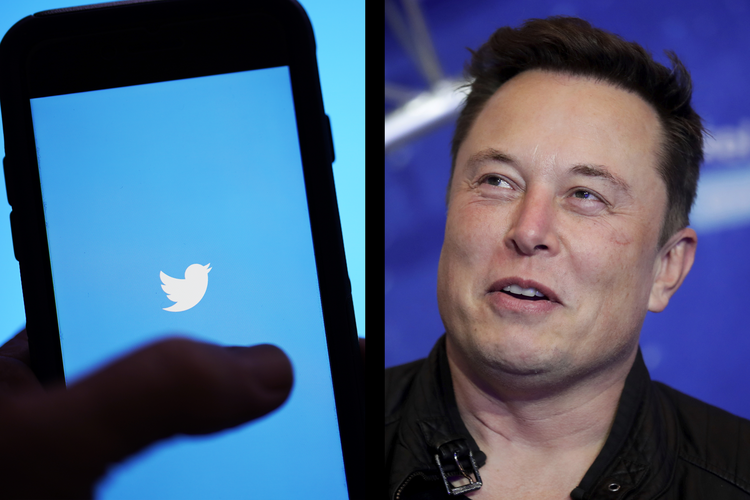 Tesla and SpaceX CEO Elon Musk arrives on the red carpet for the Axel Springer media award in Berlin on Dec. 1, 2020. Elon Musk reached an agreement to buy Twitter for roughly $44 billion on Monday, promising a more lenient touch to policing content on the platform where he promotes his interests, attacks critics and opines on social and economic issues to more than 83 million followers. (Hannibal Hanschke/Pool Photo via AP, File)
Update: On the evening of Oct. 27, 2022, Elon Musk completed the $44 billion deal to take over Twitter.  
On Monday, Elon Musk secured a deal to purchase Twitter for roughly $44 billion, marking a watershed moment: The world's richest person may soon control a vital platform for global communication and political discourse.
Or was it such a watershed after all? Both Mr. Musk and Twitter have a tendency to draw out strong opinions, and there was no shortage of takes and reactions on the platform yesterday. Twitter's changing ownership is either a cause for jubilee or an existential threat to democracy, a thing to ignore or a reason to finally log off, depending on who you talk to.
What should Catholics think? Is Twitter a public square the church should seek to evangelize? Can Catholics resist the temptations to subtweet, dunk and pile on? How will the privatization of Twitter affect the common good? To offer some perspective, I am joined by my colleagues Jim McDermott, S.J., (@PopCulturPriest) and Doug Girardot (@laslo0728).
This conversation has been edited for length and clarity.
Zac Davis: These news events are opportunities for all of us to collectively and individually assess our relationships to social media platforms. Jim, what was your reaction when you saw the news and The Discourse taking shape yesterday?
Jim McDermott, S.J.: Sadness, really. It felt like we won back a lot of sanity and some space for warmth and humor with the removal of Donald Trump from the site, and now it's very possible that he and a number of other pretty ill-intentioned voices will be returning and doing a lot of scary and awful things. It looks like a return to a very sad state of affairs.
Doug Girardot: I'm not sure I totally buy into people's fears that under its new ownership, Twitter is going to turn into some sort of hellscape where unpopular views are censored. Even besides this Twitter development, I think people of a certain persuasion tend to demonize Musk without knowing precisely why. I'm not a huge fan of the guy; he attracts a following that tends to idolize "science" as the answer to all the world's unanswerable questions; he could spend his money on way more meaningful causes. But I don't know if he is the incarnation of evil and greed we're led to think.
Zac Davis: That's a good point about Elon Musk, Doug. For me, I think this is emblematic of where our civic and cultural energy has gone in recent decades. An oligarch who made his money in tech and engineering deciding to buy a media conglomerate to try and solve moral and political issues is the end result of the gutting of the humanities in favor of STEM education. What are the limits of free speech? What is acceptable political speech and what is propaganda? Should citizens in a democracy have access to a high-functioning digital public square, and should that place be owned by any private citizen, let alone the richest person in the world? These are fundamentally moral and political questions that you can't algorithm or code your way out of. They're also questions that deeply concern the common good, and so Catholics should naturally be interested in them.
Jim McDermott: One of the takeaways of all this—as well as all of the problems we've seen with Facebook—is how to understand and regulate these businesses, which have come to function like massive public utilities and yet, in reality, are for-profit businesses.
But from a standpoint of looking at just #CatholicTwitter, there's a way in which I share some of Doug's more blasé feelings about the announcement, though not because I don't think Musk can't make things worse; his "hot take" that content moderation is some kind of unjust restraint on free speech definitely could lead to some pretty bad stuff.
But the fact is, even with the content moderation we have, #CatholicTwitter is actually a shockingly horrible place. I cannot believe the things that are said and done to Catholic women and anyone who speaks in favor of L.G.B.T. people in any way (among others). It is so bad that I can't even give you examples because I'm pretty sure if I did the people who I've seen get attacked will just get swarmed once again. I am sure it could get still worse for them, but it is already pretty awful.
Zac Davis: Yeah, there are two issues (among many) that are interesting there. Because, on the one hand, one of Musk's proposed ideas about "verifying" all users, which would get rid of all the anonymous trolls with Latin usernames and crusader avatars, would actually make the platform better. But then there is another issue of Catholics who behave in ways that range from mean to abusive—totally out in the open and with their true identity.
Let's scope out a scenario here. Let's say that Elon Musk does open the floodgates to free speech, and the platform changes dramatically, either from an onslaught of spam and misinformation or from abuse. What are some rules or ways of proceeding that you think Catholics could follow?
And are those different from what we should be doing on the platform now?
Doug Girardot: I'll offer one suggestion: Wait before you post. Especially if it is a response to someone you disagree with. It just never pays to be overly rash when you're communicating without the context of facial expressions, tone of voice, that type of thing. Also, put people above doctrine. #CatholicTwitter very often speaks about complicated issues as if they couldn't be more obvious because it's written in the Catechism, when in fact people, including those on the other end of a tweet, can really struggle with that same issue in their real life!
One suggestion: Wait before you post. Especially if it is a response to someone you disagree with.
Jim McDermott: Never use all caps (seriously). Never subtweet someone.
These are things we should be doing already. In terms of new things… Well no, this is actually a thing now, but might be more important in a changed Twitter: Be value added. For me, Twitter at its best is always about sharing something—a meme; art you love (or drew); jokes; a take on something based on your own experience; a user that you've discovered who has a great point of view that you want others to see; articles from America magazine!
As a screenwriter, I love writers who post their own thinking about screenwriting techniques or challenges. That's what social media in general is meant for, but Twitter in particular. So when considering a post, I think it will be more important than ever to ask yourself: Am I bringing a gift? Am I adding value to the universe? Or am I just kind of emptying my spleen, which is real nasty for pretty much everyone.
One other thing I'd say is: Practice self-care. When it comes to #CatholicTwitter I mute pretty much everyone from my feed and put them all on a list instead. That way I only have to deal with them when I want to and on my own terms. They are not going to just pop up in my feed and ruin my day. Also on self-care: Be liberal in muting people. Don't engage. It's not good for you, and it's also not good for them. As a writer, this is something I am constantly having to learn; I have a platform those tweeting at me normally don't, and so even if they say something terrible, it's not right for me to swing back. Hit mute or block and move on.
Zac Davis: Of course, there is always the "Digital Benedict Option": Catholics could leave the depraved and immoral timeline, delete their accounts and commit themselves to more productive things (though I can't think of any).
What do we think about that? Is there a point where that becomes advisable?
Doug Girardot: I've been using Twitter for almost a decade, since I was 13 years old. It's been a huge part of my growing up, as crazy as that is to write. But I still believe that it is not the real world. Only 20 percent of Americans use Twitter, and the most-active 10 percent of those users generate 80 percent of the tweets. That's not reflective of real life. So I don't think quitting social media is quite like the Benedict Option in the way disconnecting from "real" society is. But I would say it is probably healthier to go all the way and quit social media rather than just filtering out the trolls because then at least you won't have a skewed sense of reality.
Only 20 percent of Americans use Twitter, and the most-active 10 percent of those users generate 80 percent of the tweets. That's not reflective of real life.
Jim McDermott: Selfishly, I very much hope that things won't go as badly as I fear and people won't leave Twitter because my life is a lot better for all the people I have met there. Many of them don't even know I exist, but the things they post and who they are have added to my life.
But I can completely understand people bailing, even now, and I don't know how long I'll be able to tolerate the site myself given how deeply problematic Musk is in so many ways. (His company, Tesla, is currently in the largest racial-discrimination class action lawsuit in California history for allegedly doing things like segregating their Black employees and allowing them be to target of racial slurs). Unlike Facebook, using Twitter has never before seemed to me like I was supporting businesses or people that are actively unjust or cruel. But now that seems to be precisely the situation. I just hope if it becomes untenable, there's some place else we can all go and hang out together.
Doug Girardot: I made it sound like I hate Twitter, but despite the way I think social media is toxic, I also agree with the positive aspects you're talking about, Jim. I've met so many friends on Twitter and gotten to know people from real life better by using it. Like pretty much everything in the universe ever, there's no black-and-white clarity.
Zac Davis: Amen to that. I think we're still in the middle of the "wild west" era of social media, and all of us need to come up with better social, legal and cultural frameworks for how to use it (priority number one in my mind is fully understanding and responding to the link between teen mental health and social media usage.) But for now, Twitter remains a strong driver of our public discourse. And I think the church wants to be involved in that!
But we've gone way over 280 characters. Doug, Jim, thanks for the discussion. I look forward to the ratios to come.