Caritas Lebanon director: Beirut is devastated but we will rebuild our city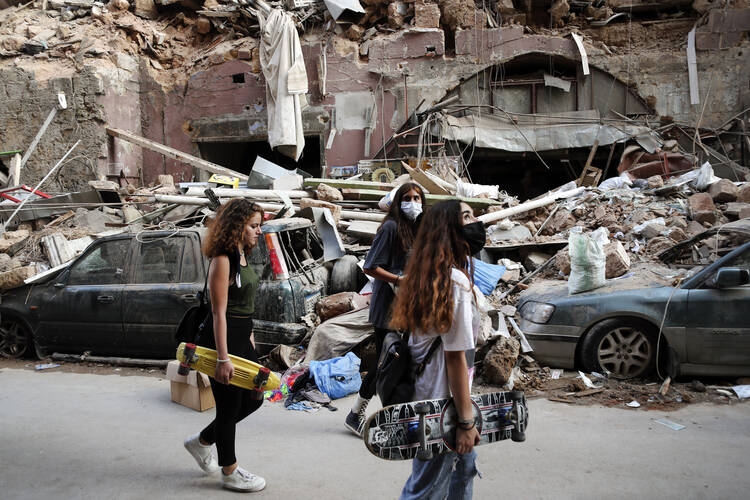 Women walk past destroyed cars at a neighborhood near the scene of Tuesday's explosion that hit the seaport of Beirut, Lebanon, Friday, Aug. 7, 2020. Rescue teams were still searching the rubble of Beirut's port for bodies on Friday, nearly three days after a massive explosion sent a wave of destruction through Lebanon's capital. (AP Photo/Thibault Camus)
"Definitely Beirut is devastated," was Dr. Rita Rhayem's short assessment of conditions three days after a catastrophic explosion in the city's port district sent a shockwave across Lebanon and then the world.
She described the destruction of the city as "unimaginable," but Dr. Rhayem, the director of Caritas Lebanon, was gratified to report that her staff members escaped the catastrophe without serious injuries, something she terms miraculous considering the Caritas office's proximity to the blast site. The apparently accidental detonation of nearly 2,750 tons of ammonium nitrate that had been moldering in a dock warehouse for six years had decimated some of the city's most historic neighborhoods.
"On these streets we had some of the most beautiful and oldest houses," said Dr. Rhayem, "and being old, they could not take the shock."
Many buildings simply crumbled; others are compromised beyond repair. Those that can be saved no longer have windows or doors, but, Dr. Rhayem said, residents continue to occupy them to protect what possessions they have left.
The U.N. Office for the Coordination of Humanitarian Affairs and its partners are mobilizing emergency assistance, including relief items such as temporary shelters for approximately 300,000 displaced people in Beirut, including 80,000 children.
Many Beirut buildings simply crumbled; others are compromised beyond repair. Those that can be saved no longer have windows or doors, residents continue to occupy them to protect what possessions they have left.
U.N.O.C.H.A.'s Mark Lowcock, said: "This blast ripped through a country already facing civil unrest, economic hardship, the coronavirus outbreak, and a heavy burden from the Syrian refugee crisis. Despite everything, the people of Lebanon have remained generous hosts to millions of Syrian refugees and a beacon of humanity for us all."
According to U.N. officials, health organizations in Beirut are working to maintain Covid-19 services while assisting victims of the explosion.
Dr. Rhayem said that while people still wear masks, most have been forced to put the threat of the coronavirus aside while they attempt to deal with the immediate crises of injuries, dislocation and locating food and water. Caritas staff and volunteers, among other efforts, are mobilizing food and water deliveries to those abruptly left homeless in the disaster.
The city's hospitals have been significantly damaged themselves or are overwhelmed by the casualties from the explosion. Dr. Rhayem reports that Caritas Lebanon, its own offices damaged and closed, has set up medical tents to assist in the treatment of the injured and the distribution of aid to Beirut residents.
Her teams are also out in the most devastated neighborhoods of the city, assisting with the clean up of streets and homes. One heartening aspect of the recovery effort so far, she said, has been the response of Beirut's residents themselves, who are pitching-in to help clear streets, clean out homes and apartments and assist the wounded across all classes and sectarian divides. At the Caritas tents, she said, those with minor injuries are even insisting on helping the more gravely wounded.
"It is overwhelming, the solidarity people are showing," she said. "You just look at these young people, and you say, 'Deep down, this is Lebanon.'"
The explosion itself of course respected none of the city's economic or religious distinctions, tearing across multicultural neighborhoods and claiming lives among the poorest dock workers and wealthiest lawyers and business executives who had been at work in offices near the blast zone.
Daniel Corrou, S.J., director of Jesuit Refugee Service Middle East and North Africa in Beirut, said his staff also escaped serious injury though so far he can confirm three dead among the Syrian refugee community that JRS was assisting in Beirut, two killed working at the port and one who died of a heart attack in the disaster's aftermath. Dr. Rhayem reports that all but one of the firefighters who had responded to the first reports of fire at the warehouse are missing and presumed dead. The death of one firefighter, paramedic Sahar Fares, has been confirmed.
The historic St. Joseph church and parish compound where JRS offices are located suffered significant damage, Father Carrou said. Stained glass windows that had been replaced after Lebanon's ruinous civil war have again been blasted out of the church, including depictions of the Holy Family above the altar and the Jesuit martyrs of the civil war. The church's heavy doors, hung centuries ago and built "to protect against the multiple wars this church has seen" have been splintered and hang broken from their hinges.
Father Corrou, noting the seemingly endless trials of the people of Beirut, describes a mood of general shock and desolation now among its residents. But anger is already beginning to rise against the government that allowed the accident to happen.
Whether fury at that apparent negligence will revive the October revolution is not clear in the immediate aftermath of the warehouse explosion, he said. That series of protests against political corruption and incompetence had in 2019 energized and united Lebanese across the nation's cultural and religious divides. But now in the aftermath of so much suffering, Father Corrou speculates that another possible outcome may be for Lebanese people to simply retreat "to their safe places," which for many here is behind the walls of ethnic and religious enclaves.
Even before the port explosion those with "opportunity and education" had been looking for a way out, he said. Since the international airport reopened in July, he added, young people have been fleeing as coronavirus cases in the city skyrocketed.
For her part Dr. Rhayem has been energized by the determination she has seen so far. The port catastrophe is only the latest burden laid on the people of Beirut, already exhausted by months of political and social tension, a widespread economic collapse and the coronavirus pandemic and the lockdown it demanded.
"Our offices in Beirut were completely damaged, but no matter what, we are going to keep helping the people of Beirut," she said.
"It is devastating, yet we know for sure that we are going to rebuild our city."
How you can help:
Caritas Internationalis
Catholic Near East Welfare Association
Catholic Relief Services
Jesuit Refugee Service
Correction Aug. 7: A reference to the firefighters first dispatched to the warehouse has been changed to note that they are listed among the missing but that their deaths have not been confirmed.