Dianne Feinstein, Catholic school grad, praised by Archbishop Cordileone, Nancy Pelosi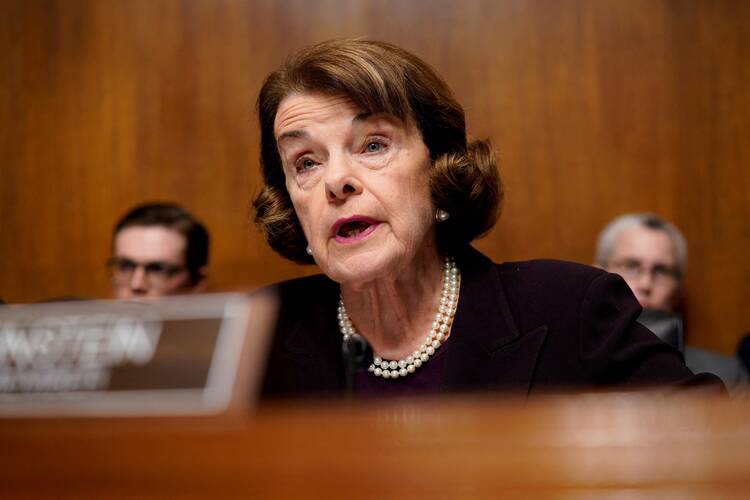 U.S. Sen. Dianne Feinstein, D-Calif., is pictured on Capitol Hill in Washington May 1, 2019. Feinstein, who was elected to the Senate in 1992 in the "Year of the Woman" and broke gender barriers throughout her long career in local and national politics, died Sept. 28, 2023, at age 90. (OSV News photo/Aaron P. Bernstein, Reuters)
The archbishop of San Francisco, Salvatore Cordileone, released a lengthy statement on Thursday, praising the late Senator Dianne Feinstein's "civility" and recalling a quiet moment of kindness that, he said, illustrated her humanity.
"The senator was an alumna of the Convent of the Sacred Heart, and from those formative years she forged deep and abiding friendships with many Catholics," Archbishop Cordileone said on Thursday, when a memorial service was held in San Francisco to honor Ms. Feinstein, who died last week at the age of 90.
The archbishop, known for his combative relationship with liberal political leaders—including former Speaker of the House Nancy Pelosi, whom he barred from receiving Communion last year—said that Ms. Feinstein, first elected to the U.S. Senate in 1992, "valued the contribution religious communities could make to the welfare of our city," and gave an example of how she helped direct funds to the local Catholic Charities agency's home for single mothers.
The archbishop of San Francisco, Salvatore Cordileone, released a lengthy statement on Thursday, praising the late Senator Dianne Feinstein's "civility."
"I met with the Senator in her local office, and she immediately took an interest in the project, even going there to visit it personally herself," he wrote. "She helped us, even personally, come up with the funds to keep the program open."
Noting that Ms. Feinstein's politics "did not always align with policies we believe best serve the common good, my experience demonstrated a trait she exhibited that we sorely need in our own time: courtesy."
As a senator, Ms. Feinstein was known for her robust support of L.G.B.T. rights, gun control and abortion rights.
Archbishop Cordileone recalled a story he heard about Ms. Feinstein from 1987, when she was mayor of San Francisco and welcomed Pope John Paul II to the city during his visit to the United States.
The pope met with a number of people suffering from AIDS-related complications and other illnesses while in San Francisco. Among them was a priest, Monsignor Donnell Walsh, who was confined to a wheelchair.
"After the gathering, Msgr. Walsh was brought out the side entrance of the basilica and was waiting by the curb for his ride. The sun had set and a chilly breeze had come up," the archbishop recounted. "Mayor Feinstein emerged from the church, and seeing the priest shivering in his wheelchair, greeted him kindly, removed her overcoat, and placed it on him."
"Such a simple act of charity and thoughtfulness, and it was unnoticed by nearly everyone," Archbishop Cordielone said. "From what I have heard from her friends, this was the character of Dianne Feinstein. May she rest in God's peace."
Other Catholics also remembered Senator Feinstein this week.
Writing in the San Francisco Chronicle, Ms. Pelosi recalled a visit she made to her alma mater, the Catholic Convent of the Sacred Heart.
"At the event, Dianne spoke about how, as a Jewish student, she felt welcomed and respected by the community there, despite their different faiths. On that memorable day, she was beautiful, articulate, dignified and strong," Ms. Pelosi wrote. "It was clear that going to school at the Convent—and growing up in a city as beautifully diverse as San Francisco—nurtured Dianne's gentleness, her love, her respect for and faith in the goodness of others. These were the qualities that defined her historic career in public service."
Several students from the school attended Ms. Feinstein's memorial service this week, the school shared in a Facebook post.
Senator Feinstein spoke about her education and her views of Catholicism in 2017, following criticism about comments she made during the Supreme Court confirmation hearing of Amy Coney Barrett.
Ms. Feinstein said to Ms. Barrett, "the dogma lives loudly within you and that's of concern," referencing speeches given by Ms. Barrett to conservative legal groups and a 1998 article she co-authored about the obligations of Catholic judges in cases involving the death penalty. Ms. Feinstein's questioning led to charges of anti-Catholic bias. Senator Feinstein said in comments shortly thereafter that the question was not a show of bias but an examination of the would-be justice's legal scholarship.
"I'm a product of Catholic education," Ms. Feinstein said on CNN. "I sat in doctrine classes for four years, five days a week. I think Catholicism is a great religion. I have great respect for it. I've known many of the archbishops who have been in my community. We've had dinner together, we've spoken together over many, many decades, and I've tried to be helpful to the church whenever I could."
President Joe Biden, who sent recorded remarks to Thursday's memorial gathering, was among the short list of speakers who praised Sen. Feinstein at the private memorial service outside San Francisco City Hall.
"She was always tough, prepared, rigorous, compassionate. She always served the people of California and our nation for the right reasons," Mr. Biden said. "God bless a great American hero. She was something else, and she was a dear friend."
Senator Feinstein, who died last week at her home in Washington, D.C., of natural causes, spent much of her career in the U.S. Senate but is also remembered for serving as the mayor of San Francisco, a role she inherited in tragedy.
She was president of the Board of Supervisors in November 1978 when a former supervisor assassinated Mayor George Moscone and Supervisor Harvey Milk, the city's first openly gay supervisor, at City Hall. Sen. Feinstein, who found Milk's body, became acting mayor and won election twice to serve as mayor until 1988.
Material from The Associated Press was used in this story.