Knights of Columbus commit to helping asylum seekers at the southern border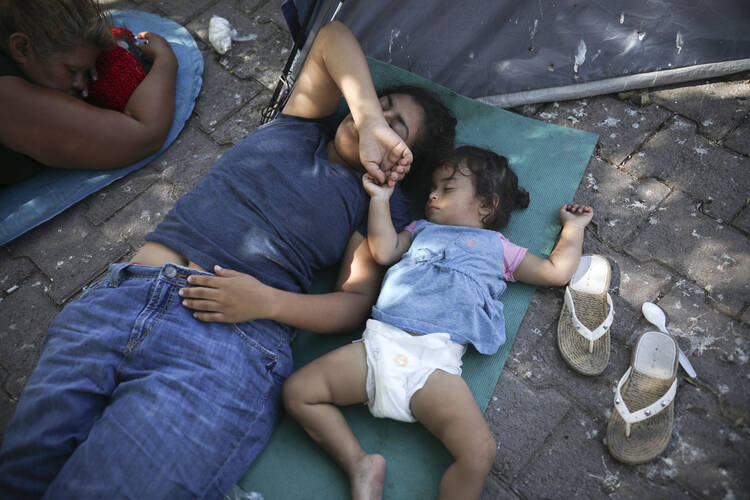 Migrants rest near a Mexican immigration center where migrants set up camp in Matamoros, Mexico, on Aug. 1. Turning Mexican border cities into waiting rooms for asylum seekers may be the Trump administration's most forceful response yet to a surge of migrants, many of them Central American families. (AP Photo/Emilio Espejel)
The Knights of Columbus have committed $250,000 to help asylum seekers at the U.S.-Mexico border. Carl Anderson, Supreme Knight of the Knights of Columbus, announced the initiative during the order's 137th annual Supreme Convention, held Aug. 6 to 8 in Minneapolis.
"We are prepared to expand it, with additional resources, to help those in refugee camps in every border state—including Texas, New Mexico, Arizona and California," he said.
"Let me be clear: This is not a political statement," he added. "This is a statement of principle. This is about helping people who need our help right now. It is a natural and necessary extension of our support for refugees across the world. It shows our nation and the world that where there is a need, there is a knight to answer it. And on our southern border, the Knights of Columbus will be there."
Over several years, the number of asylum-seeking families from Central America has escalated dramatically. Humanitarian groups have mobilized to receive the influx, which is driven by violence in the Northern Triangle countries of El Salvador, Guatemala and Honduras.
"Let me be clear: This is not a political statement," said Supreme Knight Carl Anderson. "This is a statement of principle. This is about helping people who need our help right now."
Processing asylum seekers at the southern border has been a contentious issue. Last month, the Trump administration took measures to drastically curb asylum protections for Central American migrants. Many Catholic leaders condemned the policy shift, including Cardinal Daniel DiNardo, the president of the U.S. Conference of Catholic Bishops and archbishop of Galveston-Houston, Tex.
"It is contrary to American and Christian values to attempt to prevent people from migrating here when they are fleeing to save their lives and to find safety for their families," he said in a July 16 statement.
In April, U.S. Customs and Border Protection reported facing an "unprecedented humanitarian and border security crisis." The agency reported having more than 12,000 immigrants in custody.
Border Patrol was on pace to apprehend more than 100,000 immigrants in March, the highest number in more than a decade, Kevin K. McAleenan, the commissioner of the agency, said during a March 27 press conference. Yet unlike 10 years ago, a large percentage of recent immigrants are families with children, which creates an enforcement challenge, he said.
"I don't buy into the fear-mongering of this administration," the Rev. Robert Mosher, the director of the Columban Mission Center in El Paso, told Americaearlier this year. "They're creating the worst possible picture of things on the border. Asking for asylum is not a crime."
According to Syracuse University, immigration judges decided 42,224 asylum cases in 2018, a record number. In those decisions, 65 percent of individuals were denied asylum, the sixth year in a row that the rejection rate has increased.
"We can handle this," Father Mosher said. "This is a drop in the bucket of what we can do. I hear all this hysteria and it's exactly how not to respond to this situation. We are capable of responding well."
The recent commitment from the Knights of Columbus may help border communities better respond to the ongoing humanitarian effort. Knights are already involved in relief efforts on the border, and during the convention, Mr. Anderson emphasized the Knights' nearly two million members are "Knights of Unity."
Last year, the Knights gave $185 million in charitable donations and dedicated 76 million volunteer hours. The Knights' insurance arm also provided $1 billion in benefits to members and their families.
Material from Catholic News Service was used in this report.