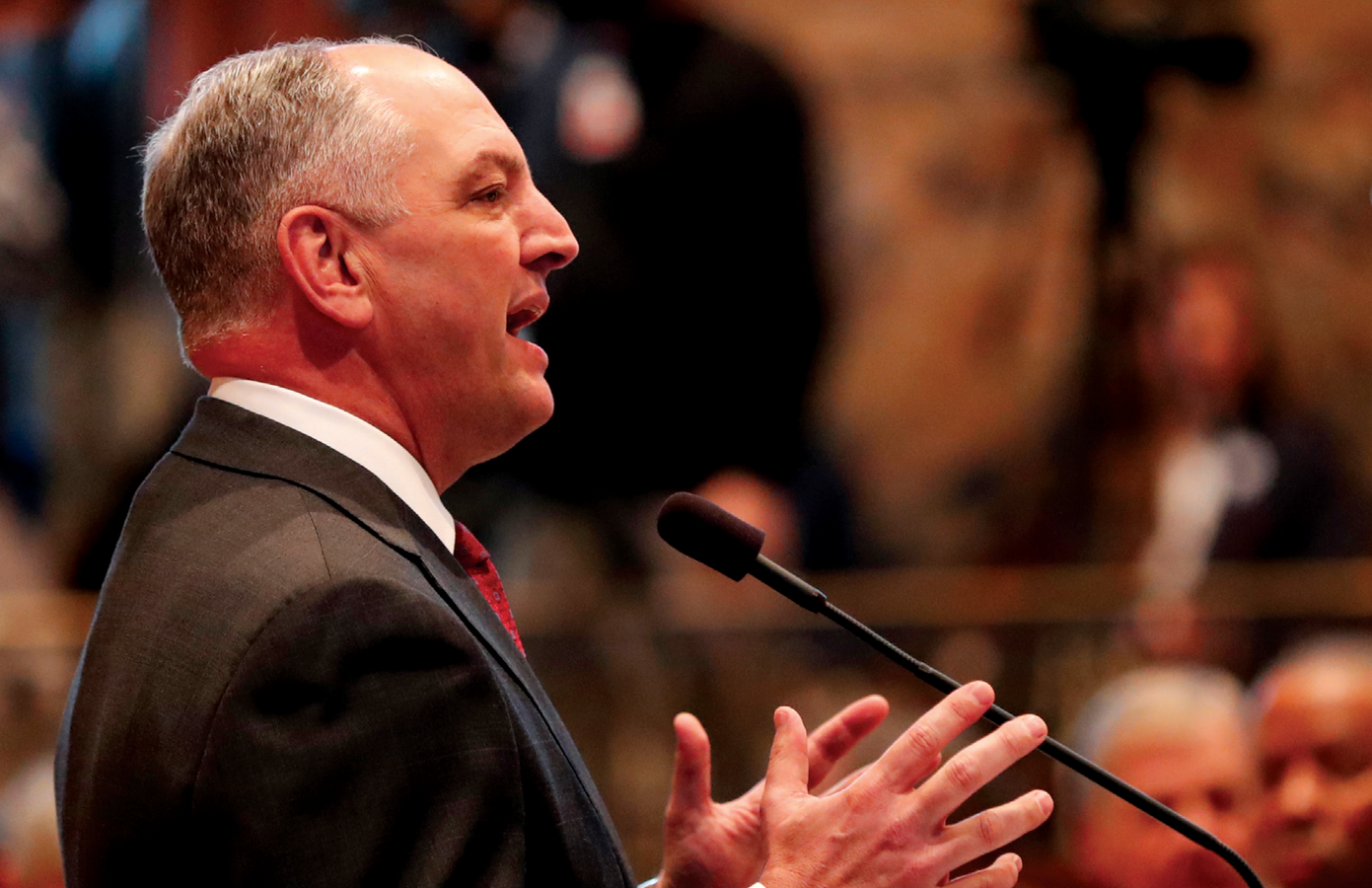 The America Profile: Louisiana Governor John Bel Edwards, the pro-life Catholic Democrat
Life at the State Capitol this morning has that unhurried pace for which Louisianans are known: Something is definitely happening, but nothing definite is happening quickly.
This is the opposite of midtown Manhattan, but that is its charm. In Louisiana, events are measured on a truly human scale. How you get somewhere matters just as much as where you are going, and whatever you are doing is never more important than the people you might meet while doing it. A schedule is merely a suggestion, and the clock is an unwelcome guest at the party.
It is therefore impossible to say just when this interview will start. This gives me plenty of time to thank God and the late Huey P. Long for the building's central air conditioning. Even by Baton Rouge standards, it is hot as hades this July morning, the kind of day when your sweat starts to sweat. For a New Englander, dressed in a black suit and a clerical shirt, this is an endurance test.
"I fundamentally believe that government has a role to play in improving people's lives."
I have just stopped perspiring when the 56th governor of Louisiana enters his office, dressed in a business suit, but looking as cool as seersucker. John Bel Edwards says something endearing about his never having been interviewed by a priest, then smiles broadly and shakes my hand. His ramrod posture reveals his soldierly training. A graduate of the United States Military Academy at West Point, Mr. Edwards served eight years in the U.S. Army and then returned home to Louisiana, where he completed law school and won a seat in the Louisiana House of Representatives, all before the age of 43. In person, the governor does not look a day older—or younger—than his 52 years. If you passed him on the sidewalk and didn't know better, you would not think he was someone extraordinary.
Yet in all of American politics there is no one quite like John Bel Edwards. A devout Roman Catholic in a state with a devout Protestant majority, Mr. Edwards talks openly about his faith and the central role it plays in his life and work. What's more, in an era of polarization, when most politicians predictably toe the party line, Mr. Edwards has a track record that is not easily classified: He is anti-abortion, pro-Second Amendment, pro-L.G.B.T. civil rights, pro-social safety net and, in this increasingly red state, he is a Democrat.
His Governing Principle
Governor Edwards speaks with a honeyed and un-self-conscious Louisiana drawl, as if he has thought carefully about what he is saying but doesn't pride himself on the fact. He briefly tells me the story of his come-from-behind gubernatorial campaign, for example, with a lingering sense of amazement at the outcome—as if it had happened to someone else.
It is an amazing story. When John Bel Edwards first announced that he would run for governor in the 2015 election, he was the longest of long shots, the leader of the unpopular minority party in the state House of Representatives. Promising "a healthy dose of common sense and compassion for ordinary people," he was the only major Democrat in the race and finished first in the state's all-party primary, then facing U.S. Senator David Vitter in the run-off election. Despite a sordid sex scandal, Mr. Vitter was still considered a formidable foe and the political bookies wagered that in a state as red as Louisiana, the odds were with the Republican.
"I was not the favorite to win that race," Mr. Edwards says with understatement. When he did win the run-off, with an impressive 56 percent of the vote (carrying 39 of the state's 64 parishes), the first thing he did in his victory speech was thank God.
"You cannot be great if you're not first good. Your policies have to be rooted in basic goodness."
"Our faith is important, and I know we're called to give thanks in all things," he tells me, explaining his remarks on election night. "So I did that, and it was heartfelt because I've now been given the opportunity to be the governor of a state with about four and a half million people, a state that's very challenged in terms of poverty, educational outcomes, health care-related outcomes, but also a beautiful state with wonderful people, really decent, good, generous people."
That Louisiana is "very challenged" is also an understatement. Prone to both manmade and natural disasters, the state has struggled in recent decades. About 20 percent of the state's citizens still live in poverty when measured by household income. Economic growth has accelerated somewhat in the cities but is still anemic overall. And when Mr. Edwards assumed office three years ago, he inherited what was possibly the largest deficit in state history, making it all the more difficult for him to move those numbers in the right direction.
"I fundamentally believe that government has a role to play in improving people's lives," he says, "but you can't do everything for everybody, both because it's inappropriate and because you'll never [be able to] pay for it."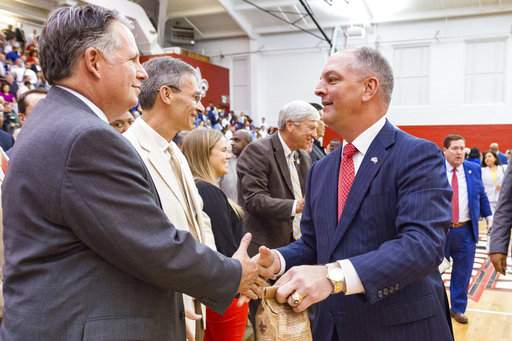 So Mr. Edwards started to make changes where he could, when he could. The results are impressive, even if the process of achieving them was messy, including seven special sessions to hammer out annual budgets with the G.O.P.-led legislature. In 2016, for example, Mr. Edwards took advantage of the federal government's Medicaid expansion offer, the same offer his Republican predecessor had rejected. By the end of 2017, the number of Louisianans without basic health coverage was half what it had been just the year before.
He has also championed criminal justice reform: "For 40 years, Louisiana took the approach that we were just going to put more people in prison, keep them there longer and pay whatever it cost. We couldn't afford it, and we were not safer as a result."
In fact, Louisiana had the highest incarceration rate in the nation until this year, when it fell below Oklahoma's. Mr. Edwards explains how he shed that distinction by releasing some nonviolent offenders early and then reimagining the whole system. As a result, he says, "we were able to save 12 million dollars last fiscal year alone, and we're going to reinvest eight million of that into making sure that people are successful upon re-entry" into society. Mr. Edwards has also restarted the process of commuting sentences; as of October, he has approved 119 of the 164 pardons recommended by the state's Pardon Board during his term. (His predecessor, Bobby Jindal, had approved only 23 pardons during the same point in his first term.)
On the issue of the death penalty, Mr. Edwards has been circumspect, declining to take a position on efforts to ban the punishment in Louisiana. At the same time, the Edwards administration has supported a federal court order that prohibits executions because pharmaceutical companies refuse to provide the drugs needed for lethal injections under Louisiana law. Because of the inability to obtain these specific drugs, Louisiana has not carried out an execution since 2010.
Late last spring, Mr. Edwards also signed into law one of the most restrictive anti-abortion laws in the country, earning praise from groups like the Susan B. Anthony List, which applauded him for "leading the way in the bipartisan effort to bring our nation's laws into line with basic human decency."
Mr. Edwards has expanded Medicaid and cut in half the number of Louisianans without basic health coverage.
The man himself sees a common principle at work in all those initiatives: "The idea of not doing the Medicaid expansion, I just couldn't reconcile that, because I am pro-life. And the pro-life ethos has to mean more than just the abortion issue. [Abortion] is fundamental, and I understand how important it is, but it's got to go beyond that. The job isn't over when the baby's born if you've got poor people who need access to health care."
While Mr. Edwards is a supporter of the Second Amendment and a lifelong hunter (he makes a point of telling me that all the guns he owns are for hunting), he believes "that there ought to be sensible, reasonable restrictions in some areas. For example, I know that we need to do a better job with our background checks.... The overwhelming majority of gun owners are responsible, law-abiding people. And so that makes it a difficult dilemma. I've come down as a strong supporter of the Second Amendment. But I'm not somebody who just believes that there shouldn't be any regulation. That's not where I am on that issue."
"The pro-life ethos has to mean more than just the abortion issue. The job isn't over when the baby's born if you've got poor people who need access to health care."
Add this view to the fact that the governor has taken a more liberal view than his predecessors on some other social issues, including legal protections for lesbian, gay, bisexual and transgender people, and you might be left scratching your head and wondering: Who is this guy? Is he a liberal, a conservative, a moderate or what?
In Mr. Edwards's mind, he is none of those things and, in a way, he is all of them: "I don't like the labels because I don't think that they're accurate. I don't like being pigeonholed. There are people who say, 'You're pro-life on abortion, so that makes you conservative, but you're for the Medicaid expansion. That makes you liberal.' But it's the exact same Catholic Christian faith, at least as I understand it, that pushes me into both of those positions."
That approach has so far made for a winning electoral combination. But where did it come from and how far might it take him?
Living the Faith
Is John Bel Edwards, then, merely a pragmatist? Au contraire, as they might say in the French Quarter. He is a man of deep conviction, his friends and family say.
"He lives his values every day," said his wife, Donna. In many ways, he is just an old-fashioned politician who still puts stock in moral values and not just party loyalty. And Mr. Edwards knows where those values come from. "I know that all of the people that I have been associated with who were strong Catholics, they were public servants in one fashion or another.... Everything that I experienced growing up in Amite as a Catholic just pushed me towards service."
Amite is one of those Southern towns that resembles an HO-scale model train set—almost too charming to be real. The two-story, early-20th-century downtown; the two-room post office; the sheriff's car parked in front of City Hall; multiple churches within a square mile and a couple of weathered barbecue joints—Amite's got it all, a kind of idyllic Southern community at the crossroads of heritage and hospitality. This is the place where John Bel Edwards grew up, met the high school sweetheart he later married, and launched his political career as a state representative.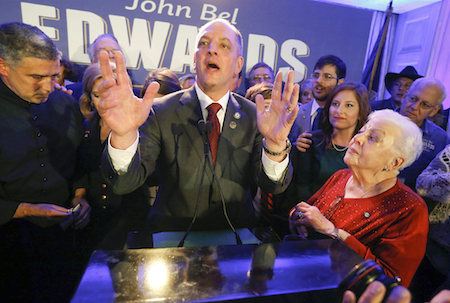 To understand this place is to understand John Bel Edwards. He is the son, grandson and great-grandson of Amite sheriffs. The Edwards are to Amite, in the eastern part of Louisiana a few miles south of the Mississippi border, what the Kennedys are to Boston. And in the life and imagination of John Bel, as he is known to family and neighbors alike, Amite is inseparable from St. Helena's Roman Catholic Parish.
"My mother and father were tremendous examples of faith, both of them being cradle Catholics, and they raised us in St. Helena Catholic Church." Curiously, the first word Mr. Edwards uses to describe his parish is "fun."
"My family, with my mom and dad and their eight kids, we took up the whole pew," he recalls.
Mr. Edwards credits the Dominican priests who staffed St. Helena's with inspiring him to pursue the best education possible. "I'm convinced that that was part of the reason why I was successful enough in K-12 education to get accepted to West Point. They had a lot to do with that, not just faith formation, but also the education as well."
Above all, it was his mother who gave him the gift of faith. With evident pride he tells me that Dora Jean Edwards was not only mom to him and his seven siblings but also served as the emergency room nurse at the local hospital and (in her spare time, presumably) was the sixth-grade catechism teacher at St. Helena's to boot. As a teacher "she was pretty tough on us," he says, "so we knew we had to study and, of course, she would get reports from the other teachers if we showed up unprepared" to their classes.
"The Catholic faith has been central to our family just as long as I can remember," he says. "I'm fortunate that my mother is still alive, and she still attends Mass just about every day."
To John Bel, as he is known to family and neighbors alike, his hometown of Amite is inseparable from St. Helena's Roman Catholic Parish.
I don't have the feeling that Mr. Edwards is saying all this just to impress his priest-interviewer. Some politicians might try that, but it is hard to fake the sincerity he conveys when I ask, for example, what he learned from his mother about the faith. "I am most appreciative that she taught us how important it is to have an active sacramental life in the Catholic Church," he says, "especially the Eucharist."
Then his speech slows and his eyes widen, making that unmistakable face people make when they want you to listen carefully to what they are about to say: "If you believe, as we were taught, that that's the body, blood, soul and divinity of Jesus Christ [in the Eucharist], then there is nowhere else to go but the Catholic Church. So it's incredibly important to me to make sure that my wife and I model that for our children. That's how we were brought into the Catholic faith and why it's so important to us, both now for ourselves, but especially for our children."
Yes, John Bel Edwards means it. What he wants to hand on to his three children is not just a way of talking about the Catholic faith, but an example of how to live it. "Even when we're on vacation," his daughter said in a campaign commercial in 2015, her father "will find out where the Mass is, what time the Mass is."
Yet his faith was also shaped by hardship. "[Donna and I] had just been married a couple years," he tells me. "We were living in Hawaii. I was there as an army officer. Our first child, Samantha, had spina bifida and we didn't know how profoundly she would be impacted. Donna's doctor took Donna and myself to a clinic at the hospital there in Honolulu and just showed us various kids and said, 'Now, it could be as mild as this kid,' who had braces on the legs, 'and as serious as this one over here.'" The Edwardses prayed about it a lot, he says. "But abortion was never an option for us."
"That must've been terrifying," I say.
"It was," Mr. Edwards responds. "It was terrifying, but I will tell you, it brought Donna and me together and really, I think, strengthened our Catholic Christian faith." (Thanks be to God, Samantha grew into a healthy adult.) Donna, who is a convert to Catholicism, even made a commercial during the gubernatorial campaign that told Samantha's story.
"Because I'm a Democrat," the governor says, "there were certain people around the state who were openly questioning whether I was [pro-life]. It didn't matter that I had an eight-year voting record in the legislature that was very solid on the issue. They were questioning that. It was actually our daughter who saw what was happening. She said, 'Why don't y'all go tell them about me?' We made absolutely sure that Samantha was going to be okay with that.'" The commercial, says Mr. Edwards, helped Louisianans to understand "that this wasn't a position I had come to when I decided I wanted to run for governor and that it was sincere."
A Model for National Democrats?
Sincerity. It is clearer to me now that this is why John Bel Edwards is succeeding here. He comes across as sincere. He also appears to be principled, reasonable and sober. Those are not qualities that are highly rewarded in our contemporary politics—nuance just doesn't play well in the cut and thrust of our mortal political combat. Yet it is playing well here.
Might it play elsewhere? Might other moderate voices be able to break through the toxic din, as he has in Louisiana? Might the Democrats, for example, be more competitive in the South if the party lifted its litmus test on abortion and became more welcoming to pro-life candidates?
U.S. Politics Catholic Discussion Group
Facebook Group · 611 members
Discuss politics with other America readers.
"Technically, I don't believe there is a formal litmus test," Mr. Edwards says, "but it surely seems that way.... I do believe that [being more open to pro-life candidates] would make Democrats more competitive." But, he adds, "it's also important that you're sincere about it.... You can't come up with that position because you decided you're going to run for higher office."
Speaking of higher office, President Trump carried Louisiana by 20 points in the 2016 election. Does the governor get along with Mr. Trump? Mr. Edwards is clear: He is the governor of a poor state and he needs the help of the federal government, so he will work with whomever is in the White House. He says he was not a fan of the way his Republican predecessor, Bobby Jindal, treated President Obama: "[Jindal] was very gratuitous in his commentary about President Obama. And it was always taking on the president and not giving him the benefit of the doubt on anything." Mr. Edwards says he is not going to play that game. His relationship with Mr. Trump is "pretty good," and he has even been consulted by the White House about the criminal justice reforms he has enacted in Louisiana. "It's not that I don't ever disagree. I just don't go out in public and blast the president, because I don't think it would be helpful."
Yet Mr. Edwards is willing to challenge Mr. Trump when he thinks the president is clearly in the wrong. "I felt compelled," for example, "to call the White House and personally register my opposition to the policy at the border separating children from parents. I didn't think it was necessary, and it didn't strike me as particularly American to do that."
There it is again: values. The values that Mr. Edwards learned in Amite, which he celebrated every Sunday at St. Helena's, the values that made him valedictorian of Amite High School, a distinguished graduate of West Point, and a decorated member of the 82nd Airborne Division—these are the values, he says, that he is bringing to his work as governor. And he is just now reaching the heights of his political power and influence. His approval ratings are strong, and U.S. Senator John Kennedy, who was considered the strongest possible Republican candidate in 2019, has ruled out a challenge. Presuming he wins a second term in 2019—no Democrat seat is truly safe in Louisiana—what might the future hold for John Bel Edwards?
For several reasons, he would be a highly competitive Democratic nominee for president. His Southern roots might help put deep red states like Louisiana in play for the Democrats. His progressive views on economics and his commitment to a strong social safety net, as well as his moderate views on some social issues, might also appeal to the working-class voters in the Rust Belt and elsewhere who decided the 2016 election by swinging toward Mr. Trump. And in a general election, his views on abortion might be less of an electoral problem than people think. A majority pro-choice national electorate has previously voted for the right kind of pro-life candidate—Ronald Reagan and both of the Bushes are good examples. Mr. Edwards's Catholicism might also help. Since the 1960s, no candidate has won the national popular vote without at least splitting the votes of American Catholics down the middle, and most presidential winners have carried a majority of Catholic voters.
But Mr. Edwards would face a steep, almost impossible climb to win his party's nomination. The Democratic Party is as beholden to its immoderate pro-abortion left as the Republican Party is to its immoderate pro-gun right. And therein lies the main problem with American electoral politics in 2018. Politicians who might appeal to a diverse majority of the voters in a general election cannot win their parties' nomination. Maybe Americans will grow so weary of the country's polarization, so desperate to break the partisan gridlock, that primary voters will finally give candidates like Mr. Edwards a chance. Time will tell.
What we do know is that neither party can ever claim ownership of the values that Mr. Edwards says he brings to public life. In his personal experience, they are values that are inseparable from his Catholic faith. But compassion, prudence, justice, mercy and honesty are values that should guide all people of faith, or people of no religious faith at all. And such values are essential to recovering a sense of our national purpose, one that includes all of us. For in the end, we are not mere soldiers locked in some perpetual political combat. We are, or should be at any rate, fellow citizens and, above all, neighbors.
"It's not that I don't ever disagree. I just don't go out in public and blast the president because I don't think it would be helpful."
As the interview ends, I look toward the window, hoping that the brutal summer sun is now a little lower in the Louisiana sky. I spy again the Bible that I saw when I first entered the governor's office, the one Edwards keeps open on his desk, not just today, but every day he comes to work here. It's open to Matthew 25:40: "Truly I tell you, whatever you did for one of the least of these brothers and sisters of mine, you did for me."
I ask him, why that particular passage?
"Because in Louisiana," he says, "we have more than our fair share of poor people, the least among us." Those people are not simply voters or statistical abstractions to Mr. Edwards. They are his neighbors, "good and decent people," as he likes to say—the people who taught him that "you cannot be great if you're not first good. Your policies have to be rooted in basic goodness."
For John Bel Edwards, it seems, how you get there matters just as much as where you're going, and nothing matters more than the people you meet along the way.
---
Postscript: The governor and the pope
On Jan. 18, 2017, Gov. John Bel Edwards and his wife, Donna, led a delegation from Louisiana to the Vatican, where they met Pope Francis. The delegation was there to discuss human trafficking prevention and included representatives of the Hospitaler Sisters of Mercy, who were establishing a safe house for girls in Louisiana at the time. Mr. Edwards recalls:
The private audience doesn't last long. But in that couple of minutes, as a lifelong Catholic, I will tell you, that was very impressive to me and to my wife, Donna. Because we were both able to get [Pope Francis's] blessing on a plaque that [we placed] on a home that we built for these teenage victims of human trafficking. And to have him bless our efforts and then come over after the private audience and meet with the larger group that we had brought over from Louisiana, and spend a few minutes with us was really, really special.

I will never forget it because, you don't think this is necessary, but we were asking him to bless our efforts and pray for us. And he then asked us to pray for him. If there's one person in the world that I would think wouldn't necessarily need my prayers, because he would already be in good standing, it would be the pope. But after he said that, and I got to thinking about it, I have to imagine that he does feel the need for prayers from people all over the world, so that he will have the strength to get up and do every day what he has to do.

I know what the weight on my shoulders is like being the governor for four and a half million people. I can only imagine the weight that he feels every single day as the leader of Catholics all across the globe and [also just] being a religious leader on the world stage, period. Because his voice matters, whether you're Catholic or you're not.