Hondurans fear more conflict and bloodshed as contested inauguration approaches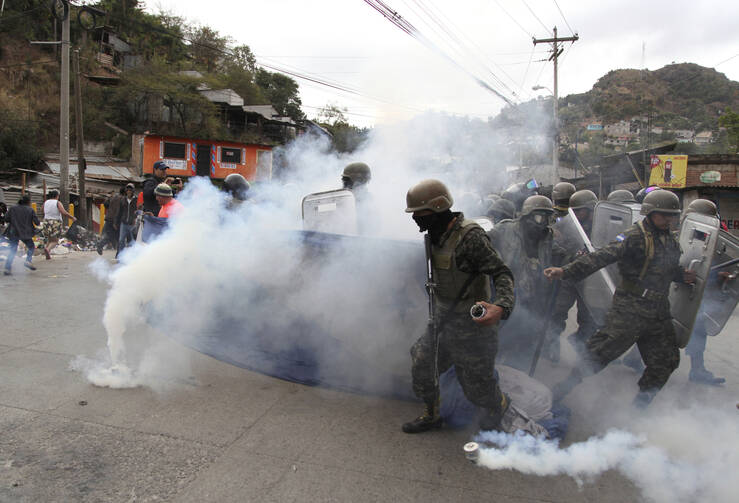 Supporters of opposition presidential candidate Salvador Nasralla clash with military police in the Policarpo Paz Garcia neighborhood of Tegucigalpa, Honduras, on Jan. 20, 2018. Following a disputed election marred by irregularities, incumbent President Juan Orlando Hernandez was declared the victor and will be inaugurated on Jan. 27. The opposition does not recognize Hernandez's victory and are protesting against the result. (AP Photo/Fernando Antonio)
Honduran President Juan Orlando Hernández will begin his second presidential term amid nationwide protests on Jan. 27. Honduran activists and scholars warn of four years of civil disobedience and state violence. Despite this bleak prognosis, Honduran citizens are pulling together through the crisis.
Two months ago, Hondurans cast their votes to elect their next president, but two candidates claimed the victory. Massive demonstrations, accusing incumbent leader Mr. Hernández and the National Party of rigging the elections, have been shaking the country since. More than 34 protesters have been killed in clashes with security forces and scores of others have been detained.
Ismael Moreno, S.J., commonly known in Honduras as Padre Melo, speaks about this as a turning point in Honduras's history. "Juan Orlando Hernández will renew his mandate, and so Honduran society will face its worst scenario: a government plagued with the stigma of fraud," he tells America. "The government won't have the capacity to adopt public policies as people will consider it illegitimate, and civil disobedience will arise, followed by bloodshed."
The Organization of American States released an election observers' report that detailed voting irregularities. O.A.S. officials declined to comment on post-electoral developments in Honduras, but in a statement released on Dec. 17, the O.A.S. general secretariat's office reported that it "cannot give assurance regarding the outcome of the elections held on November 26."
"Since the government lacks legitimacy, it imposes itself through the use of strength," says Joaquin Mejía, a human rights lawyer at ERIC, the research center at Radio Progreso. Political repression may deepen, leading to an increase in Honduran refugees abroad. "Only this time, they will not flee street violence but try to escape state-enforced brutality," he adds.
Mr. Mejía argues that Honduras is witnessing the consolidation of a dictatorship that began in 2009. That year, the Honduran Supreme Court ordered the army to expel former President Manuel Zelaya, who was attempting to run for a second term, which was—and still is—unconstitutional. The National Party has governed ever since.
"Honduras hasn't fixed its age-old problems of inequality, exclusion, poor educational and health system, corruption and impunity."
"Since 2009, Juan Orlando Hernández, in his different positions of power, has taken control of the institutions, created a militarized police, replaced magistrates and campaigned for a second term, just like Zelaya back then," Mr. Mejía says. From 2010 to 2016, the budget for security forces increased by 161 percent, while 36 percent of households have entered poverty during those same years, according to the association for development FOSDEH.
"You will see many protests during his mandate...because Honduras hasn't fixed its age-old problems of inequality, exclusion, poor educational and health system, corruption and impunity," Eugenio Sosa, a sociologist from the Autonomous National University of Honduras, adds.
Honduras has experienced an increase in extrajudicial killings of environmental and student advocates over the last eight years. According to N.G.O.s, more than 120 activists have been slain and countless others have been incarcerated. The Inter-American Commission on Human Rights emphasizes that land defenders, indigenous peoples, women, children, L.G.B.T. individuals, journalists and workers in the judicial field are most at risk. Berta Cáceres is one of the victims whose aggressors have not been brought to justice. Between 80 and 96 percent of cases remain unpunished.
"Here, killing people is easy," says Gustavo, a 29-year-old Honduran. He asked to remain anonymous because he fears threats to his life or his career. "And if the violence comes from the state, it's even easier," he adds.
As tensions mount, Padre Melo has been the victim of an orchestrated campaign of calumny, and Mr. Mejía's family had to hastily move to a new home. Both men are concerned that human rights violations and impunity in Honduras will increase should the current government become entrenched.
As the nation's political crisis has intensified, the Honduran Catholic Church appears split between the episcopal conference's line of action, which asks for a peaceful exercise of constitutional rights and dialogue between opposing parties, and a more confrontational tone adopted by some dioceses and Jesuit- and Franciscan-run parishes. Some priests and laypeople are helping to direct the national protest against the disputed electoral results.
Honduran citizens are uniting across economic and political lines in resistance to the Hernández government. Gustavo, who is a white-collar employee, has noticed a change in his colleagues' convictions. "Before, protesting was something only for the so-called lower classes," he explains. "But now, the middle classes and even some people from the upper classes have joined, too." In households, the debates have evolved as well.
"In 2009, families were divided over whether there was a coup or not, but now, it looks like everyone is on the same page," Gustavo adds.
Mr. Sosa, the sociologist, confirms Gustavo's intuition. "With what we know now and the reports of international missions, not many Hondurans still have doubts on whether the electoral results have been altered in December," he says. "Not many, except for those who have vested interests."
A cross section of Honduran society, including businesspeople and members of the National Party, voted against Mr. Hernández. "They perceive him as a threat because he is abusing the law," Mr. Sosa says. Despite this apparent critical mass of opposing voices, Mr. Hernández has retained power. "He can go on even with the loss of consensus," Mr. Sosa explains. "Honduran mainstream media is building a favorable opinion of his government."
As the inauguration approaches, many Hondurans have called for new elections and urge the international community to demonstrate solidarity with average Hondurans. Mr. Sosa asks that international civil society continue to denounce human rights' violations in Honduras, and Padre Melo asks for the "U.S. government to realize that supporting or recognizing Juan Orlando Hernández, in these complex conditions, is tantamount to condoning future violence and an ungovernable Honduras."
He also calls on international judicial organizations to help achieve justice for those killed during protests. "If Honduran institutions don't work, we need to call upon organizations like the International Court of Justice and the Inter-American Commission on Human Rights to demand justice for the killings perpetrated by the military and the police," Padre Melo says.
According to Mr. Sosa and others, Honduras needs comprehensive change beginning with transparent elections and policies aimed at reducing social inequities to avoid future clashes. "There will be confrontations in the next years, if Honduras doesn't make basic social changes," he says. "If it doesn't, there's a big risk that the next elections will be even worse."
Editor's note: Chief Correspondent Kevin Clarke will be reporting from Honduras beginning Jan. 24, accompanying an interfaith delegation to El Progreso, Honduras.