Podcast: Arturo Sosa, SJ, on being the leader of the Jesuits, Pope Francis and the Ignatian Year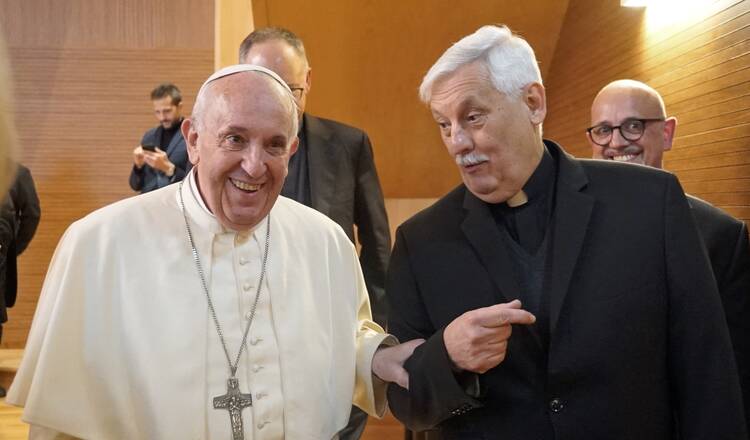 Pope Francis leaves the Jesuit headquarters with Father Arturo Sosa, Jesuit superior, after speaking at the presentation of a collection of writings by his former spiritual director in Rome Dec. 13, 2019. The pope's nephew, Jesuit Father Jose Luis Narvaja, who edited the collection, is seen at the right behind Father Sosa. (CNS/photo courtesy of the General Curia of the Society of Jesus)
This week, Ashley and Inside the Vatican's Colleen Dulle chat with Arturo Sosa, S.J., the 31st Superior General of the Society of Jesus. In other words, he's got St. Ignatius Loyola's old job. In other words, he leads the world's Jesuits.
Our Guest: Father Arturo Sosa, superior general of the Society of Jesus
Related Links:
Signs of the Times
What's on tap: The Cannonball (the official cocktail of the Ignatian Year)
Ingredients:
Mezcal, 2oz
Lime juice, 3/4oz
Blackberries, 6 (reserve one for garnish (this is the 'cannonball'))
Jalapeno slices, 4
Agave nectar, 1/2oz
Soda water (optional)
In the bottom of a cocktail shaker, muddle together blackberries, jalapeno slices and lime juice. Add ice, mezcal, and agave nectar. Shake vigorously for 30 seconds. Strain into an old fashioned glass with ice. Drop one blackberry in from a height of 6 inches. Observe impact. Clean up. If desired, top with soda water or seltzer. Finally, await convalescence and conversion.
Subscribe: Apple Podcasts / Spotify