Jesuit Refugee Service: After 12 years of war, Syrians are driven to the limit by earthquake suffering
Volunteers for Jesuit Refugee Service in Syria—and their families—spent another night camped out on the streets or huddled against the cold in their cars on Feb. 8. Like the hundreds of Syrian families they will be struggling to assist in the coming days, they were finding whatever shelter they could days after two devastating earthquakes knocked down apartment buildings and homes across southern Turkey and northern Syria on Feb. 6. Amid the ruins, no one felt safe sleeping indoors, especially as aftershocks led to new collapses.
Indeed, many of the surviving structures have been declared unsafe by local authorities and slated for demolition as rescuers race against time and falling temperatures to locate as many survivors as possible. Conditions in Syria are "particularly dire," according to Daniel Corrou, S.J., the director of Jesuit Refugee Service/Middle East and North Africa, speaking from Beirut in neighboring Lebanon. The unforgiving cold and squalls of rain and snow continue to hinder rescuers, condemning an unknowable number of people still trapped in ruins. Hope is fading that many more survivors will be found as the hours creep past and hard-pressed rescue crews reach the limits of their capacity.
Daniel Corrou, S.J.: Syrians "are strong, courageous people of hope." But even hope has its limits.
Father Corrou relayed reports of acute need from the Syrian communities where Jesuits have had a presence for more than three centuries. JRS will first focus on basic, immediate needs, he said—"food baskets, hygiene kits, winterization kits and maybe some small cash distributions." He hopes, however, that the agency can soon begin to bring its significant capacity in addressing psychosocial needs to bear in Syria, particularly among the traumatized children now gathering in what shelters have been made available.
The death toll in Turkey has passed 16,000, and the Syrian Health Ministry reported more than 1,260 dead in government-controlled areas. At least 1,930 people have died in territory held by opposition forces in Syria's ongoing civil war, according to the volunteer first responders known as the White Helmets. The regional toll is expected to rise as survivors succumb to the cold and more bodies are uncovered.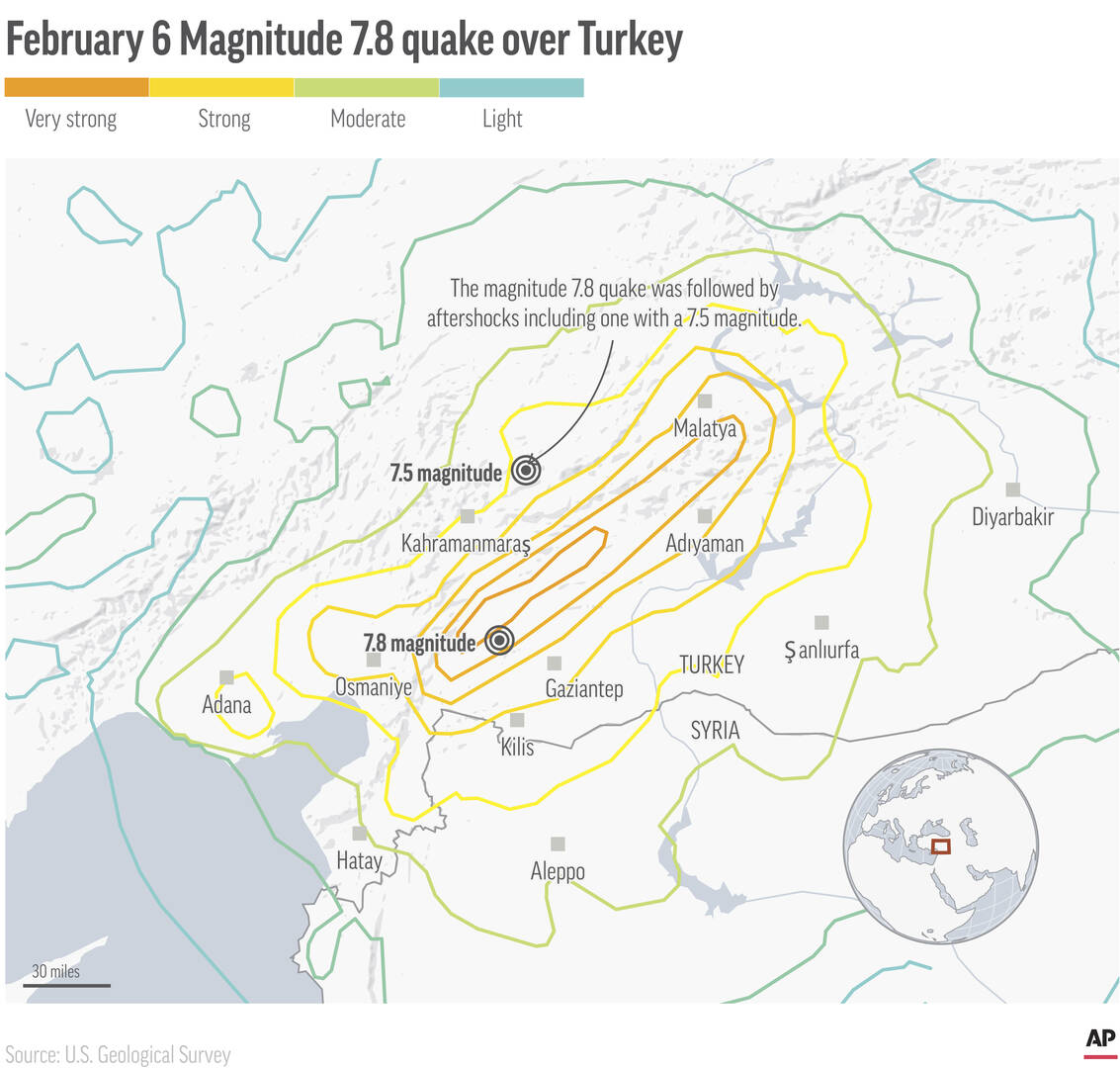 Buildings that have survived years of war in Aleppo and other Syrian communities were unable to stand up to the quake. "These buildings, whatever their quality of construction, have been through things that normal buildings shouldn't go through," Father Corrou said, noting the frequent bombing and shelling whole neighborhoods had been subjected to during the worst days of the civil war. While the violence continues in and around rebel-controlled Idlib Province, in former war-zone cities like Aleppo and Homs, rebuilding had tentatively begun and some businesses and shops had reopened. All that progress was laid to waste by the earthquake.
Many of the suffering people on both sides of the border, Father Corrou points out, are Syrians who are among the millions displaced by fighting during Syria's civil war. Now many thousands have again been deprived of shelter, this time by natural disaster. Some 100,000 people are believed to be homeless in Aleppo alone, according to a United Nations official.
Buildings that have survived years of war in Aleppo and other Syrian communities were unable to stand up to the quake.
In Syria, aid efforts have been hampered by the ongoing war, sanctions policies and the isolation of the rebel-held region, which is surrounded by Russia-backed government forces. Syria itself is an international pariah under Western sanctions linked to the war.
Roads badly damaged by the earthquakes prevented U.N. relief supplies from reaching opposition-held territory in Syria until Feb. 9, when aid finally began moving through the Bab al-Hawa border crossing—the only terminal where U.N. aid can be delivered into rebel-controlled Idlib.
Sister Anne Marie Gagnon, of the Sisters of St. Joseph of the Apparition, is the director of St. Louis of Aleppo hospital. She told Aid to the Church in Need that while the hospital itself survived the earthquake and is treating survivors, there is concern that structural damage has made it unsafe.
"People are now asking the churches and convents, and with us at the hospital, if they can stay there until the crisis passes," Sister Gagnon said. But "many buildings have fissures in them, and the people who are on the fourth or the fifth floor are afraid to stay there. We have put some mattresses on the ground for our personnel, so they can stay here."
According to the Jesuit Curia in Rome, the Society of Jesus has opened up one of its buildings in Aziziyé, "a well-built house," to families who are looking for safe shelter.
In Syria response, Jesuit Refugee Service will first focus on basic, immediate needs, he said—"food baskets, hygiene kits, winterization kits and maybe some small cash distributions."
The Rev. Tony O'Riordan, an Irish Jesuit, is leading the JRS response in Aleppo. "Sustaining life and health is our immediate priority," he said, "and we will seek to reopen our health clinics once buildings are cleared by engineers later today [Feb. 8]. We will continue to ramp up our support of basic protection against the cold and elements for people unable to return home."
He added, "Helping people remain resilient mentally will be a second priority."
Of the survivors and rescuers in Syria, Father Corrou said, "These are strong, courageous people of hope." But even hope has its limits. During the worst of the war, people believed it was possible to dodge mortar fire and bombing runs, but there has been no escaping the series of calamities that have befallen Syrians since rebel strongholds like Aleppo fell to government forces and major battles ceased.
Father Corrou recited a mournful litany of all that the Syrian people had already endured before the devastation visited on them on Monday: 12 years of civil war, economic collapse, the Covid-19 and cholera outbreaks; fuel, heating oil and food scarcity; and runaway inflation.
The earthquake survivors, especially young Syrians, are people who already made the difficult decision to remain despite the civil war and the economic and social chaos it engendered. "There's a deep love of the country, there's a deep love of the people, and a deep desire for a future that's better than today," Father Corrou said. "But there's an end to that for anyone," he added.
In the aftermath of the earthquake, he suspects, many Syrians have reached that end; many will be wondering again if the risks of the dangerous passage to Europe are worth accepting. As Western focus has shifted to Ukraine, many Syrians already felt bereft of the attention they believe their compounding crises should command. How the international community responds in the coming days will be crucial in restoring hope and resiliency in long-suffering Syria, Father Corrou said.
With reporting from The Associated Press
Here's some ways you can help: