As Netanyahu puts his government together, Christians contemplate their future in Israel and the West Bank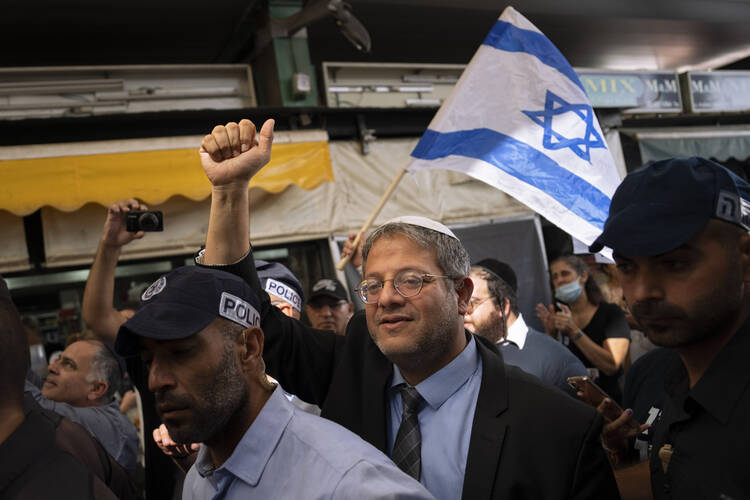 Israeli far-right lawmaker and the head of "Jewish Power" party, Itamar Ben-Gvir visits at Hatikva Market in Tel Aviv during his campaign. Israel's outgoing coalition was one of its most diverse, but the country's incoming coalition is hoping to roll back many of the achievements of the former government. (AP Photo/Oded Balilty, File)
Israel's election results were called on Nov. 3 with victory going to a political bloc led by the Likud Party, representing what could become the most right-wing and religious government the country has ever seen.
Former Nazareth city council member Dr. Rana Zaher-Karayanni called the election results "catastrophic for many segments of Israeli society," including women, the L.G.B.T. community, immigrants and asylum seekers.
Mere "survival should not be the utmost ambition for a people in democratic countries. I believe that Israel is going to be more Jewish and much less democratic, and we'll all pay the price for that."
Politically, Palestinians inside Israel and in the Palestinian territories will pay the heaviest price, she said, noting that settler violence and intimidation in Palestinian communities has already increased following the election results.
"I'm afraid that the nation-state bill [asserting Israel as the Jewish national state], which is a basic law, will be implemented on a much larger scale than expected and will probably prepare the ground for more aggressive bills against the Palestinian minority in Israel," she said.
The new government
Likud leader Benjamin Netanyahu was tasked on Nov. 11 with forming a new government by Israeli President Isaac Herzog, but the former prime minister has yet to pull his winning coalition together.
According to Israel's parliamentary system, Mr. Netanyahu has until mid-December to finish the job. The Netanyahu-led government is expected to include only nine women out of its 64 parliament members, a sharp drop from the 30 women members in the outgoing government.
But a matter of greater apprehension for many is that in addition to his own conservative Likud party, Mr. Netanyahu's bloc includes ultra-Orthodox religious parties and the Otzma Yehudit and Religious Zionist parties of far-right politicians Itamar Ben Gvir and Bezalel Smotrich, respectively. Both men espouse a far-right form of religious nationalism that has raised concerns in Israel and internationally because of their extremist, racist and homophobic views.
Palestinians will pay the heaviest price—settler violence and intimidation in Palestinian communities has already increased following the election results.
Their parties are likewise hostile to more liberal streams of Judaism and left-wing political expression. The two men joined forces for the elections but have split into separate factions as Mr. Netanyahu builds his coalition government.
In the past Mr. Ben Gvir has been convicted on charges of incitement of racism and support of a terrorist organization, and Mr. Smotrich spent six weeks in detention on similar charges. He has been outspoken against L.G.B.T. people and Reform Judaism and has said his first order of business as a member of the ruling coalition will be to pass a controversial "override bill" that would enable the Knesset to set aside rulings by Israel's High Court. That would include the power to void convictions on offenses of fraud and breach of trust—charges which Mr. Netanyahu is currently facing in three legal cases.
Mr. Smotrich recently condemned human rights organizations as "existential enemies" of Israel, that should be countered through legal and security measures.
Mr. Netanyahu is grappling with demands from both men for appointments to lead the powerful Public Security and Defense ministries, among other internal political squabbles breaking out as members of his fractious coalition jostle for coveted positions. According to reports in the Israeli press, Mr. Smotrich has accepted the leadership of the Finance Ministry but so far no official declaration has been made, meaning Israelis are still waiting for their fifth government in four years to be formally put into place.
Despite broad apprehension about what this new political formation will be capable of doing—whether in the internal Israeli arena in terms of civil and religious liberties or in its treatment of Palestinians—is still unclear.
Following weeks of both Israeli and Palestinian violence in the West Bank and two bombings in Jerusalem near the central bus station in which one Israeli was killed and 19 others injured, many fear increased tensions and an escalation in violent confrontations with a new government soon expected to be at the helm.
Former red-lines the Netanyahu government would be willing to cross include a change in the status at the Al-Aqsa Mosque in Jerusalem.
"People are now of two opinions," said Wadie Abunassar, a prominent Catholic political analyst from the Israeli northern city of Haifa. Some believe that despite the extreme rhetoric the likely new government will "dare to do only minor things because of international pressure" and protections offered by Israeli civil law. Others in Israeli society, he said, are fearful about what the Netanyahu government could mean over the long term because so many of the Knesset members that comprise it represent radical right-wing ideologies that seem intent on fanning the flames of future Israeli-Palestininan conflict.
Crossing red-lines
Israeli society is already fraught with many political and social divisions. Yet former red-lines the presumptive Netanyahu government would be willing to cross, according to Mr. Abunassar, include a change in the status at the Al-Aqsa Mosque in Jerusalem—for example, allowing Jewish prayer at the compound, the site of the two Biblical Jewish temples that is considered sacred by Muslims and Jews alike. That decision would surely lead to potentially violent protests from Palestinians and Israeli Arabs.
And any changes in legal rights previously granted to members of Israel's L.G.B.T. community would likely also lead to street demonstrations, according to Mr. Abunassar. He added that some Arab and leftist activists would also take to the streets if the override bill were pushed through the Knesset. From the activists' perspective, the bill would leave no separation of powers among Israel's three government branches, an unacceptable risk to Israeli democracy.
Still, Mr. Abunassar said, for now he sees more "fear and concern" rather than outright panic among opponents to the still cohering Netanyahu government.
"My concern is that when tensions are high the chances for clashes can be high," he said. "They are not only frightening Palestinians and Arabs, they are also frightening many Israeli Jews…These guys are troublemakers and things can end in a vicious circle, not that I fear they will kick the Arabs out—that won't happen—but I fear a hostile environment which will snowball and get out of control."
While many are concerned about the far right getting into the Defense, Public Security or Finance ministries, what is of a more immediate concern to Palestinian educators in East Jerusalem, including at Catholic educational institutions, is what might happen if extremists gain control of the Ministry of Education portfolio. That is according to Joseph Hazboun, regional director at the Pontifical Mission Jerusalem Field Office.
Members of the coalition "are not only frightening Palestinians and Arabs, they are also frightening many Israeli Jews."
The education ministry and the Jerusalem Municipality have recently attempted to impose an Israeli-based curriculum on the schools in East Jerusalem, which up to now had been following a Palestinian curriculum. The change would mean replacing the Palestinian historical narrative of the Israeli-Palestinian conflict with one authored by Israelis and more favorable to the historical perspective of the Israeli side.
The elections and the new government will just mean "more of the same," such as continuing discriminatory policies and increasing settlements, Mr. Hazboun said. "Most probably we will witness the same pace [of encroachment]—unless the right wing is persuaded to take the Ministry of Education instead of the Foreign Ministry or the Defense Ministry, then it will be a challenge for us," Mr. Hazboun said.
Earlier in the week there were media reports of the possibility of Mr. Netanyahu abandoning his extreme right colleagues if the coalition negotiations remain unproductive. Under that scenario, he would turn to Israel's two centrist parties to create a national unity government. That possibility seems remote, but Mr. Hazboun is hanging on to a thin hope for it.
"What is happening is very dangerous," he said. "If Netanyahu finds himself compelled to form his government with the right wing, especially Smotrich and Ben Gvir, the situation will escalate and will be harmful for both Palestinians and Israelis themselves."
Christians face an uncertain future
A recent meeting between the church hierarchy in Jerusalem and members of the diplomatic corps highlighted ongoing concerns among Christians in Israel and the West Bank, including difficulties acquiring permits and visas for clergy and volunteers, family reunification in marriages between Palestinians living in the territories and those living in Israel and East Jerusalem, and the continuing lack of respect for Christian clergy among some segments of the Jewish population in Jerusalem, Mr. Hazboun said. These are the issues which the Christian community will continue to raise with the new government, he said, whatever its ideological makeup.
"We expect settlement construction, although it has never stopped, to pick up its pace in a faster and broader way" under the emerging Netanyahu government, he said. "But the most challenging aspect for us is [receiving] visas for clergy and [Christian] volunteers, which has become more difficult recently.
"This will affect the mission of each congregation here…schools and higher education institutions, churches and holy places and shrines, hospitals," Mr. Hazboun said. "These are institutions that serve local communities and need volunteers to support their work."
"We expect settlement construction, although it has never stopped, to pick up its pace in a faster and broader way" under the emerging Netanyahu government.
In the meantime, Mr. Hazboun said, as the elections only point toward a continuation of an already difficult reality, the challenge for Christian community leaders remains to convince Christians to remain steadfast in the Holy Land.
Many Christians, especially young people and families, are finding it increasingly difficult to rationalize remaining in a hostile political environment, he said. "It does not look promising for the near future," Mr. Hazboun said. "To be honest this is our biggest headache and challenge, to help the Palestinians—especially the Christians—to understand the value of their staying here in the land where Christianity began. That is where our biggest efforts are in terms of programs, not because of the elections, but because of the ongoing political and economic hardships."
Benedictine Father Nikodemus Schnabel, patriarchal vicar for migrants and asylum seekers for the Latin Patriarchate in Jerusalem, sees the recent elections in Israel as part of a broader international trend. He has confronted the phenomenon of extreme nationalism overtaking religion to create a "toxic religion" in his pastoral work, especially with Catholic migrant workers from India and Sri Lanka, where in certain regions nationalist Hindu sentiments have gained traction and the workers have expressed fear about going back to their home countries because of the religious extremism there.
"Israel is not unique in this," Father Schnabel said. "I don't like to be in panic mode and for me it is really seeing a general [increase] of the phenomenon of what is a national religious party."
The challenge for Israel is to create an Israeli identity that offers its citizens a "democracy with equal rights for all but of course is culturally fundamentally Jewish," he said, comparing it to his native Germany, a secular country but built on Christian foundations that are clear, where Christian holidays are celebrated nationally and cathedrals and churches are prominent aspects of a secular landscape, he said.
"I think the Jewish character of Israel is very clear, and I am in favor of that. I am a fan of that. It is good that you can taste and feel it, but to say [as right-wing politicians have] that the Jewish character of this country is in danger is just not true," he said, likening the use of such a narrative to images of persecution used by populist regimes to excite their bases.
With the election it has become more apparent that creating a separate "Israeli" identity for all citizens has become unrealistic, overcome by a more narrow concept of "Israeli Jewishness," he said. "We can hope we are at least tolerated but not more," he said, of non-Jews living in Israel.
"I am not a fan of tolerance," Father Schnabel said. "I am a fan of acceptance. It is a crucial part of society."
Mere "survival should not be the utmost ambition for a people in democratic countries," Dr. Rana Zaher-Karayanni said, "but rather prosperity and welfare. I believe that Israel is going to be more Jewish and much less democratic, and we'll all pay the price for that."
As a person of faith, Father Schnabel said he resents the increasing worldwide phenomenon of what he called the "religionization of politics."
"Politicians are now finding a new way of saying that God told me this or that. How can you find a solution [to a conflict] if you are [using God as a pawn]?" Father Schnabel asked. "Saying God is on our side is very toxic." People who do that "really frighten me as a religious person."
A member of the Dormition Abbey Monastery just outside of the walls of the Old City on Mount Zion—a site which has seen its share of vandalism by Jewish extremists—Father Schnabel said he finds hope every morning witnessing the truly devout of all three religions as they come to their holy sites to pray.
"Come visit me at 5 a.m. in the morning, and you will see religious Christians at the Church of the Holy Sepulchre, pious Jews at the Western Wall and pious Muslims at Al Aqsa, and Jerusalem is really beautiful then," he said. "They are not the problem; it is the hooligans of religion" who are creating conflict.