An exit interview with Jesuit Father Pat Conroy, outgoing chaplain of the House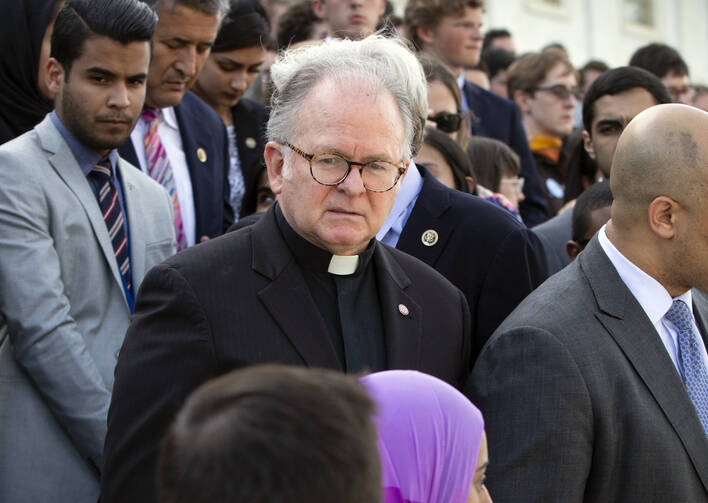 The Rev. Patrick Conroy, chaplain of the House of Representatives, delivers an interfaith message on the steps of the Capitol in Washington for the victims of the mass shooting at an LGBT nightclub in Orlando on June 13, 2016. Conroy, a Roman Catholic priest from the Jesuit order, has been forced out after seven years by House Speaker Paul Ryan after complaints by some lawmakers claimed he was too political. (AP Photo/J. Scott Applewhite)
WASHINGTON (RNS) — The Rev. Patrick J. Conroy, a lawyer and Jesuit priest, stepped down as chaplain to the House of Representatives at the beginning of this year, ending nearly ten years of service to the People's House.
Conroy sat down for an exclusive interview with Religion News Service before he left his post, opening up about his friendships with members of Congress, the attempt by then-Speaker Paul Ryan to remove him in 2018 and how he has seen the legislature change during his tenure.
The interview was conducted in December, before House Speaker Nancy Pelosi announced Rear Adm. Margaret Grun Kibben, a Presbyterian minister, would be the new chaplain — the first woman to hold the position.
This interview has been edited for clarity and length.
Can you tell me a little about what the House chaplain does?
By rule, a House chaplain is to provide a prayer at the beginning of the legislative (session). As the chaplain I have been called upon to say a prayer at the retirement of chairpersons from a committee, or the unveiling of a portrait of a retired chairperson. The Capitol police have classes graduate three times a year and they asked for an invocation, and annually there's a memorial service for the Capitol policemen who have died on the job at the Capitol.
There are also groups who come to Washington, D.C., such as the national firefighters (who ask for a prayer). I've done a couple of baptisms, weddings for members both here at the Capitol or elsewhere, as well as weddings and other ministries for staffers.
So I am the chaplain for the entire Capitol Hill community in a broader sense. It really is a ministry of availability, which means it's not a ministry of busy-ness.
What kinds of traits are required to do your job?
Gravitas and wisdom are needed, and that comes from nonpolitical energy, because the chaplain needs to be a counterpoint to the dominant spirit of this place. You don't want the chaplain to be a political spirit.
The spirit of this place is very political and, by nature, competitive and binary — although that's getting better. That kind of energy needs to be balanced by an energy or a spirit of peace and peacemaking, cooperation, self and mutual encouragement.
I called everybody by their first name — that was recommended to me by my predecessor — so as not to identify people by their position, which is how everybody identifies them. That's not a job requirement — that was my personal ministerial choice.
Also, this is not a ministry to be aspired to — that happens to be a Jesuit principle.
It really is a ministry of availability, which means it's not a ministry of busy-ness.
Speaking of political energy: I know you encountered controversy when then-House Speaker Paul Ryan asked you to resign in 2018. How do you look back on that now?
What I would say about that experience is that all of a sudden, the office of the chaplaincy, the dynamics of the ministry and its inherent importance, came to everyone's consciousness.
Nobody needs the chaplain until they need the chaplain — and that's the way it should be. This is not a parish. But I think some members were expecting me to behave like their local pastor who makes calls and checks in. That's not what a chaplain does — at least that's my theology. A chaplain is more available than assertive.
That misunderstanding is part of what happened two and a half years ago: Paul Ryan, I think, heard from some members — especially in his caucus, because the culture of the two parties is different when it comes to religion — that "this chaplain has not been available to us." But no member of Congress wants more people to knock on their door.
I was on the floor every day during votes. I was as available every day, as much as I could be.
Now, when Ryan asked me to resign, I think he thought he had the prerogative to do that. And quite frankly, I thought he did, too.
But the practice that John Boehner and Nancy Pelosi engaged in when selecting me was to cooperate with one another in the forming of the search committee. When my nomination was made in May of 2011, it was with the agreement of party leadership. That wasn't an appointment — it was a nomination upon which the membership of the House vote. So the chaplain is the chaplain to the House of Representatives, not the Speaker's chaplain.
Then, after the fact — when members came to me and said, 'Well, (Ryan) can't do that. We elected you,' — it dawned on me that was, in fact, the case, which is why, I would offer, you never want to replace a chaplain midstream without very good cause, because it will become a political thing.
Gravitas and wisdom are needed, and that comes from nonpolitical energy, because the chaplain needs to be a counterpoint to the dominant spirit of this place. You don't want the chaplain to be a political spirit.
Other than that, what have been some of the most difficult things you've encountered on the job?
I wasn't here very long when, without knowing anything else to do or anywhere else to be, I would sit up on the House floor while bills are being debated. If you've ever sat in on a floor debate, you'll know they're not really debates. One side gets up and says, "This bill is doing this or doing that, and I recommend that all members vote in favor." And then the other side gets up (and says), "The weakness of this bill is that it doesn't do this. It doesn't do this. They say it does this, but it really doesn't. And I recommend against it."
They never address one another — which they're not supposed to by rule, but what they say doesn't address what was just said. They're not engaging. And I'm left as an American citizen (thinking), "Oh my God, they're not working together. They're not even communicating. They're just taking their sides and that's it."
I was feeling things I hadn't felt for a long time. When I reflected upon it and prayed upon it, I was feeling what I felt as an eight-year-old kid: when my parents were arguing past one another. The adults in the room who were supposed to fix everything and make everything work were not doing that.
For a fleeting moment, I got very anxious and very worried that I had some very difficult work to do. But I realized, "No, I don't. I'm not here to fix this." That's not the job of the chaplain.
Because of course that is how things work around here. That's the nature of this place. It's arguably designed so it's very difficult work.
That was a major insight and moment for me: 'Grant me the serenity to accept what I cannot change.' That's what I could not change.
Since then, the difficulty has been that I have observed good men and women — members of Congress who I know to be likable people, diligent people, competent people — not being able to agree. It's just difficult to see it.
Nobody needs the chaplain until they need the chaplain — and that's the way it should be.
So what helps alleviate that, do you think?
I'm working with highly stressed people whose jobs are very difficult. They're doing their jobs away from their families, and they're being attacked from all sides.
But some of the things people think are a waste of time or a waste of money really aren't. There's been pressure on members of Congress to stay home, and I understand it: You can understand why constituents don't want their members of Congress to lose touch with the home district. But there's a price to be paid, and that price is in knowledge, competence and the ability to truly do the job of a member of Congress.
Among the best things that happen are the CODELs — the congressional delegations members take to other countries. Members on those trips are on the job from 7:00 a.m. until 10:00 p.m. from one meeting to the next. But they're doing that as Americans, so Republicans and Democrats on these trips are on the same team.
The trips I went on were to the Middle East, Armenia, Kyrgyzstan, Pakistan — places where the American presence is contentious or challenging. You have Republicans and Democrats sitting side by side and realizing, "Oh my God, we've got to work together here and present a united front because our international challenges are significant."
Those are priceless to being able to work together, to get other difficult things done. And I wish that were better known and understood by the American public.
So what were some of the positive things?
Those great moments of friendship and great conversations with (lawmakers like) Rep. John Dingell. Once he retired — before he retired, too, but once he retired — he and I had these wonderful conversations about once every three months just about life, about the meaning of it all, about just everything. I really felt like when he died, one of my good friends in life died — and it was an honor and a privilege for me to have befriended such a person of history. And to be asked to do his funeral — I mean, who gets to do that?
It was similar with John Lewis. My sister-in-law is a Catholic grade school teacher and has been teaching about civil rights and racial justice with her eighth graders for years. So being able to introduce her to John Lewis and have her eighth grade graduating class meet with him … it's like MasterCard: It's priceless.
I also sat with the president of the United States and the prime minister of Ireland (the Taoiseach). That happened once with Obama and Taoiseach Enda Kenny, and then with Trump twice — once with Enda Kenny and then once with Leo Varadkar. I get to go to the Irish thing every year, but three of the years I was actually at the table with the president and the Taoiseach. I got to give the prayer, because that's a House event.
Those are highlights, and a great privilege.
What has changed in Congress during your tenure as chaplain?
When I arrived, it was 2011. That was right after the Tea Party wave. As I sat on the floor of the House, I never saw a Republican cross the center aisle to talk with Democrats, or a Democrat cross the aisle to talk with Republicans. It doesn't mean they weren't talking somewhere else, but they did not want to be publicly seen talking with someone on the other side.
I couldn't put the word cooperation in my prayers because that would have been seen as a political statement. The idea of cooperation was itself politicized — and that is no longer the case, no longer a dynamic.
This other is a shift, and this is really no small thing: With the exception of Kevin McCarthy, both parties' leadership is populated by people in their 70s. That is going to change dramatically in the next four to six years. The last election brought in a large number of distinctly different politicians — a different political generation — and they're not interested in the politics of their parents and grandparents.
That is going to be a big change. I cannot even know what that's going to look like, but it ain't going to look like what we've had.
I feel like I've grown spiritually in this ministry.
What about those who question whether the House should have a chaplain?
The First Amendment to the Constitution includes the right to free exercise of religion. That right belongs to members of Congress when they're called away from where they would normally exercise religion in service to their country, just as do people who joined the military. That's why the government provides chaplains: It's guaranteeing exercise of a constitutional right.
The other thing is the first article of the Constitution establishes the legislature, which has the power to create its own offices. And it was the very first Congress — which wrote the First Amendment to the Constitution — that established the office of the chaplain. So clearly they didn't think that was a violation of the Constitution.
If somebody has a problem with there being a chaplain, they need to take it up with the Founders or amend the Constitution.
So how do you feel looking back on almost 10 years as House chaplain?
I feel like I've grown spiritually in this ministry.
I don't feel that in the last nine and a half years I have failed to do something that, by being who I am, (I) should have done or could have done differently.
Not that I performed perfectly. Do I wish more members would have availed my ministry if they could have? Well, maybe. I don't know that.
But for those who did: I feel like I made a difference for them.