Paul Ryan has been hired to teach at Notre Dame. He should think about studying there instead.
The University of Notre Dame announced on April 15 that it has hired Paul Ryan, the former speaker of the U.S. House and the Republicans' 2012 vice-presidential nominee, as a guest lecturer for politics and economics. This news puts me in mind of the 1986 comedy film "Back to School," starring Rodney Dangerfield.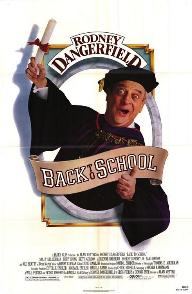 Mr. Dangerfield's character, Thornton Melon, is a successful businessman encouraging his son to move forward with college studies. The best way, Thornton thinks, is to enroll as a student with him. At first, Thornton tries to game the system by hiring famous authors to write papers for him, but eventually, he shapes up and passes his courses through hard work. We do not know what happens after that, but presumably he continues in his studies, graduates and perhaps even goes into politics.
In this vein, Mr. Ryan, already successful in one sphere, should be offered a scholarship to study rather than teach at Notre Dame. This would send a strong message that universities can play a role in helping everyone, even the most famous, transition to new careers—or perhaps, in the case of individuals like Mr. Ryan, return to more effective public service.
If Mr. Ryan wishes to pursue a career in university life, he should take the proper steps and prepare himself well.
Being appointed to the faculty of any university should be more than a title, a mailing address and a place on the payroll. It is a signal that one has up-to-date expertise to teach and mentor students. If Mr. Ryan wishes to pursue a career in university life, he should take the proper steps and prepare himself well.
We know that Mr. Ryan is interested in Catholic social teaching but was also reportedly a fan of Ayn Rand, at least in his younger days. Maybe it is a good time for Mr. Ryan to delve into the latest scholarly debate on Catholic social teaching, especially the writings of Pope Francis, and to study the journal Economics and Philosophy. (There is more to this field than what Ms. Rand had to say!) After his failure to repeal the Affordable Care Act, Mr. Ryan could also study health care systems across the world. Maybe he has something to learn and can make an important contribution to national health care policy in the future.
Mr. Ryan could study health care systems across the world. Maybe he has something to learn and can make an important contribution in the future.
I have no idea what Mr. Ryan's longer-term plans are. Given the large number of septuagenarians running for the White House, it is not inconceivable that Mr. Ryan, now less than 50, will run for national office again. If so, a good model can be found in the recent biography of John F. Kennedy, The Road to Camelot, by Thomas Oliphant and Curtis Wilkie. Five years ahead of the 1960 presidential election, J.F.K. knew what he did not know. So he recruited top-flight talent at major universities to be his tutors, meeting with them on a regular basis, on international relations, law and economics. Among them were McGeorge Bundy and Archibald Cox of Harvard, as well as Robert Solow of M.I.T. and James Tobin of Yale. (The latter two would go on to win Nobel Prizes in economics.) There was no precedent for a presidential candidate to start his run so early or to bring in leading academics for regular, often week-long tutorials.
Tutoring has its benefits, but the idea of political leaders, either on the rise or retired, joining the student body is not so far-fetched. Mary McAleese had been a law professor at both Trinity College, in Dublin, and Queen's University, in Belfast, before becoming president of Ireland in 1997. When she left the presidency after 14 years, she enrolled at the Gregorian University in Rome as a student of canon law. She recently completed the doctorate in canon law (J.C.D. degree) and will be teaching at Glasgow University this year in the theology department.
After World War II, the federal government provided funds for returning soldiers to go to college, so there is a precedent for helping those in public service to transition to new roles in civilian life. Because of the G.I. Bill, many of my own relatives did not have to return to factory work or coal mining but were instead able to go to college and become teachers, doctors, lawyers and foreign service officers. Maybe we should have a similar fund for members of Congress, to help them in their transition to private sector endeavors or alternative forms of public service. (This may also gently encourage some of them to seek fewer terms in office.)
As a university teacher for more than 40 years, I say welcome to Mr. Ryan. I am happy to have you join us in the academy. I would say the same to your successor, Nancy Pelosi, when she decides to step down.
But first, come and join your fellow students. Learn from the real-life lessons of J.F.K. and Mary McAleese and the movie lesson of Thornton Melon (and of 1986's "Educating Rita," another back-to-school tale). Being a mature student, for a while, can be a transforming experience.