Are you Latino or Hispanic?
National Hispanic Heritage Month, which begins Sept. 15 and ends on Oct. 15, is a time to celebrate the countless contributions that Latinos have made and continue to make in the United States. The celebration began as a seven-day festivity under President Lyndon B. Johnson in 1968 and was extended to a month-long affair by President Ronald Reagan in 1988. It recognizes how our nation has been influenced by those of Hispanic or Latino origin.
So, which is it: Hispanic or Latino?
One way to distinguish the terms is simply to trace their origins. Hispanic was first used by the U.S. government for the 1970 census as an umbrella term to cover those from Spanish-speaking countries, such as individuals from Spain. Latino can be understood as a geographical reference to countries in Latin America, such as the Dominican Republic, Mexico or Cuba.
54 percent of those of Hispanic origin most often identified themselves by their country of origin—"Mexican" or "Puerto Rican" or "Chilean," for example.
But what term do we Latinos/as/Hispanics prefer? A few years ago, the Pew Research Center conducted a survey of Latino adults and found that half did not have a preference. Those who did prefer one over the other favored Hispanic over Latino by a 2-to-1 margin.
Perhaps most revealing was the finding that 54 percent of those of Hispanic origin most often identified themselves by their country of origin—"Mexican" or "Puerto Rican" or "Chilean," for example. "Hispanic" and "Latino" are terms used to group a variety of cultures together. Countries in Latin America have many cultures within their own borders.
As it happens, we have many of those cultures within our office here at America. I am sure it will not put the issue to rest, but we decided to ask some of our Latino/Hispanic team members in the New York office for input. Here is what we had to say:
Karina Clark: I'm used to hearing the term "Latina" growing up. If given a choice, I prefer Latina. It's how I describe myself. 
Olga Segura: I grew up in the Bronx, where the terms Hispanic and Latino were used interchangeably among my friends and community. It wasn't until my 20s when I began to make a distinction between these labels. I was born in the Dominican Republic, so I use both the Hispanic and Latina terms, as well as Afro-Latina to incorporate the African roots of my motherland. 
José Dueño, S.J.: I consider myself, firstly, a Puerto Rican because I was born and raised there. I don't mind being called "Latino" or "Hispanic" because Puerto Rico is also part of Latin America and because Spanish is my native language. But sometimes I ask myself if the "Latino" label perpetuates the idea that all of Latin America is just one same culture.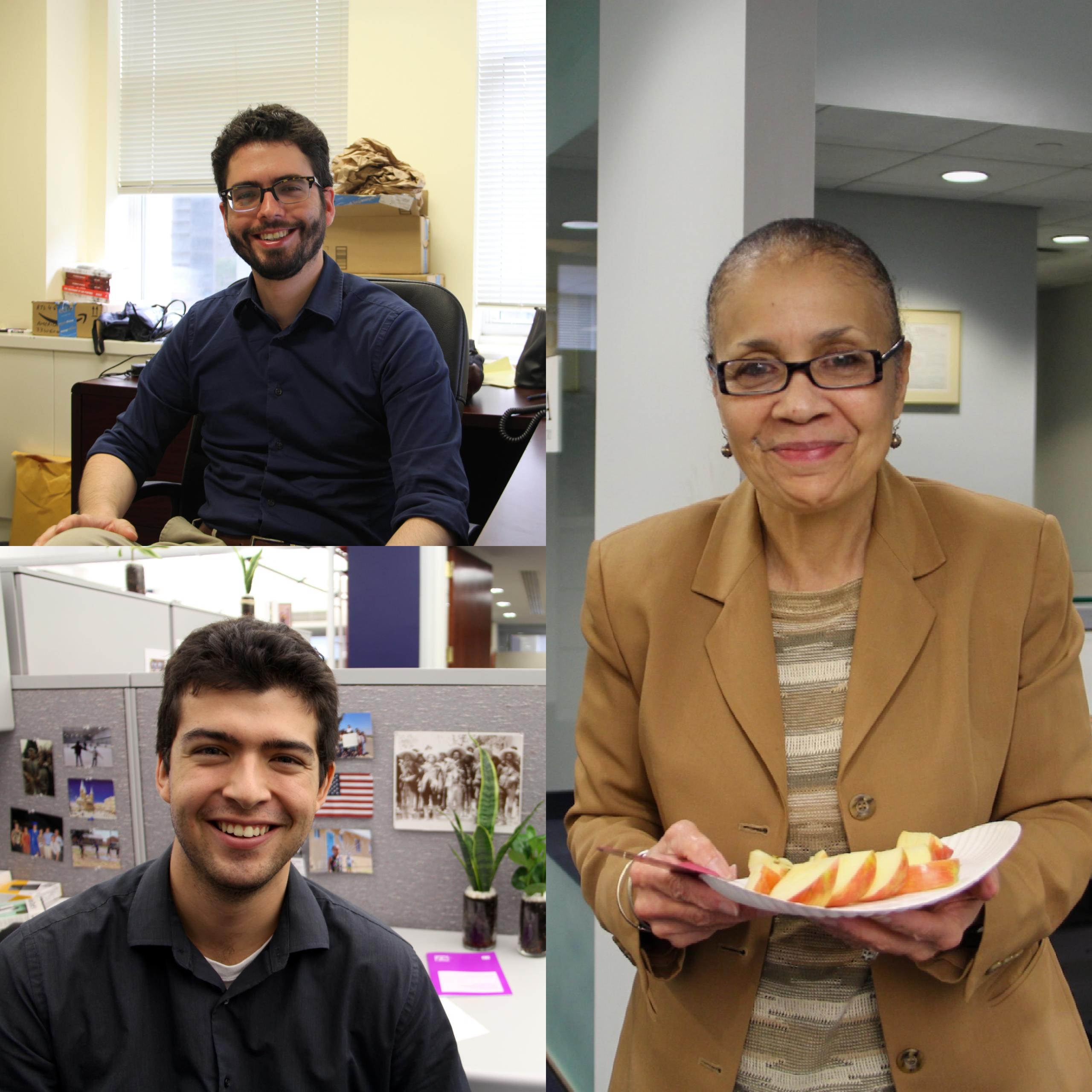 Antonio De Loera-Brust: I identify as Chicano or Mexican-American. I see Latino as a big umbrella term, while Chicano describes my uniquely American experience as a child of Mexican immigrants. "Chicano" especially evokes a history of cultural pride and resistance to racism, which gives me strength and inspiration. I have nothing but pride in my Mexican roots, but I do resent that somehow I am seen as less American than whites. If someone says "I'm just American," well then I'm "just" American, too. Now, if someone says "Irish-American" or "Italian-American" then I'm happy and proud to say I am Mexican-American. 
I do also like "Latino" because it highlights the shared experiences of all Latinos in the United States of having to carve a life out for ourselves in this country in the face of hardship and hostility, something that my relatives in Mexico don't understand. 
Glenda Castro: I define myself as a Latina of Puerto Rican descent. I do not consider myself Hispanic because I do not speak Spanish fluently. I am not offended when people refer to me either as Latin or Hispanic because I feel that both words can be used interchangeably without being offensive.
Ana Nunez: If ever asked "what are you?" or "where are you from?" my simple response is always American. In turn, my response absolutely opens up some form of further dialogue. I then proceed to elaborate my response. I am American, born and raised in New York City, with Hispanic or Latino roots/blood, "de sangre latina." My parents were both born and raised in a Caribbean country known as La República Dominicana or the Dominican Republic. With that being said, if I am ever referred to as a Latina or a Hispanic, neither will offend me; it all depends on how the person addresses you if you ask me. I am proud to say that it is an honor to be called or referred to as an American Latina.
Rosa Del Saz: Personally, I identify as Dominican because I am from the Dominican Republic. I stay away from using panethnic labels to avoid disregarding the cultural differences among the various Latin American and Spanish-speaking countries. Unless I am referring to a group of people with different geographical backgrounds, I use the terms "Latinos" or "Hispanics" solely to make geographical statements, never a cultural one. 
Me? Of the two, I prefer Latino. I'm Dominican, but the term "Latino" reminds me of my mom's side of the family. I like the sound more. It is more musical to me and somehow better reflects the beats of the Caribbean nation where I was born.
This surely will not end the Hispanic/Latino debate. But as we conclude National Hispanic Heritage Month, it is important to remember that while Latinos and Hispanics have some things in common, we all bring different, unique cultures to the United States. Since its inception, this country has brought together cultures from all over the world. That multiculturalism is certainly worth celebrating.