Tent City, USA: Southern California's homelessness crisis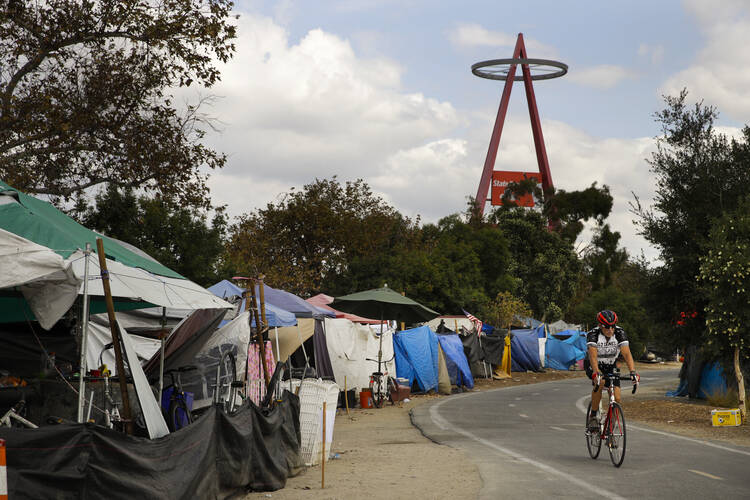 A cyclist passes the row of tents and tarps along the Santa Ana riverbed near Angel Stadium on Sept. 14 in Anaheim, Calif. Amid an uproar from residents, the city of Anaheim declared an emergency in an attempt to cope with a ballooning homeless encampment along a popular riverbed trail and speed the addition of shelter beds. (AP Photo/Jae C. Hong)
On Sept. 13 the city council of Anaheim, Calif., voted unanimously to declare a "state of emergency" regarding the homeless people living along its Santa Ana River trail.
The response to this civic crisis follows a familiar "not in my backyard" trajectory experienced in other U.S. communities. More than 13,000 residents had signed a petition calling for the removal of the 400 or so people living along the riverbed, an effort that had been facilitated by paid organizers.
Orange County had also not only refused to install portable toilets in the area but removed others that had been paid for and installed by local religious organizations. Proposed transitional shelters have been repeatedly stopped by residents that do not want them in their neighborhoods, and the city had already removed bus benches across from Disneyland because homeless people were sleeping on them. (After all, you can hardly call it the Happiest Place on Earth if you remind Anaheim's visitors there are some among them who cannot afford their own place to call home.)
It is not only Anaheim but Southern California as a whole that finds itself in the midst of a homelessness emergency.
During a contentious four-hour public meeting on Sept. 12, Kris Murray, the council member who sponsored the emergency declaration, described a number of ideas to increase the number of beds available for homeless people, but the declaration includes no actual steps other than increased police presence in the riverbed.
It is not only Anaheim, but Southern California as a whole that finds itself in the midst of a homelessness emergency. A survey last December conducted by the Downtown San Diego Partnership discovered that the homeless population in downtown San Diego had nearly doubled in four years, leaping by more than 300 in the prior 12 months. You cannot walk more than few blocks through the area without encountering people living in tents or cars, even sleeping curled up in the middle of the sidewalk.
The same is true throughout much of the region. In Los Angeles County homelessness has soared 23 percent over the last year; as of May 31 there were 58,000 people without homes, more than two thirds (42,828) living unsheltered. Orange County has seen an 8 percent rise in homelessness in the last two years, with some 4,800 people now lacking a home, and Riverside County an 11.5 percent rise. Imperial County reports that its numbers have tripled in one year. Only San Bernardino County has seen its homeless population stay relatively stable over the last year, at nearly 1,900 people.
Greg Walgenbach, director of life, peace and justice in the diocese of Orange County, notes that among those on the streets are growing numbers of elderly women. "People who are old and retired who at one time could scrape by on their Social Security and their pensions are struggling to make it with the exorbitant cost of housing."
While Mr. Walgenbach has seen some small improvement in the county's response to homelessness, the lack of organization around permanent housing remains a major concern. "How do you get serious about the problem when you don't have the end goal, the housing?" he wonders.
While mental health and addiction continue to play a significant part in these numbers, basic housing affordability is a source of strain. Imperial County has the highest unemployment rate in the state, nearly 20 percent as of March, and nearly 25 percent of the county's population live in poverty. The annual median wage for the county is just $41,000.
At the end of last year the apartment listing site Abodo reported that about 60 percent of renters in the Los Angeles-Long Beach-Anaheim area spend more than 30 percent of their income on housing costs, the fifth highest percentage in the country. Placing fourth was nearby Riverside-San Bernardino-Ontario. (In contrast, San Francisco, Chicago, Philadelphia and Houston did not make the top 19 cities in Abodo's list. New York City-Newark-Jersey City came in 19th.)
Abodo's report tracks the housing insecurity being experienced by renters in Southern California at virtually every income level. Most housing specialists warn that spending more than 30 percent of your income on housing places renters and homeowners into a precarious financial state.
In the Los Angeles-Anaheim area, over 90 percent of renters with incomes under $35,000 are paying more than 30 percent on rent, as are 75 percent of those earning $35,000 to $49,999 and nearly half those earning $50,000 to $74,999. In Riverside, only 34 percent of those earning $50,000 to $74,999 are similarly cost-burdened, but 63 percent of those earning $35,000 to $49,999 are over that dangerous 30 percent threshold.
Homeowners are doing no better. The UCLA Anderson School of Management found in June that six of the seven most unaffordable cities for homebuyers are in California. The most unaffordable, both for renters and buyers, is Los Angeles.
In the city of Anaheim, Republican Mayor Tom Tait, a Catholic, has spoken out repeatedly against those stoking fear of homeless people and has argued for practical solutions. In February he announced an employment initiative for homeless people, saying, "A good job can transform a life."
At the council meeting on Tuesday he expressed what a lot of people in Southern California are feeling. "This issue is so big," he said. "This is something that we as a society need to solve—and we need to solve in a humane, kind way."