Explainer: Who was Mother Katharine Drexel, the second American-born saint?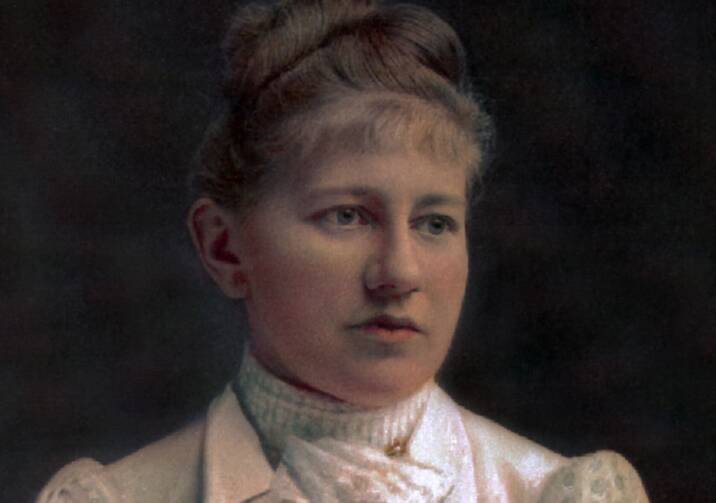 Katharine Drexel, a Philadelphia heiress who dedicated her life and fortune to helping poor African-Americans and Native Americans, is pictured in an undated portrait. Her canonization Oct. 1, 2000 by Pope John Paul II made her the second American-born saint. (CNS photo courtesy Sisters of the Blessed Sacrament) 
Mother M. Katharine Drexel, the foundress and superior of the Sisters of the Blessed Sacrament for Indians and Colored People, had spent the summer of 1912 on the road. She had traveled from her motherhouse north of Philadelphia to New York City, where she had joined the sisters who were preparing to open a school on West 134th Street, then to Chicago to put final touches on two other missions before returning to Philadelphia for the reception of new novices. Almost immediately she set out again, this time for the far Southwest, by way of Cincinnati and Chicago. Soon after her arrival in Santa Fe, she came down with a cold, or so she thought. The cold was, in fact, the beginning of typhoid fever, to which she had probably been exposed while clearing refuse and cleaning, either in New York or Chicago, and she was hospitalized in Albuquerque. From there she wrote back to the sisters that she was on the mend, that everything would be well soon. She also forbade any of them to come out to New Mexico, saying, I feel perfect peace on an occasion like this, as this is certainly not according to my plans, and it must be God's will.
Back in Philadelphia, the sisters were plunged into panic and prayers. They even asked the archbishop, Patrick J. Ryan, if they should disobey her directions and go anyway. He said no, that it would upset her more, but that if it became necessary he would go himself. Meanwhile her family, under no such restriction, mobilized its own considerable resources; and Mother Katharine's brother-in-law, Colonel Edward Morrell, set out for Albuquerque. Even he insisted that Mother Katharine was not to be told he was coming.
I have just seen Kate, he wrote back on October 4. Much gratified at my arrival...temperature normal, pulse goodsends love. He added to that first good news his own intention to get her back as soon as possible, since the climate was not good for pneumonia; and on Oct. 16 she was well enough to travel. Colonel Morrell had arranged for a private railroad car of the Atchison, Topeka and Santa Fe railroad to be fitted out with a large oxygen tank and medical supplies; and he, a doctor and three sisters made the trip with Mother Katharine back to Philadelphia, along a route chosen to avoid the mountains and with no stop in Chicago.
The person who emerges from her biography is meticulous, shrewd, caring and...holy. There is no other way to put it.
Once back at the motherhouse, her recovery emboldened the patient, and she asked one of the doctors what would have happened to her if she were a tramp. Mother, if you were a tramp, you would be in a hospital department where people have a very serious disease.
Though there is a certain quality of drama to that vignette in the life of America's newest canonized saint, it has all the elements that explain why Mother Katharine Drexel is heroic in her virtue and her accomplishments. She was a woman of zeal and determination to spread the Gospel message, particularly to those who were most neglected in American society of her day. She was selfless, even at the risk of her own well-being. She was a religious sister, concerned with the details of her vowed life and her ministry. And she inspired love, from her family, from her sisters and from those whom she served, right to the end of her very long life in 1955.
Why Not Become a Missionary?'
That life began on Nov. 26, 1858, in Philadelphia, where yet another American saint, John Neumann, a Redemptorist, was the bishop. Katharine was the second daughter of Francis Anthony Drexel, a successful banker who was many times over a millionaire. Her mother died five weeks after Katharine's birth; and she and her sister, Elizabeth, were first cared for by their aunt and uncle. A year later her father married Emma Vernou Bouvier at Old Saint Joseph's Church, where he had been baptized. The splendid procession and the specially selected orchestra and choir caused approving comments in the press at the time, as did the wealth and prominence of both families. For Elizabeth and Katharine Drexel the wedding brought into their lives the only mother they would ever know, a much beloved and cultivated lady whose erudition and piety would be passed to her daughters. A third daughter was born into the family in October 1863. She was named Louise after her Vernou grandmother and aunt and became my little sister to Katharine.
The three Drexel girls were raised in an atmosphere of piety and charity. Philanthropy was not as organized then as now. There was a distinctly personal element to the good works in which Emma Bouvier Drexel involved herself and her daughters. She even employed a secretary to take care of the details of her gifts, and the girls would accompany her on her visits to the needy. Emma's sister Louise was a Religious of the Sacred Heart, and her suggestions about the girls' education bore fruit in their wide interests, elegant writing style and fluency in French. Although Katharine as a little girl considered her resolve to speak French to be a suitable Lenten penance, she was glad to fall back on it during the European travels she made with Elizabeth and Louise.
During her sister's illness, Katharine sat by and nursed her. It was in these long meditative periods that the idea of a religious vocation first came to her.
Disruption came into the lives of the Drexel family when Emma was diagnosed with cancer in 1879. During her long and painful final illness, it was Katharine who sat by her and nursed her. Later she would write that it was during these long meditative periods that the idea of a religious vocation first came to her. Emma's death was a terrible loss to the family, and it was followed two years later by the cataclysm of Francis Anthony's sudden death.
Always the provident banker, he had made a will that caused a sensation in the press. The first surprise was the discovery of just how wealthy he was. A further surprise was in the details of his bequests. He basically left everything to his three daughters, after an initial distribution of a percentage of his estate to specified charities. The list could have been made from the Catholic directory of the day. Virtually every parish, school and religious order in Philadelphia with which he had been associated was mentioned. What he left to his daughters was secured in a trust, to pass to them and to their surviving children. His will was carefully designed to protect his daughters from fortune hunters. In the event, he need not have worried. Elizabeth married Walter George Smith, a lawyer heavily involved in Catholic charities, and Louise married Colonel Edward Morrell, also a lawyer, who had confided to his wife when they were courting that he wanted to use his own considerable wealth to help the needy. Mother Katharine, her sisters and brothers-in-law became a virtual missionary society, ready to help all who came to them. Mother Katharine outlived both her sisters, who died childless, and she had the disposition of the trust income until her death. It was this that led to the occasional story about The Richest Nun in the World, which caused Mother Katharine considerable discomfort.
The matter of Katharine's vocation, a growing awareness in her own mind, fully discussed with her wise spiritual directors, especially James O'Connor, her pastor who was to become the Bishop of Omaha, came to a head in January 1887. During a private audience with Pope Leo XIII, when she asked his blessing and help with the Indian missions in the United States, he replied by asking her, Why not, yourself, become a missionary? Those who know vocation stories will not be surprised by her reaction. She became physically ill and cried. The pope, whether from deep insight or mere politeness, had struck the very chord in her heart which brought her clarity, if not peace. But it was the beginning, and the effects would be enormous.
She had the disposition of the trust income until her death, which led to the occasional story about The Richest Nun in the World.
Katharine was zealous and generous, but not foolhardy. She considered all the options and discerned carefully what God was indicating. She wanted to work for the evangelization of the Indians and Colored People in the United States. She wanted to lead a religious life. She had vast financial resources. Were she to enter an established order, she would not be able to direct those resources as she felt God was calling her. The solution, arrived at in consultation with Archbishop Ryan and her own good friend Bishop O'Connor, was to found an order devoted to her goal. To that end, she entered the novitiate of the Sisters of Mercy in Pittsburgh, pronounced her vows on Feb. 12, 1891, as the first member of the Sisters of the Blessed Sacrament for Indians and Colored People. By the end of the year there were 28 sisters, who were introduced to religious life by a Mercy sister lent to the congregation to act as novice mistress.
Sending Love
The apostolic life of Mother Katharine Drexel and her sisters is a full and open book. She herself wrote thousands of letters and received tens of thousands, most preserved in the archives of the Sisters of the Blessed Sacrament, along with chronologies of her travels, business reports and spiritual writings. And Mother Katharine was lucky in her biographer. Sister Consuela Marie Duffy, S.B.S., wrote the definitive life of Mother Katharine, published in 1966. The person who emerges from the biography is meticulous, shrewd, caring and...holy. There is no other way to put it. We know from her letters and spiritual writings of her interior struggles, her vision, her hopes, her frustrations. We also know of her business acumen. We see a woman who had no illusions about the condition of American society. Acutely aware of massive and widespread injustice, even persecution, she never lost hope. Her own social views were shockingly advanced for her day, indeed even for our day. She saw what was to be done and did what she could. And what she could was considerable. She founded Xavier University in New Orleans in 1926 by the discreet purchase of buildings and land. She established schools and convents and religious education centers throughout the country, especially in the South for the Colored People (always spelled with capital letters) and in the West for the Indians. Although she judged her own foray into the classroom less than a success (she was too gentle), she outfitted countless schools and provided competent teachers for them. And by her letters she maintained a continuing interest in all the works she founded. In this gentle practice, she anticipated the reports now required as standard by charitable enterprises.
Her own social views were shockingly advanced for her day, indeed even for our day.
Throughout this, her own personal life was one of poverty and austerity. She made do with old scraps of paper for her notes, she traveled third class (except when Ned Morrell foiled her), and on her journeys she read America from cover to cover, according to Mother Agatha Ryan, S.B.S., one of her counselors and president of Xavier University. She even refused to accept hospitality from her relatives in Rome when she went there for the approval of the rule in 1913, fearing that it would be a bad example to her religious sisters.
The saints are intercessors and models. Mother Katharine is a saint because she knew herself, discerned God's will for her, followed it with docility and zeal, and acted within the context of a very complicated life situation in accord with her own personality. The personality was one formed in an atmosphere of piety and affirmation, not without adversity. As the church celebrates her canonization on the first day of October, we can be sure that the message forwarded in 1913 by Colonel Morrell from Kate holds true. She sends love.
More from America: