History
America magazine was founded by the Society of Jesus in 1909 as a Catholic weekly review of faith and culture. The first editor in chief was John J. Wynne, S.J. (1859-1948), who also conceived the idea of the Catholic Encyclopedia, the first volume of which appeared in 1907 under his direction. From 1892 Wynne edited a devotional Catholic monthly, The Messenger of the Sacred Heart. Determined to publish materials less devotional and more wide-ranging, so that readers might "find God in all things," he had by 1902 divided that earlier journal into two publications: The Messenger of the Sacred Heart, which remained the organ of the Apostleship of Prayer, and The Messenger, a Catholic magazine of more general interest. He wanted The Messenger to be yet "more solid and serious," and in 1909 the improved version appeared as America. This title was meant to demonstrate the new magazine's scope, and the subtitle "Catholic Review of the Week" specified its point of view.
The Jesuits at America
From the beginning the magazine has been the work of Jesuits and lay colleagues from across the United States, and this breadth of origin was reflected in the first editorial board, composed of Jesuits from all the U.S. provinces of the Society of Jesus at the time. Wynne himself, a peremptory if industrious character, lasted only a few months as editor of America, but the editorial formula he devised lasts to this day—editorial comment, articles and reviews of arts and letters. Since 1909 over 200 U.S. and Canadian Jesuits have been associated with America. Prominent Jesuits associated with our history include the social critic and civil rights activist John LaFarge, S.J., the theologian John Courtney Murray, S.J., and Congressman Robert F. Drinan, S.J., America's tenth editor in chief, Joseph A. O'Hare, S.J., later served as president of Fordham University. Leo J. O'Donovan, S.J., president emeritus of Georgetown University, has been a regular contributor to America since 1969. 
Leadership
In 2015, Matt Malone, S.J., 14th editor in chief, announced that America Press, the publisher of America magazine, would be relaunched as America Media and would produce content across multiple media platforms in addition to print. In 2017 the number of annual print issues was reduced, reflecting the fact that the majority of America's content was now produced daily online and through social media. The print edition and website were also redesigned and relaunched in January 2017 as America: The Jesuit Review of Faith & Culture.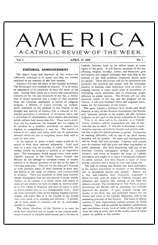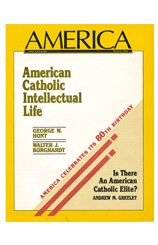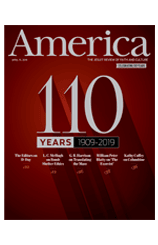 Editors in Chief of America
Rev. John J. Wynne, S.J. 1909-10
Rev. Thomas J. Campbell, S.J. 1910-14
Rev. Richard H. Tierney, S.J. 1914-25
Rev. Wilfrid Parsons, S.J. 1925-36
Rev. Francis X. Talbot, S.J. 1936-44
Rev. John LaFarge, S.J. 1944-48
Rev. Robert C. Hartnett, S.J. 1948-55
Rev. Thurston Davis, S.J. 1955-68
Rev. Donald R. Campion, S.J. 1968-75
Rev. Joseph A. O'Hare, S.J. 1975-84
Rev. George W. Hunt, S.J. 1984-98
Rev. Thomas J. Reese, S.J. 1998-2005
Rev. Drew Christiansen, S.J. 2005-12
Rev. Matt Malone, S.J. 2012-2022
Rev. Sam Sawyer, S.J. 2022-
Editorial Directions
America aggressively promoted racial and social justice from the 1930s through the 1960s, with the contributions of longtime editors like John LaFarge, S.J., and Benjamin Masse, S.J. During the Spanish Civil War (1936-38), the magazine was sympathetic to Spanish Catholics and therefore tended to support the Catholic aspects of Franco's cause, and on this issue the magazine parted company with liberal U.S. journals with which it is sometimes compared. On the other hand, in the early 1950s, under the editorship of Robert Hartnett, S.J., America criticized Senator Joseph McCarthy, who was often championed by Catholics of that day for his supposed anti-Communism, and the magazine and its editor suffered for that principled stand.
In the 1960s, the magazine enthusiastically reported and supported the Second Vatican Council, and America Press Inc. published the first available English edition of the council's documents. Between 1960 and 1970, C. J. McNaspy, S.J., one of the associate editors, enlivened the magazine's appreciation of liturgy, music and the fine arts. Throughout its history, America has sought balance in its coverage, always preferring analysis to ideology. One historical example is the editorial of Aug. 17, 1968, carefully dissenting from that part of Pope Paul VI's encyclical "Humanae Vitae" which prohibited all forms of artificial birth control. During the post-Vatican II period, the editors consistently promoted conciliar reform, but they struck a balance between the extremes of opinion in the reforming church, acting as a bridge for church dialogue.
New York City Headquarters
The headquarters of America has been located at various addresses in Manhattan since its founding. America began life at 32 Washington Square West. In 1911 the editors moved to 59 East 83rd Street. In 1918, the editorial residence was a townhouse at 39 West 86th Street. Then, in 1926, another move was made, this time to a double house at 329 West 108th Street, where the editors remained for 39 years. In 1962, a generous gift from Cardinal Richard Cushing of Boston made it possible to purchase a building at 106 West 56th Street, which had been the New York headquarters of a national fraternity, Phi Gamma Delta. The nine-story facility contained living quarters, library space, editorial and business offices, meeting halls and a chapel designed by Thomas Slon, S.J., In 2016, America announced the sale of its headquarters building and in 2017 moved into its current location at 1212 Avenue of the Americas in Midtown Manhattan.
Historical Resources
"A Man of Independent Character: John J. Wynne and the founding of America Magazine"
James T. Keane and Jim McDermott | May 19, 2008
"A Bold New Direction: Richard H. Tierney and America's foray into politics"
James T. Keane and Jim McDermott | Sept. 8, 2008
"The Manner Is Extraordinary: The life of John LaFarge"
James T. Keane and Jim McDermott | Oct. 27, 2008
"Cold Warrior: America's battle against Joe McCarthy"
James T. Keane and Jim McDermott | Feb. 9, 2009
Charles R. Morris' review of America's first 100 years: Part I. Part II.