Review: 'Barbie' is a film by women, about women, for women.
This essay contains spoilers for "Barbie."
When we walked into the AMC Lincoln Square 13 in New York City for the Thursday 3 p.m. viewing of "Barbie," we found ourselves surrounded by pink. Women wore heels and sparkling jewelry, and young girls in sundresses clutched their Margot Robbie Collectible Barbies. We had come prepared—adorned in our own pink outfits, we happily took photos for a friend group in exchange for a few of our own. People laughed and chatted through the trailers, and broke out in whooping cheers as the movie began. Every seat was filled. The positive energy was palpable. It felt like a party.
In a nuanced approach characteristic of the director Greta Gerwig, whose previous projects "Lady Bird" (2017) and "Little Women" (2019) received critical acclaim, the Barbie movie is a hilarious, vibrant tribute to an iconic doll central to decades of imaginative play. At the same time, the film manages to be an exploration of Barbie's cultural impact—good, bad and in-between. Through on-the-nose commentary on everything from Barbie's representation of independent female adulthood to her unrealistic, idealized body proportions, Gerwig makes a movie as layered and paradoxical as the reputation of the doll itself.
Greta Gerwig has made a movie as layered and paradoxical as the reputation of Barbie itself.  
"Barbie" dives head-first into many controversial topics: consumer culture, growing up, parental relationships, gender dynamics and a multitude of other issues—offering commentary while managing to make the doll look great in the process. Mattel allowed the societal perceptions of Barbie to be examined, though the film ultimately reclaims Barbie, because Barbie can be whatever you want, and Barbie supports all women. Whether Barbie's feminism is direct or ironic, the movie seemed to say, it is guilt-free to buy her.
But for a project that is arguably an action-packed, 114-minute commercial for a doll, the main thematic takeaway from "Barbie" is that life as a real woman is significantly more difficult but resolutely more worthwhile than "life in plastic" could ever be.
For those who have been anticipating the release of "Barbie," the sold-out theaters and tremendous box office numbers (Barbie brought in $155 million on its opening weekend) come as no surprise—nor does the vibrant appearance of the audience, a result of Mattel's marketing campaign, which included pre-film partnerships with brands like Gap and Crocs.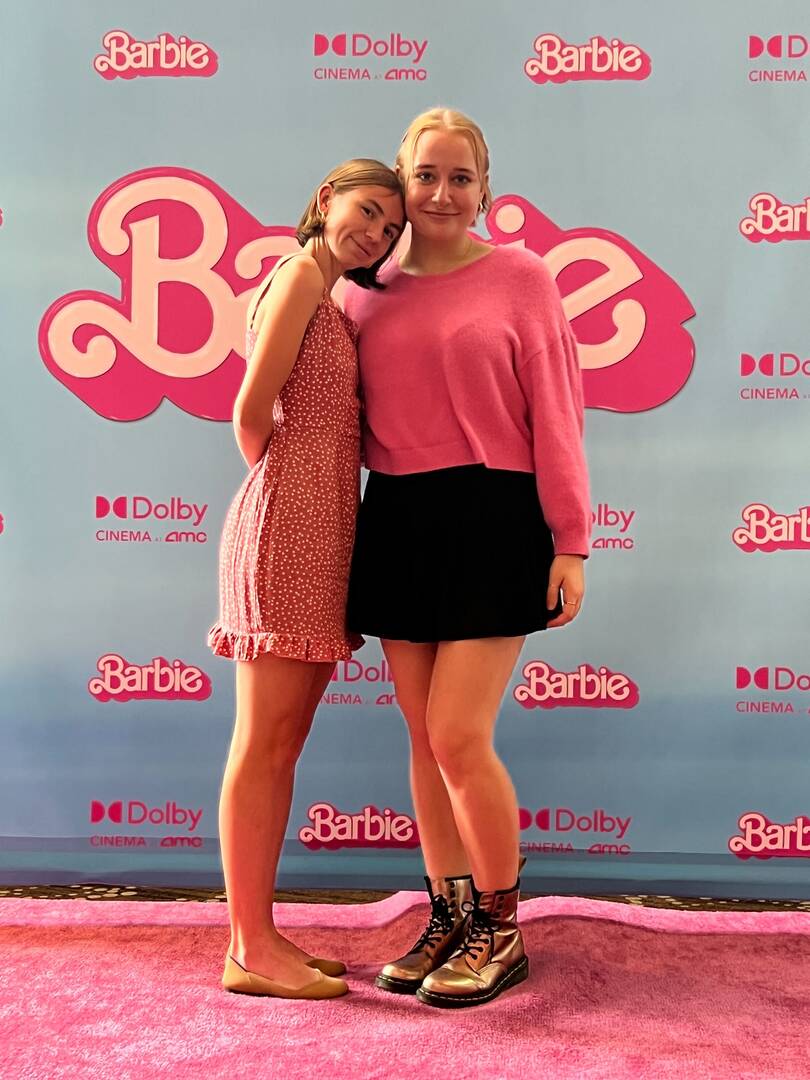 The promotion worked because it tapped into an existing market of people who grew up with Barbie. Created in 1959 as one of the first grown-up woman dolls for children, the affordable toy has been a controversial yet beloved plaything for decades. Like many in the audience, the two of us played with Barbies as little girls, and therefore had firsthand access to the complicated influence that such a doll—who is anything she wants to be while always looking perfect—can have on a young girl.
Using the aesthetic history of the doll as inspiration, the first portion of the movie is set in Barbie Land, where self-proclaimed "Stereotypical Barbie" (played by Margot Robbie) and the other Barbies live in a peaceful paradise, partaking in various occupations and leisure activities. Their counterparts, the Kens, do nothing except "beach" and act as platonic companions for the Barbies (when desired). These scenes are packed with clever humor and nostalgia for those who remember playing with Barbies—just like in our games, the Barbies never use stairs, only pretend to drink liquids, and say "Hi Barbie!" to every other doll in sight.
The Stereotypical Barbie's blissful naïvete is disrupted one morning when she starts to develop self-awareness and anxiety, accompanied by dreaded flat feet and "thoughts of death." In order to return to how things were, Barbie needs to venture into the "real world," where she is instantly sexualized and objectified, accused of being a fascist by teenagers and jailed for assault after punching a man who catcalls her.
The main takeaway from "Barbie" is that life as a real woman is significantly more difficult but resolutely more worthwhile than "life in plastic" could ever be.
The movie follows somewhat of a hero(ine)'s journey arc, complete with a car chase and a rise to leadership, as Barbie tries to rid herself of emotional turmoil—and eventually, as she tries to save Barbie Land from Ken (Ryan Gosling), who had a much more enjoyable time in the real world and decided to bring patriarchy back to Barbie Land with him.
But while the dolls and their conflicts (full of inside jokes from Barbie history) are certainly the most fun, vibrant part of the movie, the human characters in the movie—particularly Gloria, a Mattel employee played by America Ferrera, and her daughter Sasha, played by Ariana Greenblatt—shift the focus away from an analysis of dollhood and toward an exploration of womanhood.
As Gloria and Sasha discover that they are at fault for Barbie's weird behavior, they attempt to help the doll reachieve stability for herself and her community. In doing so, the audience is privy to a moving exploration of what it means to grow up as a woman, from the perspective of both mother and daughter.
The movie is almost painfully upfront about the struggles women face, giving voice to a certain exasperated frustration that may seem overly explicit, but for many responding to the film, just feels true. After Barbie is ready to give in to self-pity and existential dread, Gloria encourages Barbie to forgive herself for her mistakes and imperfections, expressing all the impossible expectations placed on modern women. "It's too hard," she says about womanhood, "It's too contradictory." Stereotypical Barbie stares at her wide-eyed, and Gloria's daughter gives her a surprised smile. In giving voice to the emotions that started this journey, Gloria empowers the Barbies to reclaim Barbie Land.
The movie is for everyone to see and enjoy, but ultimately "Barbie" is truly a film by women, about women, for women. 
In the end, Barbie, having seen the gendered challenges of the real world for herself and heard from Gloria the exhaustion that comes with them, still decides to become a human—a woman.
In an emotional scene between the ghost of Ruth Handler, the creator of the doll, and Barbie herself, they discuss what it would mean for Barbie to leave dollhood behind. Handler holds Barbie's hands and tells her to "feel." The scene fades into a montage of videos of young girls and grown women, laughing, talking, playing and enjoying their lives. The videos feature women involved in the process of making the movie. When Barbie opens her eyes again, she has tears on her face (so did many in the audience).
For us, this felt very reminiscent of St. Ignatius Loyola's Contemplation on the Incarnation, which asks the retreatant to imagine the three Divine Persons gazing down on the earth full of people and considering what stimuli imbue their senses. These scenes, of so many different people and emotions, flash before Barbie, and she is overwhelmed with the joys and sufferings of the world, with women at the forefront.
The movie ends with Barbie, newly human and clad in her designed-for-the-partnership pink Birkenstocks, going to the gynecologist. This joke wraps up all the references to dolls not having any genitals (which Barbie ostensibly receives when she makes the choice to become human), while, we think, stressing the importance of reproductive health and bringing to the big screen public discourse about a taboo topic. Like every part of the movie, Gerwig pushes boundaries of conversation through humor that is written to make women, in particular, feel seen.
At its core, the Barbie movie is a much needed tribute to womanhood. This is evident in one of the most subtle but moving scenes from the film, which occurs early in Barbie's trip to the real world, when she sits at a bus stop, crying because nothing seems to be going her way. She looks over and sees an old woman, played by the famous costume designer Ann Roth (aging doesn't exist in Barbie Land). Barbie smiles at her and says, "You're beautiful." The woman smiles serenely and replies simply, "I know." In retrospect, this deeply humane and moving encounter prefaces Barbie's decision to join the real world. It seems as if Barbie is recognizing the magnitude of everything a real woman is, and everything she later chooses to be.
The female characters Barbie meets in the real world show her that women manage to exist in a world that is so often against them, and do so best when working together. The movie is for everyone to see and enjoy, but ultimately "Barbie" is truly a film by women, about women, for women. It is a film we certainly will be seeing again.