How 'A Wrinkle in Time' shows us the power of love
When I read A Wrinkle in Time as a child, it was an experience of the senses. The tattered Dell Yearling paperback cover, now long gone from my copy, featured a rich golden frame around the colorful image of children riding a centaur under a rainbow. The thick pages, smooth to the touch, curled at the edges from numerous reads. I could hear the blustery sounds of the "dark and stormy night" in the book's first line, a cliché Madeleine L'Engle turned into an enduring opening. And most of all, the book was associated for me with the smell and taste of hot milk warmed on a stove by a brother for his older sister's cocoa.
L'Engle's classic book is the story of Meg Murry, who, along with her brother, Charles Wallace, and their friend Calvin, travels across the universe with the help of three mysterious shapeshifting women—Mrs. Whatsit, Mrs. Who and Mrs. Which—to save Meg's father from a totalitarian evil called IT. Whenever I delved into L'Engle's words, I felt at home spiritually. Beautiful creatures on a distant planet sing a psalm-like verse from Isaiah 42, for example, and Meg's father tells her (quoting the Letter to the Romans) that "we know that all things work together for good to them that love God."
As a bookish Catholic schoolgirl, I was thrilled to find a well-regarded book for young adult readers that had a religious dimension. So often my reading and faith lives seemed separate, but here, the message was not simply (as in so many Y.A. novels) that unsure teenagers can feel confident even in trying circumstances.
As a bookish Catholic schoolgirl, I was thrilled to find a well-regarded book for young adult readers that had a religious dimension.
One alien being, repeating 2 Cor 4:18, says: "For the things which are seen are temporal. But things which are not seen are eternal." There was so much more to life than math worksheets or fashion fads. There was an eternal, endless, enveloping love in the universe.
Even L'Engle writes in her published journal, A Circle of Quiet, that when people ask her why she writes for children: "Sometimes I answer that if I have something I want to say that is too difficult for adults to swallow, then I will write it in a book for children. This is usually good for a slightly startled laugh, but it's perfectly true. Children still haven't closed themselves off with fear of the unknown, fear of revolution, or the scramble for security. They are still familiar with the inborn vocabulary of myth."
Madeleine L'Engle was a Christian who often attended progressive Episcopal churches and served as writer-in-residence at the Cathedral of St. John the Divine in New York. She spoke of the writer as having "as clear and vital a vocation as anyone in a religious order" in her 1963 acceptance speech for the prestigious Newbery Medal, awarded annually by the American Library Association for the most distinguished American children's book published the previous year. In her collection of essays, Walking on Water: Reflections on Faith and Art, she said that she was "brought up on the Book of Common Prayer."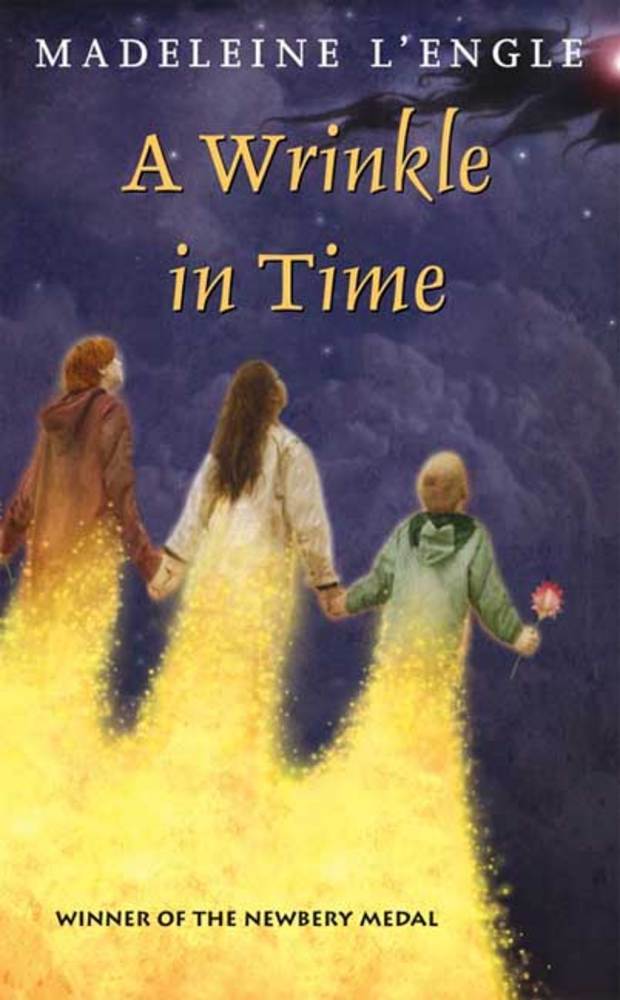 Despite her Episcopalian background, she later identified as an atheist before returning to that belief of her childhood, one enriched by her knowledge of art and science.
Sarah Arthur, author of an upcoming book on L'Engle's religious life, notes in Christianity Today that "it was the wonder and humility of scientists, especially theoretical physicists like Max Planck and Albert Einstein, who eventually convinced [L'Engle] to become a Christian." The work of those thinkers directly affected the world she created for her book, in which people can travel to other planets using a "fifth dimension" of existence: the tesseract, a wrinkle in time. In fact, L'Engle saw the novel as an "affirmation of a universe in which I could take note of all the evil and unfairness and horror and yet believe in a loving Creator."
But the recent movie adaptation of A Wrinkle in Time, as many have noted, omits any references to Christianity. The film does include other faith practices, including a quotation from Buddha and a part that shows the practice of yoga. It clearly emphasizes the idea that "love is always there, even if you don't feel it." However, Jesus is not included in the list of "warriors who served the good and light in the universe," as in the book. In an interview with Aleteia, the producer Jim Whitaker said that "we felt it was important to honor the wide array of faith in the endeavor."
Perhaps instead, then, Catholics can turn to the book itself—and the four others in the quintet L'Engle wrote about the Murry family and Calvin—to think about the themes she saw as important.
As a product of its time, the novel (published in 1962) includes a message against Soviet-style totalitarianism, especially a scene in which all houses, families and children must be exactly the same because IT has decreed it. Meg insists, though, that "Like and equal are not the same thing at all."
When I read that scene today, I cannot avoid thinking of the section in the Catechism of the Catholic Church on social justice, which calls for solidarity and the elimination of "sinful inequalities" but also exhorts us to celebrate our inherent human dignity, including our differences, which "belong to God's plan, who wills that each receive what he needs from others, and that those endowed with particular 'talents' share the benefits with those who need them." In the struggle against IT, each of the children has his or her own strengths and faults, which lead to their success.
"Children still haven't closed themselves off with fear of the unknown, fear of revolution, or the scramble for security. They are still familiar with the inborn vocabulary of myth."
Above all, like much science fiction (or classic works of literature, for that matter), A Wrinkle in Time highlights the battle between good and evil. The key emphasis, though, is that we are not alone in that fight. In her final face-off with IT, Meg draws on the love she has been given from friends and family. She knows that it is hard to love her enemy: "She, in all her weakness and foolishness and baseness and nothingness, was incapable of loving IT." Instead, she refocuses all that love on her brother, Charles Wallace.
This theme of "the importance of love" can feel a bit trite—until I concentrate on the sensory experience of loving particular people: the blooming warmth within my torso as I watch my 2-year-old son giggle about a joke he made, the way my anxieties calm while I hold my husband's hand. In the book's final scene, Meg senses this too: "The joy and love were so tangible that Meg felt that if she only knew where to reach she could touch it with her bare hands."
For L'Engle, the source of this love was the "loving Creator" of the universe, who inspired Einstein, artists and other thinkers. We experience that love through others, when they hold our hands, when they warm up milk for us late at night—and also when we sacrifice and risk for their sake, whether or not we are traveling across the universe to do so.