Why "Black Panther" is the movie Hollywood—and America—needs
I grew up enthralled with the fantasy worlds depicted in the "Star Wars"and "Lord of the Rings"films. But there was always something missing. Virtually no one looked like me. The people of color that did exist in those films either stood as caricatures or floated in post-racial space. How can one imagine a future in which black people exist in various roles while simultaneously not erasing the legacy of racism?
"Black Panther"powerfully fills this void. The film is set in Wakanda, a fictional African nation that possesses vibranium, the strongest metal on earth. To the rest of the world, Wakanda is a third-world country, but it is an isolated nation that, thanks to vibranium, has secretly become the world's most technologically advanced society.
The film opens in 1992 with a young T'Chaka (Atandwa Kani), who is the chief of Wakanda and T'Challa's father, interrogating his brother N'Jobu (Sterling K. Brown), who is stationed in Oakland, Calif., as a Wakandan spy. N'Jobu has been radicalized and betrays Wakanda by selling vibranium to villain Ulysses Klaue (Andy Serkis). Ultimately, T'Chaka kills his brother but leaves his nephew behind. N'Jobu's son N'Jadaka grows up to become Erik "Killmonger" Stevens (Michael B. Jordan). The story then pivots around Killmonger's retributive rage and confrontation with his cousin T'Challa.
Part of what sets "Black Panther" apart from other superhero films is its Afrofuturism.
Killmonger is on a quest to return to Wakanda and take the throne from T'Challa, who has assumed the throne and become Black Panther and the chief of the Wakandan tribes following T'Chaka's death. He wants to arm oppressed black people around the world with vibranium so that they can invert colonial power. In this quest, Killmonger exposes the moral tensions within Wakanda's isolationist politics and the crisis confronting T'Challa's leadership. The line between heroes and villains is compellingly blurred.
Part of what sets "Black Panther" apart from other superhero films is its Afrofuturism. This genre is an intersectional, nonlinear way of looking at possible futures and alternate realities through a black cultural lens; it blends the future, the past and the present. This film is decidedly Afrofuturist in its aesthetic, music and multiple layers of meaning. Like the writing of Octavia Butler, it creates a fantasy world that powerfully speaks to the realities of our present and ongoing history. Black characters are able to move and breathe in this world, as opposed to the way some black characters are woefully utilized in the futuristic world of the latest, more diversified "Star Wars."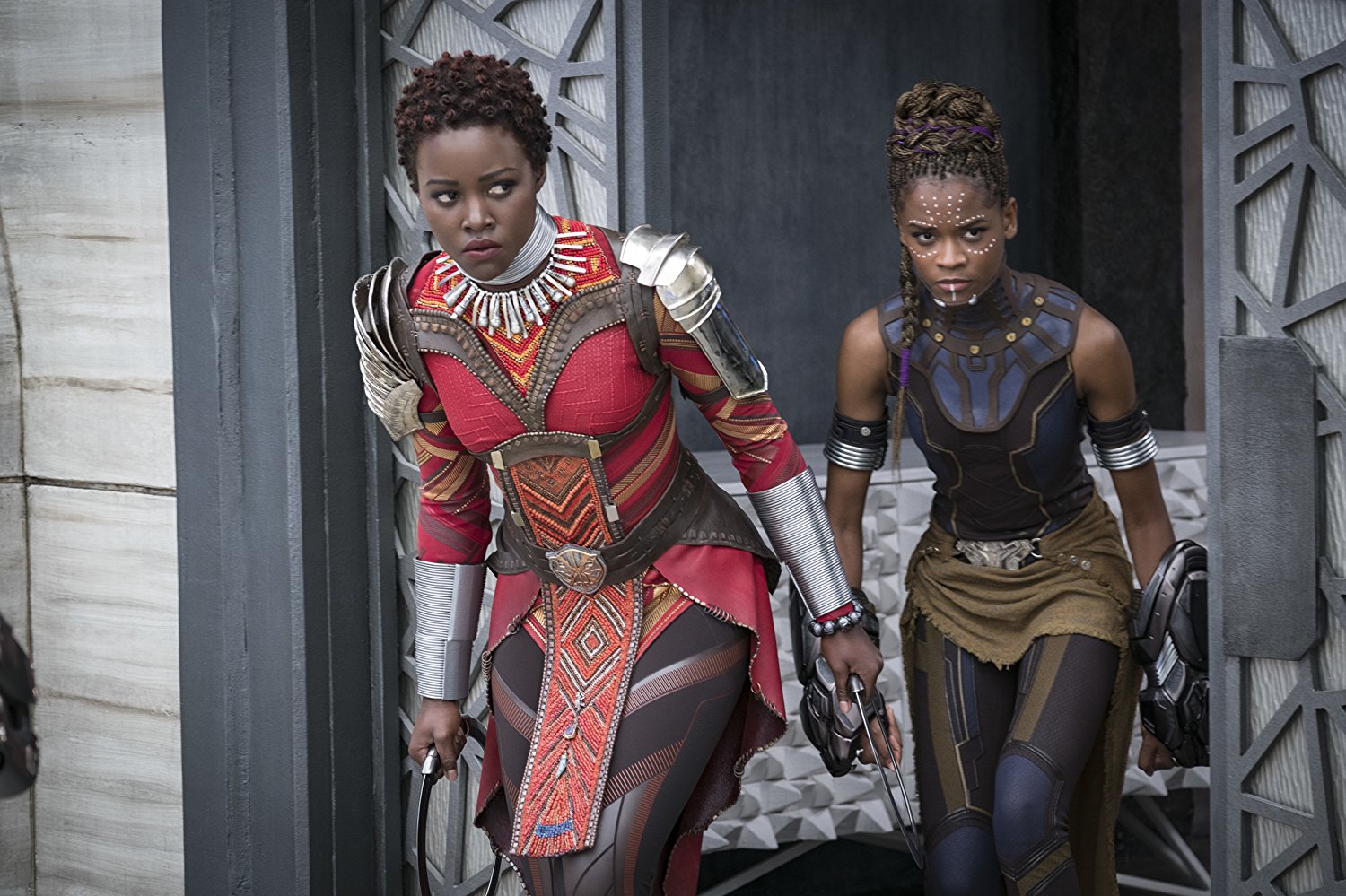 Not taking a backseat to the men, the women of Wakanda make the film truly shine. T'Challa's little sister and Wakanda's lead scientist Shuri (Letitia Wright) is arguably the most charming character in "Black Panther." T'Challa often becomes a rather weak protagonist, dependent on women like the vigilant and mature General Okoye (Danai Gurira). When Killmonger overthrows T'Challa, apparently killing him, the fate of the nation depends on Wakandan spy Nakia (Lupita Nyong'o).
From its depiction of African cultural influences and African cosmologies to its wrestling with diasporic black identity, "Black Panther" possesses rich layers of meaning. In interviews, Ryan Coogler has noted that he is strongly interested in issues of identity. Perhaps that is why some of the movie's major scenes—Killmonger claiming the throne and a final scene with T'Challa in Oakland—are punctuated by the question, "who are you?"
The film also complicates the personal morality of its characters and highlights larger political tensions at work. Nothing is black and white. The "good guy," T'Challa, is blinded by his own privilege and distance from global black suffering. The "bad guy," Killmonger, is often right about what is happening in the world and about Wakanda's hypocrisy. Even General Okoye is caught between her loyalty to the throne and her conviction that Killmonger is not fit to be king.
One character that remains flat is white CIA agent Everett Ross (Martin Freeman). The critique that he is a one-dimensional ally is a legitimate one, but Ryan Coogler is extending a dynamic already present in the comic books. He actually accomplishes something remarkable by reducing Ross to a token role and quickly dispensing with the more interesting white villain, Klaue. The film features these two white characters, but it never centers on them; it makes them revolve around the story and agency of black characters.
"Black Panther" complicates the personal morality of its characters and highlights larger political tensions at work.
Political tensions run deep in the narrative. On a cursory level, it is clear that Wakanda's isolationism is pitted against Killmonger's fundamentalist internationalism. But it is wrong to conclude that the movie presents viewers with a simple either/or choice. Both options come out looking bad.
Wakanda's isolationism leaves it out of touch with the world and causes it to lack solidarity with the suffering of others. On the other hand, Killmonger's character shows what happens when righteous anger and trauma are tied to a purely retributive approach. He is the literal embodiment of the "burn it all down" mentality, as symbolized by his burning of the royal garden containing the heart-shaped herb, the plant which gives Black Panther his powers, after he has taken the throne from T'Challa. In his zealotry, sharpened by his military training, Killmonger is willing to turn anyone or anything into rubble in his path to remake the world. In W'Kabi (Daniel Kaluuya), Killmonger finds a sympathizer eager to flip the conquerors/conquered equation, with Wakanda in charge of a new global empire.
So is there a third option? When Killmonger dies, it seems as though T'Challa, who survived Killmonger's attack, has already partially absorbed his critique. In his next move, T'Challa establishes a Wakandan outreach center in Oakland, where he places Nakia and Shuri. A post-credits scene showing T'Challa speaking to the United Nations confirms that T'Challa is charting a new political course for Wakanda.
"Black Panther"sparks salient conversations and raises fundamentally important issues regardless of where T'Challa politically lands in the end.
T'Challa's politics, however, sadly conform to the status quo. Although the film acknowledges at various points the systemic nature of global racialized oppression, it settles for a cheap, neoliberal globalism that suggests oppression is best tackled with philanthropy, after-school programs and STEM education for underprivileged kids (Shuri's task). These efforts are not bad—and they are better than nothing. But they are not nearly enough, and the recourse to them assumes a faulty framework.
Some critics have been troubled that the only representative of a more radical alternative is an African-American extremist in Killmonger. However, before Killmonger ever confronts T'Challa, Nakia offers her own political alternative. Early in the film, after a mission to stop Nigerian sex traffickers, Nakia pleads with T'Challa that their nation can do much more, including taking in refugees. She says, "Wakanda is strong enough to help others and protect itself." Nakia's political orientation, shaped by her own experience as a spy abroad, is much more active and comprehensive than T'Challa's, which remains more politically conservative.
"Black Panther"sparks salient conversations and raises fundamentally important issues regardless of where T'Challa politically lands in the end. Representation is both important and limited. Maybe that is why the recent portraits of Barack and Michelle Obama sparked so much heated debate. But it is important to be able to appreciate something for what it is and what it is not.
"Black Panther"is a complex piece of art that is morally and politically profound. As such, I am excited about what it can do for the imaginations of young children of color everywhere. Ryan Coogler didn't simply give us representation. He used the ripe ingredients of a Marvel comic to create something of substance.